Family
Fearless 6-year-old skater impresses, dropping into a 12-foot bowl in her pink party dress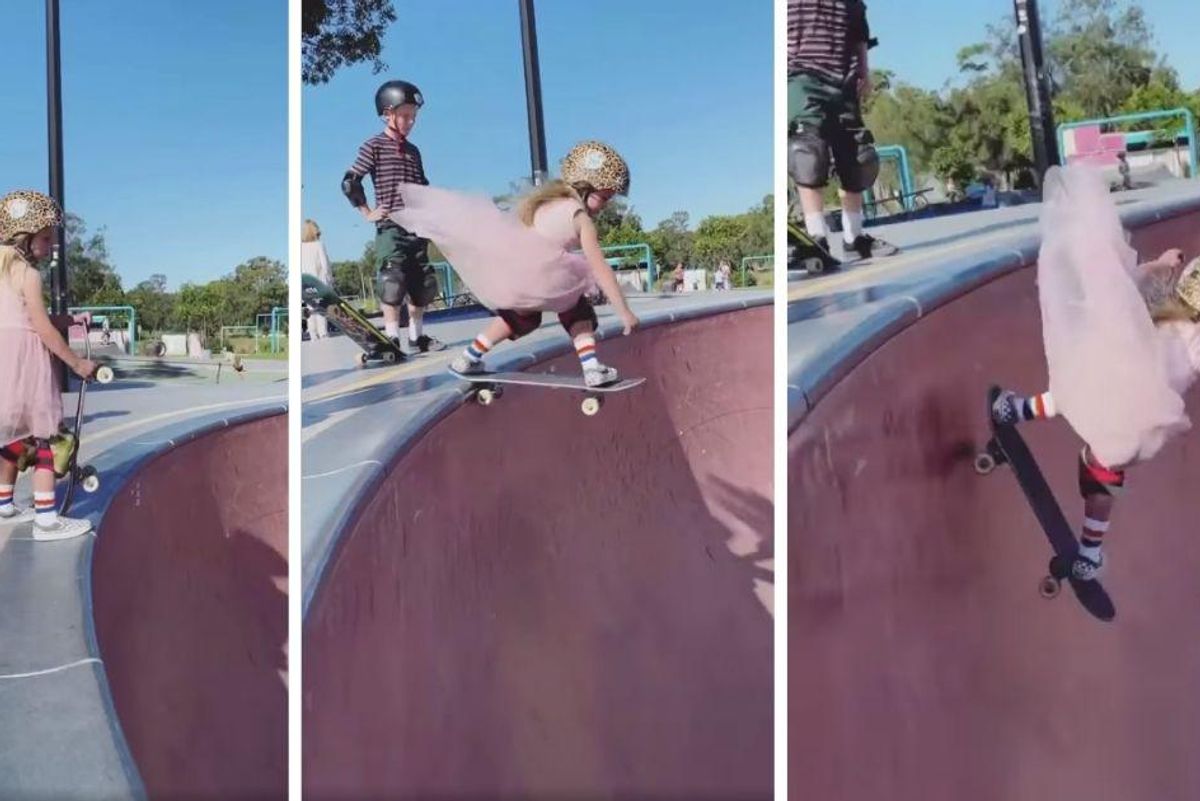 This article originally appeared on 04.13.21

It's one thing to see a little kid skateboarding. It's another to see a stereotype-defying little girl skateboarding. And it's entirely another to see Paige Tobin.
Paige is a 6-year-old skateboarding wonder from Australia. A recent video of her dropping into a 12-foot bowl on her has gone viral, both for the feat itself and for the style with which she does it. Decked out in a pink party dress, a leopard-print helmet, and rainbow socks, she looks nothing like you'd expect a skater dropping into a 12-foot bowl to look. And yet, here she is, blowing people's minds all over the place.
For those who may not fully appreciate the impressiveness of this feat, here's some perspective. My adrenaline junkie brother, who has been skateboarding since childhood and who races down rugged mountain faces on a bike for fun, shared this video and commented, "If I dropped in to a bowl twice as deep as my age it would be my first and last time doing so...this fearless kid has a bright future!"
It's scarier than it looks, and it looks pretty darn scary.
Paige doesn't always dress like a princess when she skates, not that it matters. Her talent and skill with the board are what gets people's attention. (The rainbow socks are kind of her signature, however.)
Her Instagram feed is filled with photos and videos of her skateboarding and surfing, and the body coordination she's gained at such a young age is truly something.
Here she was at three years old:
And here she is at age four:
So, if she dropped into a 6-foot bowl at age three and a 12-foot bowl at age six—is there such a thing as an 18-foot bowl for her to tackle when she's nine?

Paige clearly enjoys skating and has high ambitions in the skating world. "I want to go to the Olympics, and I want to be a pro skater," she told Power of Positivity when she was five. She already seems to be well on her way toward that goal.
How did she get so good? Well, Paige's mom gave her a skateboard when she wasn't even preschool age yet, and she loved it. Her mom got her lessons, and she's spent the past three years skating almost daily. She practices at local skate parks and competes in local competitions.
She also naturally has her fair share of spills, some of which you can see on her Instagram channel. Falling is part of the sport—you can't learn if you don't fall. Conquering the fear of falling is the key, and the thing that's hardest for most people to get over.
Perhaps Paige started too young to let fear override her desire to skate. Perhaps she's been taught to manage her fears, or maybe she's just naturally less afraid than other people. Or maybe there's something magical about the rainbow socks. Whatever it is, it's clear that this girl doesn't let fear get in the way of her doing what she wants to do. An admirable quality in anyone, but particularly striking to see in someone so young.
Way to go, Paige. Your perseverance and courage are inspiring, as is your unique fashion sense. Can't wait to see what you do next.