Culture
4 of the 6 women's skateboarding Olympic medalists are 13-years-old or younger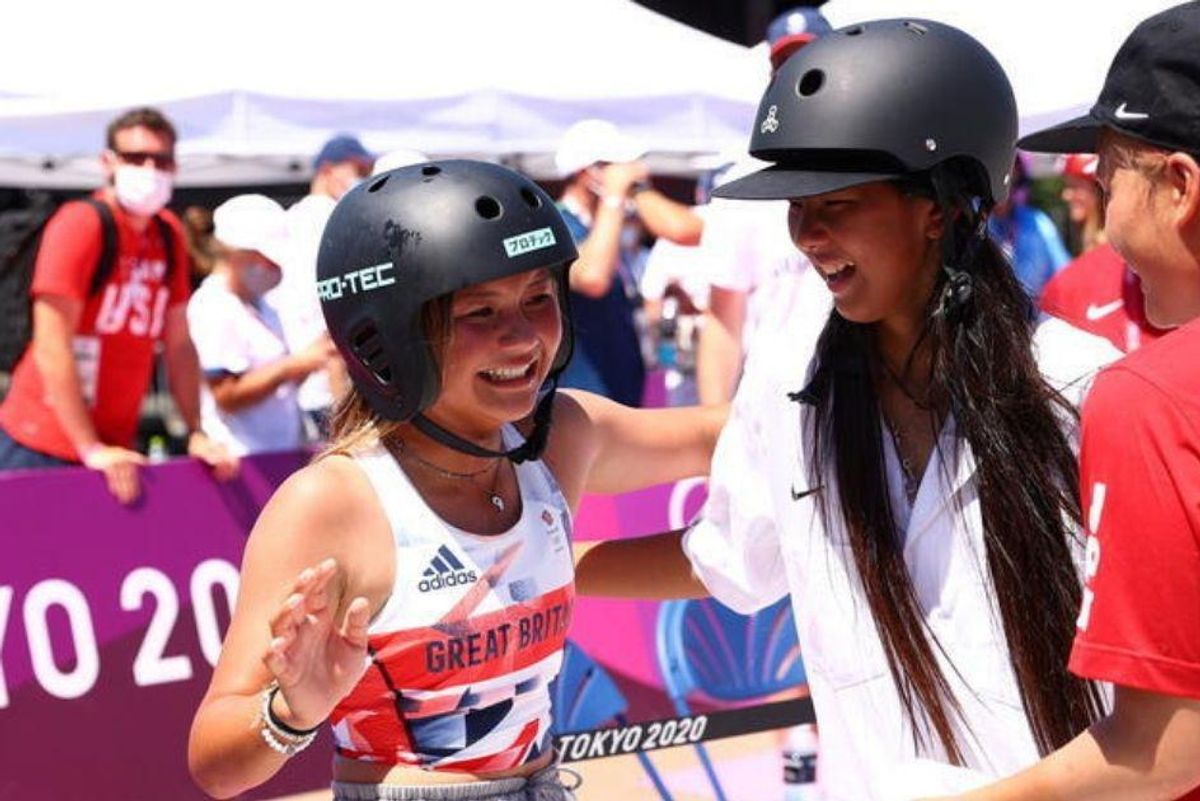 Welp, the two skateboarding events added to the Olympics this year have wrapped up for the women's teams, and the results are historic in more ways than one.
Japan's Kokona Hiraki, age 12, just won the silver medal in women's park skateboarding, making her Japan's youngest Olympic medalist ever. Great Britain's Sky Brown, who was 12 when she qualified for the Tokyo Olympics and is now 13, won the bronze, making her Great Britain's youngest medalist ever. And those two medal wins mean that two-thirds of the six medalists in the two women's skateboarding events are age 13 or younger. (The gold and silver medalists in women's street skateboarding, Japan's Momiji Nishiya and Brazil's Rayssa Leal, are also 13.)
That's mind-blowing.
---
By the way, the other two medalists are ages 16 and 19. Nothing but teens and tweens at the top.
One of the reasons for adding skateboarding to the Olympics was to draw in younger viewers and inject the games with a jolt of youthful spirit. Mission accomplished, if these skateboarding medals are any indication.
13 and 12. These kids are several years away from being able to drive a car, and yet they are already Olympic champions on four wheels. Amazing.
Skateboarding is a unique sport in that it's performed on a wheeled device that is in no way attached to a person's body. And despite the laid-back, chill vibe of the athletes who compete in the sport, perfecting the tricks and skills it takes to compete at this level takes an enormous amount of practice.
It can also be dangerous. Sky Brown took a bad spill at age 11, suffering a skull fracture and broken arm that threatened her Olympic dreams when the games were originally scheduled for 2020. By then, she'd already been a professional skateboarder for two years, after becoming the world's youngest pro skater at age 9.
A pro at age 9. Kids these days, I tell you.
Despite the pressures at this level of competition, it's clear in the Olympic footage that these kids are doing what they love and having a great time doing it. The camaraderie and outward shows of support among the skateboarding athletes are palpable, which is both a testament to their character and to the culture of skateboarding itself.
With such young stars already crushing the field, it seems that the competition in this sport will only get better. These kids and other rising competitors will undoubtedly be even more exciting to watch in Paris 2024. Already looking forward to it.