Family
5-year-old amazes in viral video performing 80 back handsprings in under a minute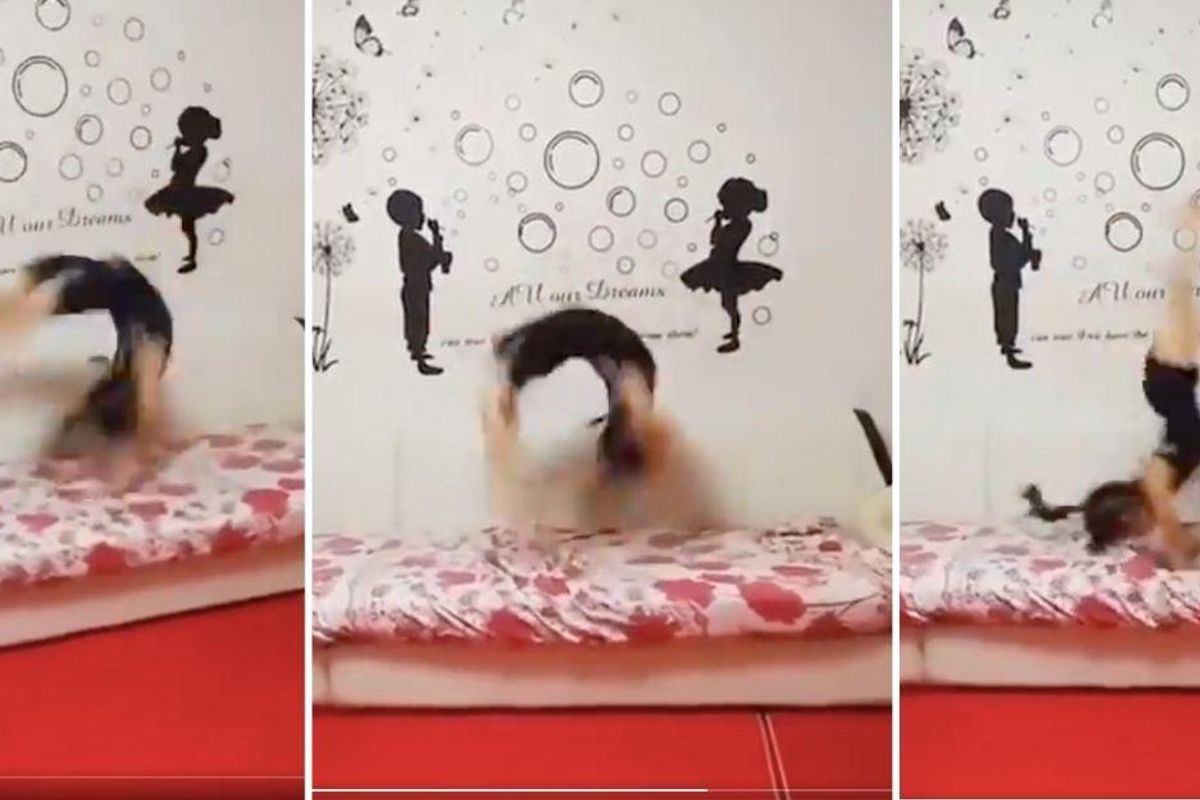 Most of us did some tumbling moves as kids, from somersaults to cartwheels. A chosen few could pull off more impressive moves, like handsprings and backflips. But guaranteed, no kid that any of us knew could do anything close to the feats 5-year-old Li Jiamin can do.
A video of Li doing 80 back handsprings in under a minute (some people counted 82—it's really hard to keep track without making yourself dizzy) has gone viral, with more than a million views on Twitter alone.
Being a kid is underrated. How many? Incredible... https://t.co/JtjF2Q3fHC

— Rex Chapman🏇🏼 (@Rex Chapman🏇🏼) 1618841809.0
At first, you might assume it's a looped video (I know I did). But watch the way the wrinkles build up in the side and top of the mattress. If there's a loop in there somewhere, it doesn't account for most of the flips, and when you see what else Li can do, the feat becomes a whole lot more believable.
---
Li lives in the city of Xinzhou in northern China, and her martial arts-trained father serves as her trainer. In another video filmed in the same location at their home and shared by the South China Morning Post, we can see her doing a similar number of back handsprings on a red mat on the same sofa. We also see her walking around on her hands, walking upstairs backward on her hands, doing backflips off the sofa, and more.
Li started doing flips when she was four and practices for two hours a day, according to the video. Her father says she could bend over backward after just three days of training and has been practicing daily since then.
That doesn't mean tumbling has always been easy for Li. She works hard, even when practice becomes mundane or difficult. Her father says she almost gave up in the beginning, but he pushed her to continue until she got the hang of it, and once she was successful, she became happy and confident. It's been a gradual process to work her way up to 80 back handsprings in a minute.
Li's father says she is resilient and determined, which is pretty obvious. "My daughter is very tough, unlike other kids," he told the Post. He said she always follows his instructions, even when he gives her tasks that are extra challenging, like holding a handstand for 10 minutes.
Her father also said that her extraordinary skill is due to her starting her training so young. "If she started training after the age of 12, she wouldn't be able to do 80 flips continuously no matter how hard she tries," he said.
Li's goal is to break the Guinness World Record. She may end up becoming a professional gymnast, but she may not. Her dad hopes she will become a police officer or join the army. "I just want her to study hard and be an educated person, nothing else," he told the Post.
Chinese girl performs 80 somersaults in 1 minuteyoutu.be
In this video, it's pretty clear that Li's father is raising his daughter with a strong sense of discipline and also a strong sense of support. We see lots of positive reinforcement, and it's hard to imagine a kid who wouldn't be proud to show off such amazing, hard-earned skill.
As far as the Guinness World Record goes, most highly physical categories have a minimum age requirement of 16, so Li has a ways to go to be able to compete. Since the current female world record is 53 consecutive back handsprings, Li should have no trouble smashing it, if she's able to keep up her current astonishing pace.
In the meantime, we'll just marvel at her ability and try not to get woozy watching her flippin' amazing flipping feats.