Pop Culture
Video of 8-year-old's fierce martial arts skill with a sword is wowing people all over again
Jesse-Jane McParland, now 16, has been wowing audiences since she was tiny.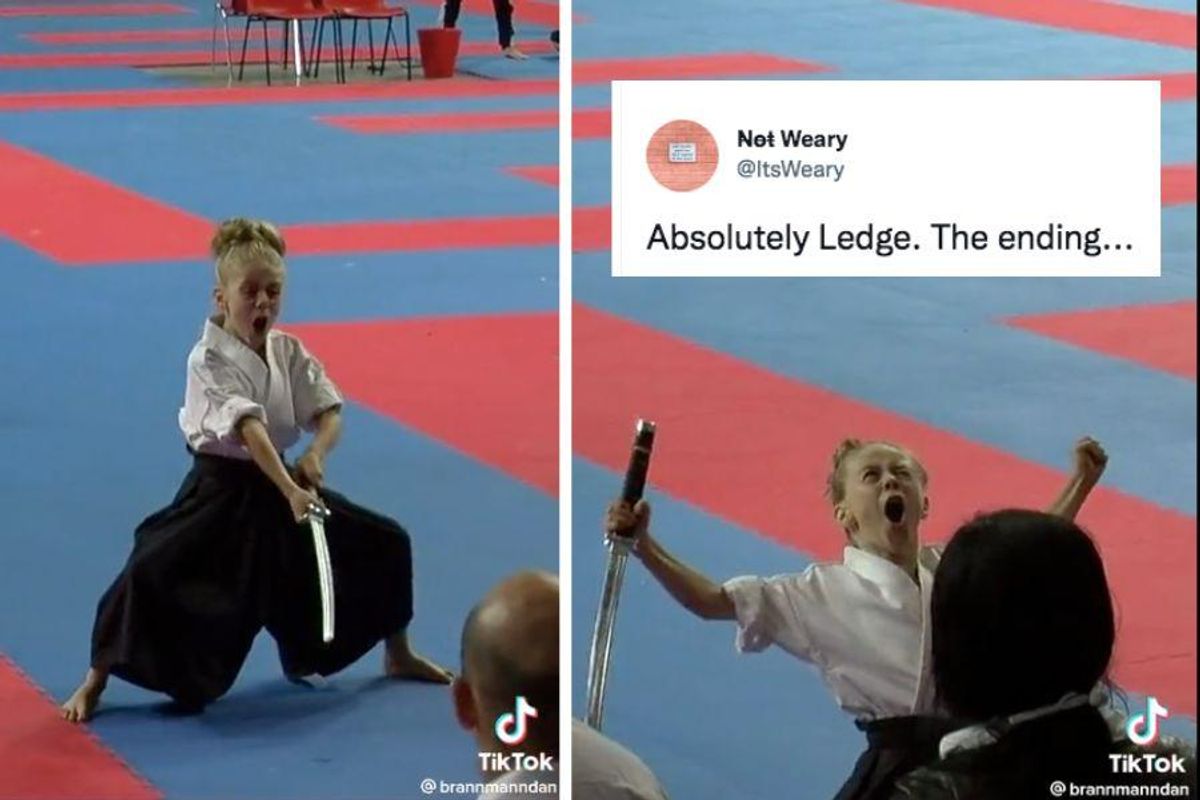 Her name is Jesse-Jane McParland, she's from a "wee small Irish town," and she's one of the best martial arts performers in the world.
McParland, who is nicknamed JJ Golden Dragon, holds more than 300 martial arts titles, including 12 European Champion titles and 21 World Champion titles—and she's only 16. She's been called a martial arts prodigy, and a video of her competing in the World Kickboxing Championships in 2014 that has resurfaced shows why. People simply can't get enough of her sword skills and her gumption at such a young age.
"Absolute ledge," wrote @Itsweary, captioning the video, which has been viewed more than 9 million times on Twitter and 11 million times on TikTok. "The ending…"
---
The ending they're refering to is McParland letting out a primal scream after wowing the audience with her sword routine. It's clear that she gives her all to her sport and people loved seeing such fierceness and discipline in such a small package.
"Here's what I see," wrote one commenter. "A young girl who will grow up with confidence and inner strength. And no man will dominate or control her. She won't settle for anything less than equality and respect."
"Absolutely unbelievable," wrote another. "You know what I liked the most? With all that skill, talent agility dexterity and unbridled fury, she STILL remembered to bow at the end. She will do great in life."
Watch:
\u201cAbsolutely Ledge. The ending...\u201d

— N\u0336o\u0336t\u0336 Weary (@N\u0336o\u0336t\u0336 Weary) 1666309623
McParland is from the small town of Armagh in Northern Ireland and she began studying martial arts at age 3. In a 2015 interview, she told Ellen DeGeneres that she had done ballet and Irish dance, and her parents had tried to get her into basketball, but when she saw people doing karate she was hooked. At first, her father said no as he thought karate was too dangerous, but she was able to convince her parents to let her try karate.
She said when her mom asked her why she didn't like ballet and Irish dance, she replied, "Mommy, not every girl dreams of being a little princess."
McParland became a contestant on Britain's Got Talent in 2015 at 9 years old and made it into the finals as the audience's wild card choice. She has since acted in movies and television shows including "Into the Badlands" (2015), "The Martial Arts Kid" (2015) and "Robyn Hoodie" (2017).
According to her Facebook page, McParland is currently recovering from major surgery but will be back to her martial arts moves soon. "Nothing gonna keep me away from what I love!" she wrote. She recently started a TikTok page, and you can follow her @jessejane_mcparland.
Check out her most recent video share, with not one sword, but two:
Go, JJ Golden Dragon, go.