Identity
Woman's potential boss offers his references during her interview. That's brilliant.
We often forget that the hiring process is a two-way street.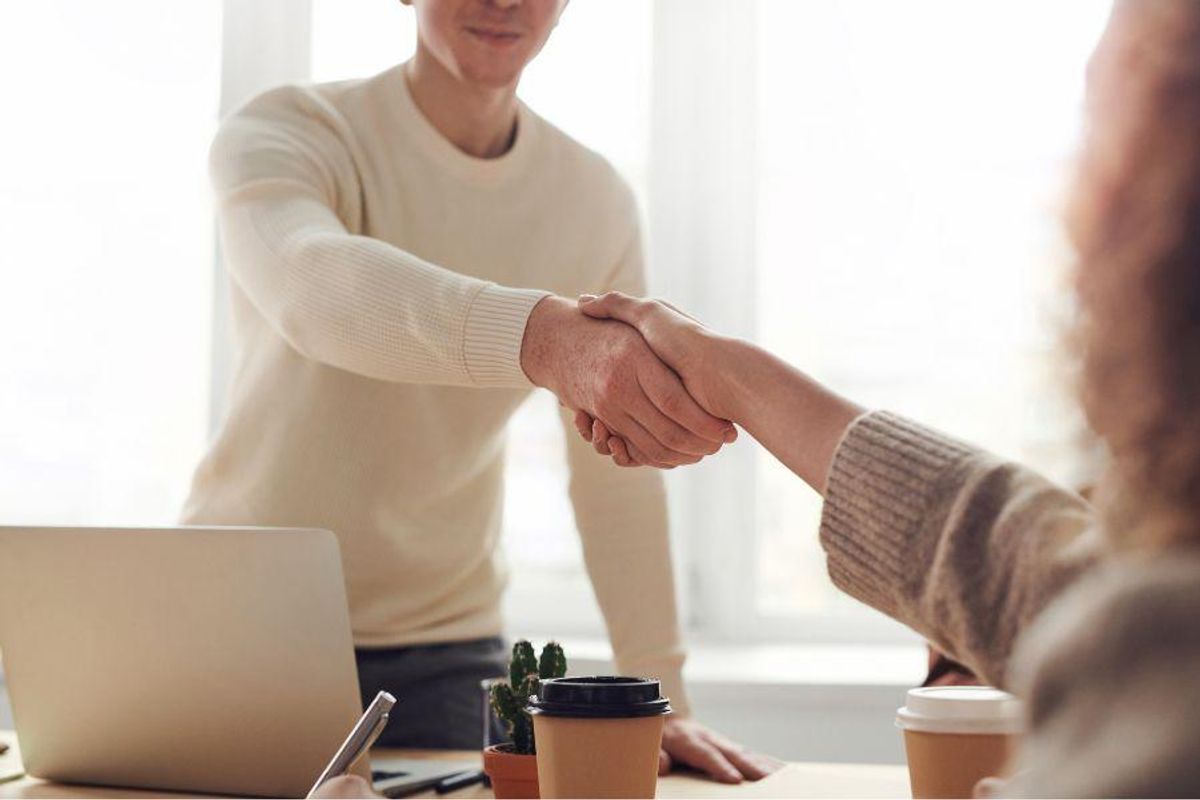 Usually when people apply for a new job, they hyperfocus on making sure the potential employer knows they're an ideal candidate. They research the heck out of the company, tailor their resume for the position and practice answering tough interview questions they anticipate the hiring manager might ask.
But a hiring process is a two-way street, up to and including when an offer is made. That's perhaps never been more true than it is now, when unemployment is at a historic low and people can be choosier about the jobs they take. But even in a tough job market, a job interview means you are interviewing the company as much as they are interviewing you.
One woman shared a story that took that idea to the next level with a hiring practice that really should be standard everywhere.
---
Allison Peck shared in a LinkedIn post last year that she'd had a manager offer her three professional references—women who had worked for him in the past—so she could get some outside perspective on what he was like as an employer.

"Why don't hiring managers give 3 of THEIR references to job candidates?" Peck wrote. "This happened to me once and I'll never forget it. I was in the final round of interviews at a company years ago, and the hiring manager asked me for 3 references. Naturally, I provided him their contact info. And he said this:

'Thanks, here are 3 women who have reported directly to me previously and they've agreed to speak with you if you're curious what it's like working on my team.'

When I called those three women, they all had great things to say and that man was one of the best managers I've ever had.

Any hiring managers out there confident enough in their leadership abilities that they'd offer this in the future?"
The fact that the manager recognized that she might want feedback from other women shows an understanding of the dynamics that women can face in the workplace, which is a good sign in and of itself. And that he offered the references without even being asked was also a definite plus.
Ironically, the kind of employer who would offer such a thing the way he did is probably the kind of employer you'd want to work for, without even having to contact their references. But talking with people who have worked for your potential boss before could definitely offer some peace of mind and give you added information you may need to make a decision about a job. It also makes it more likely that you'll both be a good fit for one another, which again is the whole point of the hiring process.
Commenters agreed.
"I love this. When I hire into my team it's something I offer too. I'm still in touch with people who were reporting to me 8-10yrs ago, most of whom have gone on to do some wonderful things and I now consider friends." – Karen Hutchison
"I am with you on that. At my stage of my career, I will max out on salary and the benefits are usually decent. So what I care about is the team and leadership. So when I was unexpectedly let go 9 months ago and started looking all over again, I made it a point to ask about the team leader/manager and any other dynamics if I got to be interviewed by a peer panel. I ended up going with the job where the peers spoke highly of their manager both privately and in group interviews. I just wanted to work where boss actually cares about people more than they cared about managing her/his boss." – John Waldbaum
\u201c@mnl416 @ChristineB143 @tiffmc1013 I do this regularly, reverse references. It has worked out for me in my career on both sides of the hiring bargain.\u201d

— Bitch McConnell\u2122 (@Bitch McConnell\u2122) 1640724403
"Ok, I'm impressed. It would be great if this was normalized, and honestly, it would benefit both prospective hires as well as organizations. Many people get a job and start off excited just to find out that the manager they ended up working with is not exactly a good manager for them. This can translate into poor performance or even turnover. You can only find out so much during an interview that is timed and has set unwritten norms/ expected "etiquette". Normalize reverse references!!!" 😁 – Stanley Molton
"Wow I wish this were done everywhere! Speaking to other women candidates during the interview has never given me the sense they can speak openly (especially if it's recorded), because at the end of the day, they still report to that manager. Now, a manager that does this is demonstrating that there's recognition and sensitivity to what women are faced with in the workplace, and they have confidence in their reputation even behind closed doors." –Larissa Morrell
Resources like Glassdoor have helped provide an avenue for former employees to share their experiences, but there's an extra layer of impressiveness when a potential employer offers you their references themselves.
Reverse references. Let's make it a thing.