Education
Only one foreign pilot has ever bombed the U.S. mainland. His redemption arc is epic.
An Oregon town he tried to destroy in WWII even made him an honorary citizen.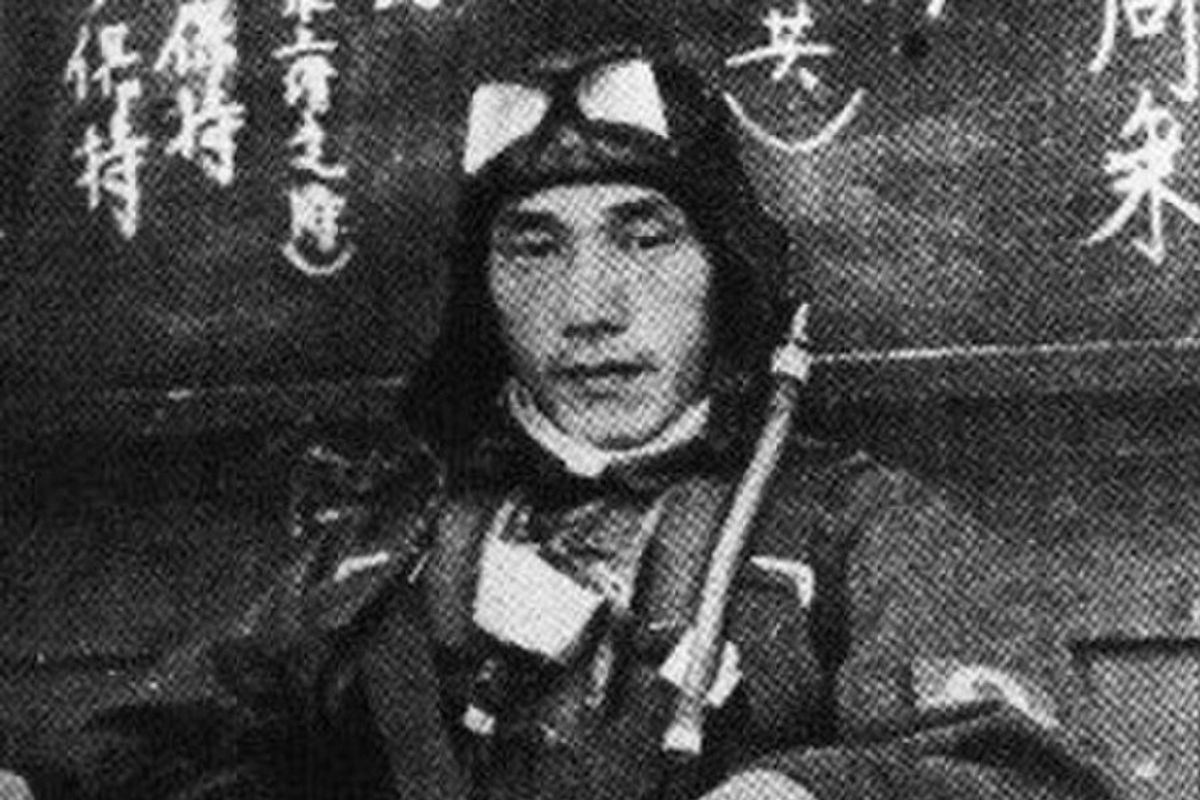 Courtesy of Chetco County Community Library
About 16 miles east of Brookings, Oregon, stands a unique coastal redwood tree. It has been growing there since 1992, when the Japanese pilot who had dropped bombs on that very spot 50 years before planted it with his own hands.
Nobuo Fujita remains to this day the only foreign pilot to ever bomb the U.S. mainland. On September 9, 1942, Fujita flew a seaplane, launched from a floating catapult on a Japanese submarine in the Pacific, over the woodlands of southern Oregon. Along with the 30-year-old pilot and the bombs he was ordered to drop, the aircraft also carried a 400-year-old samurai sword—a prized family heirloom Fujita took with him on every flight.
Fujita was a bit disappointed with this bombing mission. He had wanted to bomb San Francisco or Los Angeles to take revenge on the U.S. for dropping bombs on targets in Tokyo, Yokohama, Yokosuka, Nagoya and Kobe in the Doolittle Raid just a few months before. Instead, this mission was to use incendary bombs to start a forest fire that would engulf nearby towns like Brookings, divert resources and instill terror into the hearts of U.S. citizens.
---
But as anyone who has gone camping on the Oregon Coast can attest, starting a fire there isn't easy, especially just after it has rained. The bombs Fujita deployed basically fizzled after hitting the ground, only starting small fires and creating enough smoke for the forest service to see them and act quickly to snuff them out.
Fujita returned home to train other pilots, and three years later, World War II ended after the U.S. dropped atomic bombs on Hiroshima and Nagasaki.
War and forgiveness make strange bedfellows, but they always seem to find one another eventually. And for Fujita and the town of Brookings, "eventually" came in a fairly swift and dramatic fashion.
In 1962, less than 20 years after the war ended, a group of Jaycees in Brookings had the idea to invite Fujita and his family to be an honored guest at the town's Azalea Festival as an act of goodwill and reconciliation. Not everyone was thrilled with this idea, however. Townspeople argued bitterly over it. Over 100 residents signed onto an op-ed opposing the idea, which read in part, "Why stop with Fujita? Why not assemble the ashes of Judas Iscariot, the corpse of Atilla the Hun, a shovel full of dirt from the spot where Hitler died…." For many, it probably have felt too soon, especially since many of the town's citizens had fought in the war.
But the Jaycees were undeterred and admant that it was the right thing to do.
For his part, Fujita was worried he might be attacked, pelted with eggs or even put on trial for war crimes after he arrived, and he was prepared to end his life with his samurai sword if it came down to it. Instead, the day after he and his wife and son arrived in Brookings and found a warm welcome, Fujita presented his precious family heirloom to the city as a peace offering.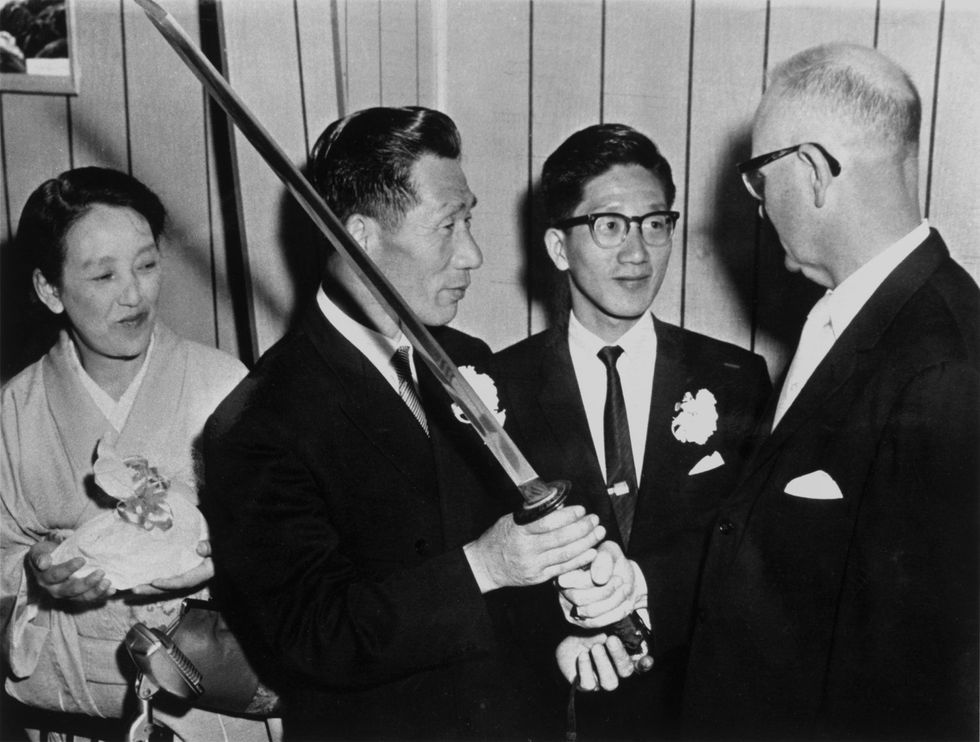 Nobuo Fujita gifted Brookings, Oregon, his family's 400-year-old samurai sword as a peace offering.
Photo courtesy of Chetco County Community Library
Brenda Jacques, a retired reference librarian, told Oregon Public Broadcasting about the significance of that Fujita giving the city his sword. "Would I be able to give something that had been that important to my family away?" she said. "It was a tremendous act of contrition."
Fujita was presented with a key to the city and was given the opportunity to fly a plane over the bombing site. But the mutual goodwill didn't end there.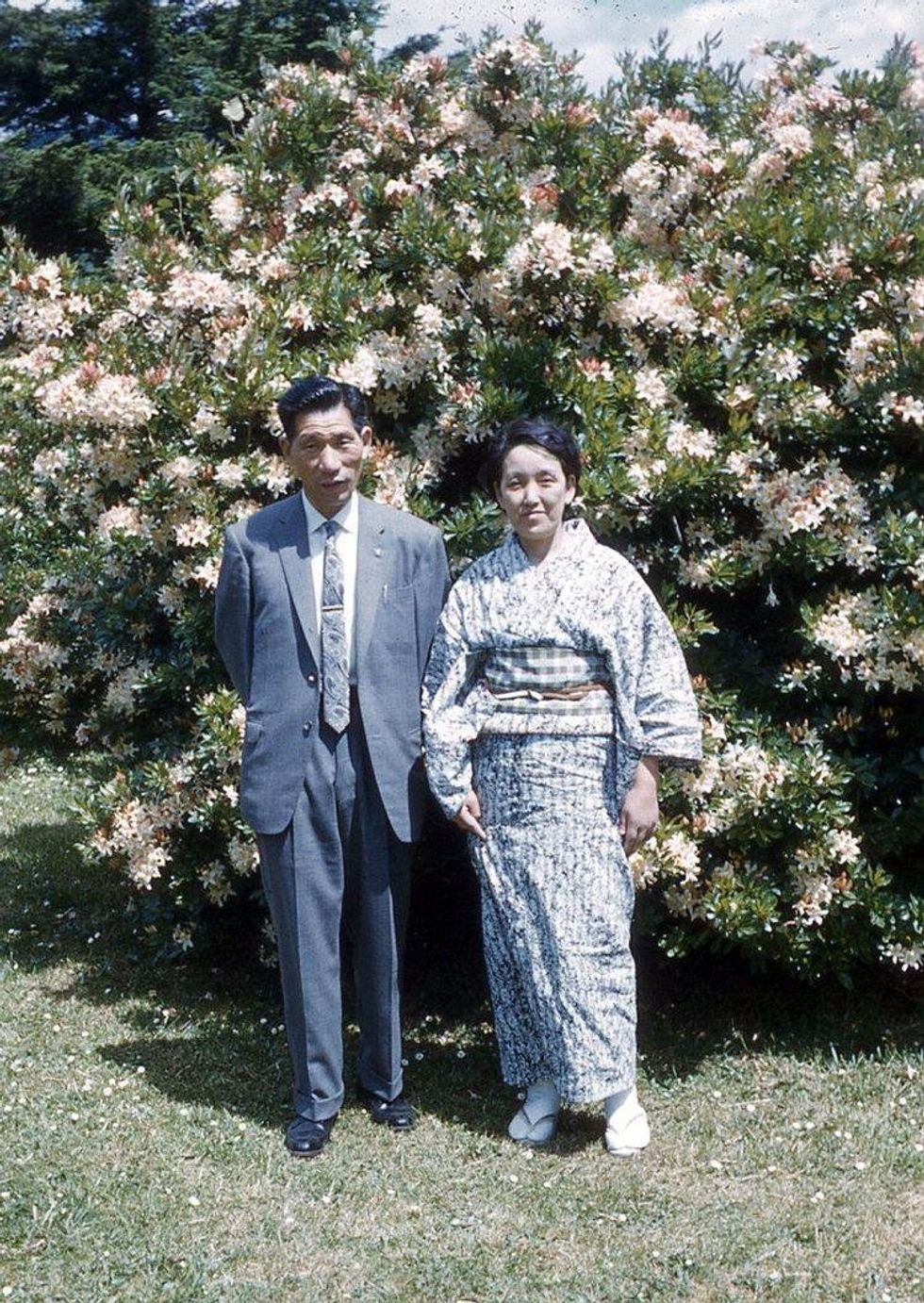 Nobuo Fujita and his wife Akayo standing in front of an azalea bush in Oregon
Photo courtesy of Chetco County Community Library
Fujita would spend the rest of his life nurturing a friendship with the Oregon town he had once tried to burn to the ground. He and his employees donated thousands of dollars for a multicultural book collection at the Chetco County Community Public Library in Brookings. He organized a group of high school students to come to Japan for a cultural exchange.
In 1992, Fujita returned to Brookings and planted the coastal redwood tree—which he called "a symbol of friendship and peace"—where he had dropped bombs five decades before.
Just a few days before his death in 1997, the city of Brookings made Nobuo Fujita an honorary citizen.
The following year, his daughter came to fulfill his last request—to have some of his ashes buried at the bombing site.
Nobuo Fujita's story is a moving reminder that the people charged with killing and terrorizing one another in wartime are never truly enemies, and that we all have the potential to be peacemakers if we choose to.
And hopefully, stories like this one will help humanity learn to avoid the war part altogether and jump straight to the goodwill and sharing of friendship across cultures part that we all love to see.