Well Being
Woman shares startling before-and-after photo to give recovering addicts hope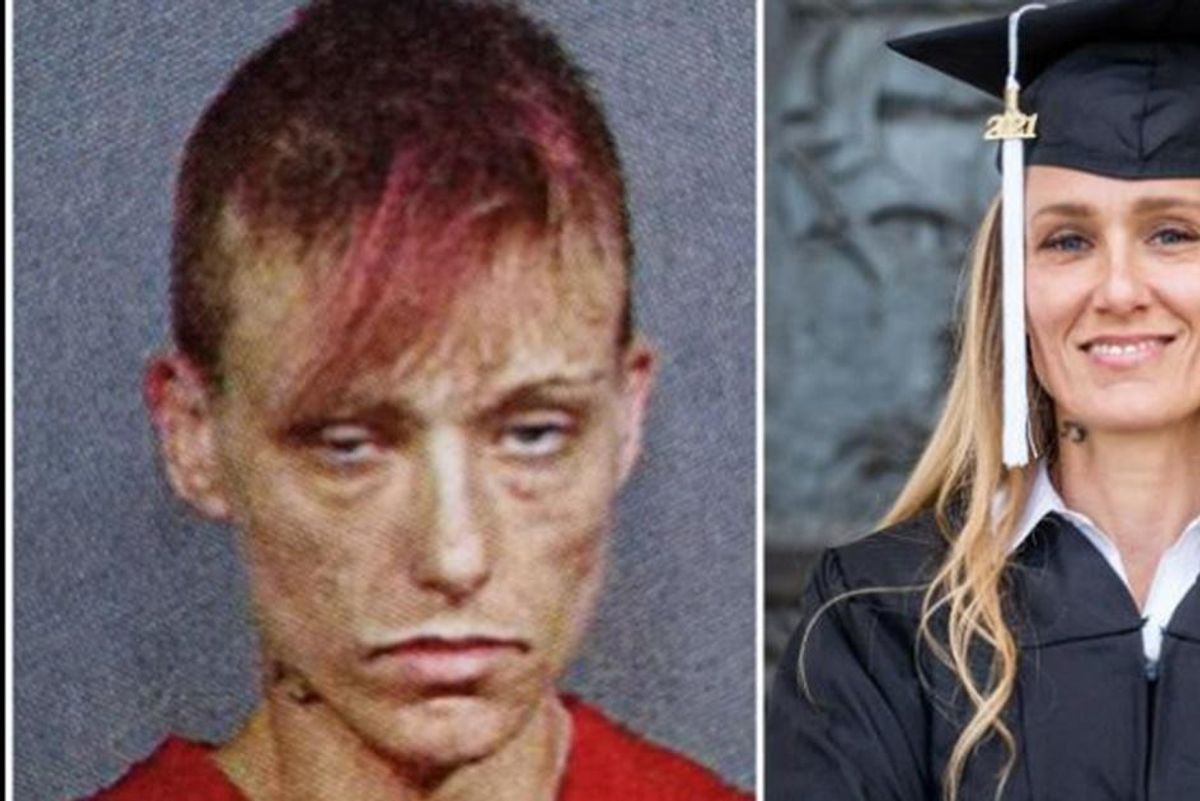 via V Ginny Burton / Facebook
Virginia Burton, 48, has over eight years and five months of sobriety under her belt and that's the longest stretch she's gone without using. She was first introduced to marijuana at the age of six and by the age of 15 was a "full-blown addict."

She was incarcerated three times, twice with her mother.
She desperately wanted to stop, but couldn't do it on her own. But finally, she found sobriety after getting arrested. "If not for the police, I wouldn't be where I am today. They gave me an opportunity to change my life when they arrested me," she wrote on Facebook. "On my own, I wouldn't have stopped."
---
"I honestly thought I'd die on a park bench with a needle in my arm or by gunshot to the head," she wrote. "I would've never in a million years thought my life would look the way it does today."
However, things have changed.
A photo she shared on Facebook is going viral for showing the dramatic change she's gone through. The photo on the left is of her strung out on heroin and cocaine in 2005. The right, Burton after recently graduating with a political science degree from Washington State.

"How's that for motivation?" she captioned the photo.
Last year, as a junior, she was awarded the prestigious Truman Scholarship which recognizes future leaders driven to make change at the policy level.
An avid mountaineer, she told the University of Washington that she tackles each task in life like she approaches a summit.
"Making the decision to return to school so late in life was a challenge for me," she said. "I thought I might be too old to start my life over again and that learning might be harder than I imagined. I decided that I would tackle each challenge I faced with the same drive I tackle mountains. There is no excuse to stop moving forward. If I want to reach the summit, I must keep climbing."
Burton hopes her miraculous transformation will show people that anything is possible. "Stop selling yourself short," she wrote. "You don't know what tomorrow might bring so you might consider starting today."
Recovery Talk with Ginny Burtonwww.youtube.com
"If you would have told me that my life would look like it does today eight and a half years ago, I would have called you a liar," Burton told 10 TV's Bryant Somerville.

Burton hopes her transformation will show people that even in the direst of situations it is possible to turn one's life around.
"I want people to know that there is hope," she wrote on Facebook. "No one is disposable. You don't have to die in addiction. You can stop using, lose the desire, and find a new way to live. There are so many of us out here willing to help."
The post has clearly done its job. It's been seen by people as far as the Middle East, Switzerland, and Spain, and her inbox has been filled with countless messages from people thanking her for her hope and perseverance.
"I can't tell you how grateful I am to share my life out loud," she wrote.
Burton is looking forward to changing more lives by pursuing a master's degree at the Evans School of Public Policy in Seattle so that she can help change the prison system. Since 2011, she has worked as a volunteer with the Post Prison education program which works to support former prisoners.
Her long-term goals are to realize her childhood dream of becoming a lawyer, run for elected office, and to restructure prison time. Given how she's approached life for the past eight years, I wouldn't bet against her.