Democracy
This International Women's day, celebrate six changemakers fighting for gender equality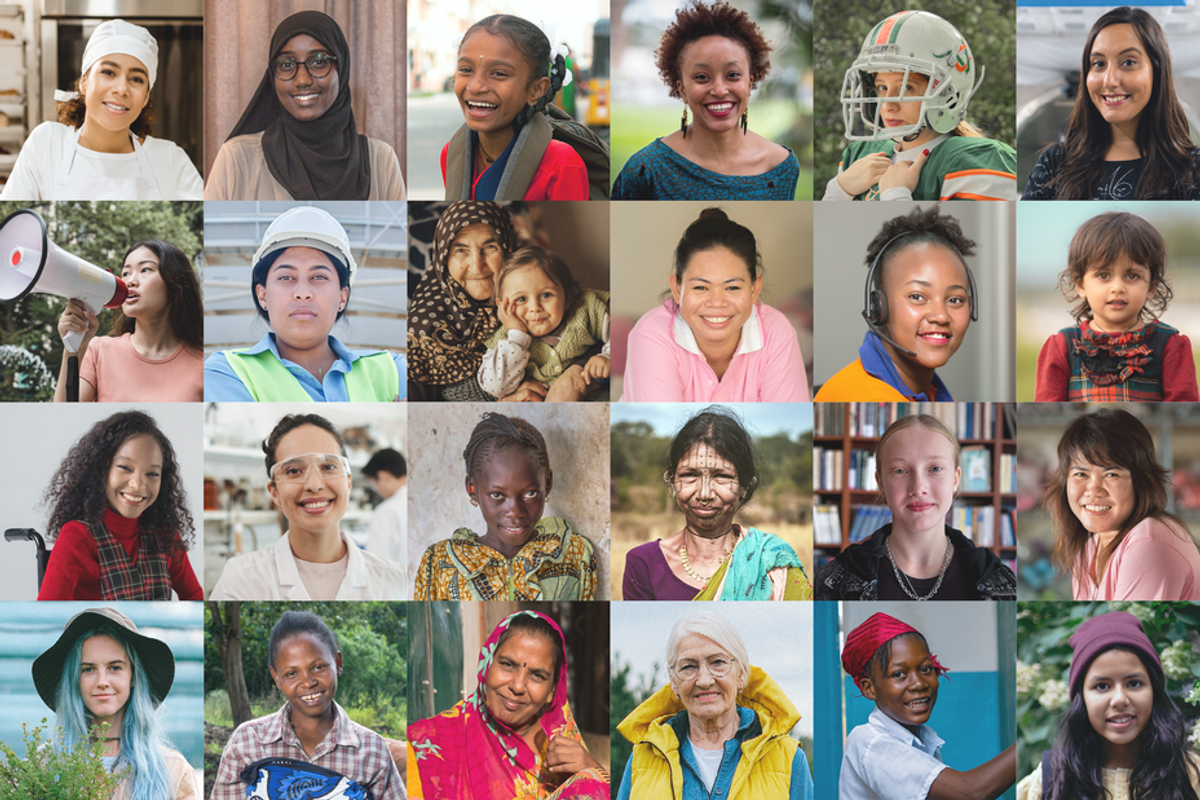 All images used with UN Foundation's permission
True
Equality is a birthright that belongs to everyone. But for girls and women around the world, equality isn't yet their reality.
Despite the persistence of gender inequality in our societies today, tireless changemakers are fighting to end gender discrimination everywhere so that women's voices can be heard in all spaces—champions who not only dream of a better tomorrow, but understand the actions needed to make it possible. UN Foundation aims to amplify the stories of those advocates with its fourth annual #EqualEverywhere campaign.
The yearlong campaign, which peaks on International Women's Day, elevates inspiring stories of gender equality champions from around the world in an online series and on UN Foundation's digital platforms—from those advocating for more health care access, to transgender rights, to better STEM opportunities, and many, many more. No matter what singular topic these leaders focus on, the message remains the same—girls and women have a right to be equal everywhere.
Here are just a few of those #EqualEverywhere champions working to achieve equality for all girls and all women, wherever they are.
Pelumi Obisesan: supporting women survivors of Boko Haram in Nigeria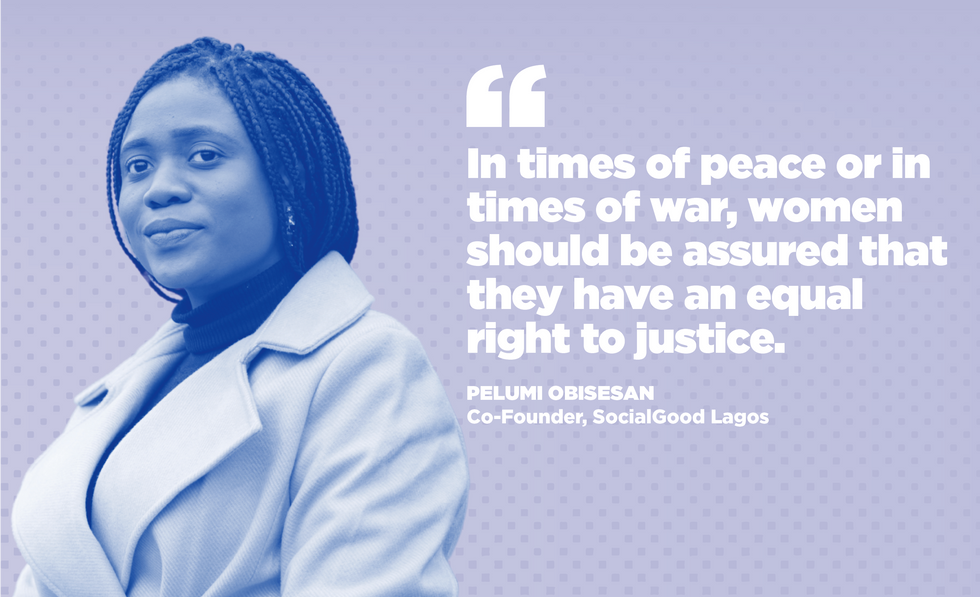 While living in northwest Nigeria from 2014-2015, Pelumi Obisesan witnessed firsthand how women in the country are treated as people who wield no political or social power. This lack of agency that women experience was only exacerbated during violent conflicts like the Boko Haram-led insurgency, and their debilitating aftermath. Despite the grave injustices that women suffered as a result—having their sons go missing, being abducted from their own homes and subjected to violence—their experiences, needs, and perspectives were (and are) often relegated to the background in post-conflict efforts. Through personal interviews, Pelumi's doctoral research has helped their perspectives and experiences play an important role in how policymakers in the Nigerian government move forward in their peace building process, by taking both genders into account. In addition, she is the co-founder of Social Good Lagos, a network dedicated to harnessing the power of new media and technology to make the world a better place.
Saro Imran: fighting for transgender rights in Pakistan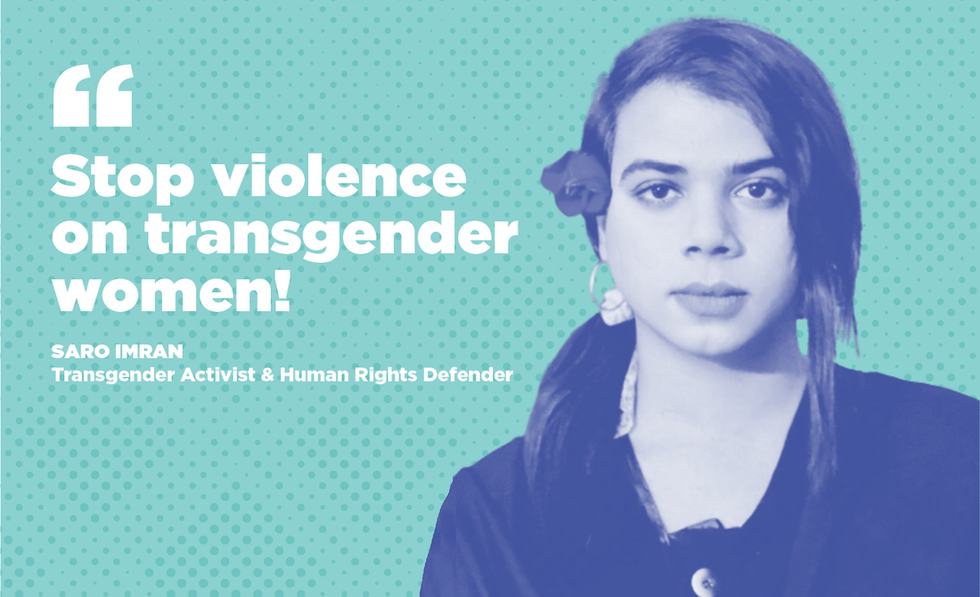 At only 15 years old, Saro Imran was attacked for being transgender in her home country of Pakistan. Since then, she's been an outspoken defender of transgender rights and justice, speaking with people across the globe about what sexual and reproductive health, rights, and justice means for transgender individuals like herself through the Universal Access Project. Her efforts have helped make huge strides, as with the passing of Pakistan's landmark Transgender Persons (Protection of Rights) Act, which safeguards the access transgender people have to education, employment, and voting rights, in addition to protecting them from having to undergo nonconsensual clinical assessments of their bodies to determine gender identity. However, Saro notes that "cyber-harassment of transgender people in Pakistan is on the rise." By organizing local workshops focused on financial education, Saro hopes to give transgender people more independence, and ultimately, the freedom to fully embrace who they are.
Andrea Wollitz: advocating for access to health care for all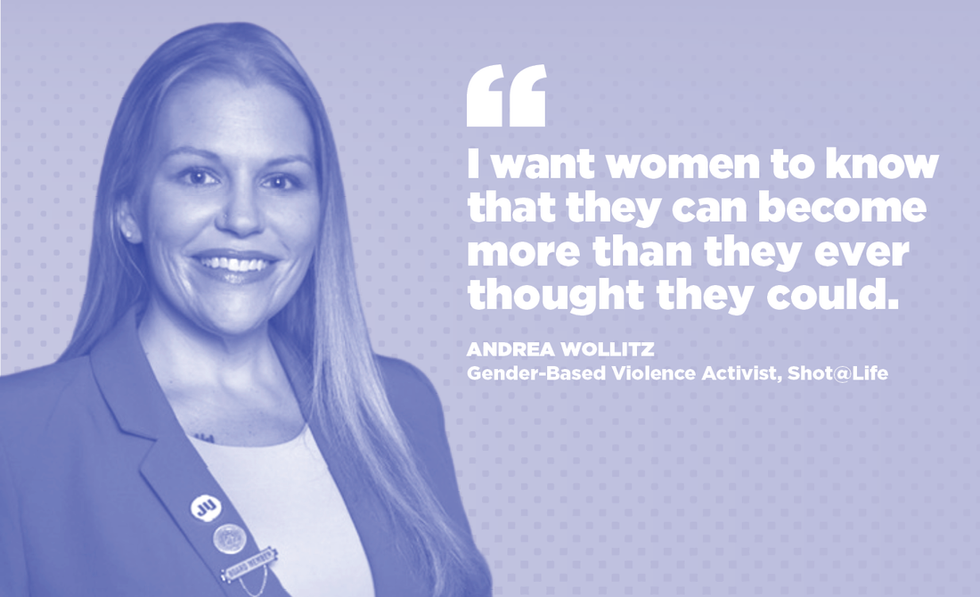 As a domestic violence survivor and a mother to a 14-year-old girl, Andrea Wollitz is both motivated by the past and the future in her efforts to advance gender equality and equal access to health care. When volunteering at SafeSpace, a hotline and shelter for survivors of gender-based violence, Andrea helps empower other women who have been through a situation similar to hers, listening to their stories and providing potential resources that might help. And while pursuing a degree in nursing, she became involved with Shot@Life to help more women get access to vaccinations. Mothers typically handle the vast majority of child care without pay, making it especially challenging if they or their children get sick. That's why having access to vaccinations "gives all of them the ability to reach their full potential," Andrea says. She's also involved in other projects related to improving gender equality in health care, including organizing feminine hygiene supply drives to address period poverty and collecting clothing for survivors of sexual assault, whose clothing is often retained as evidence following examination at the hospital.
Whitney Mwangi: helping girls across Africa own their story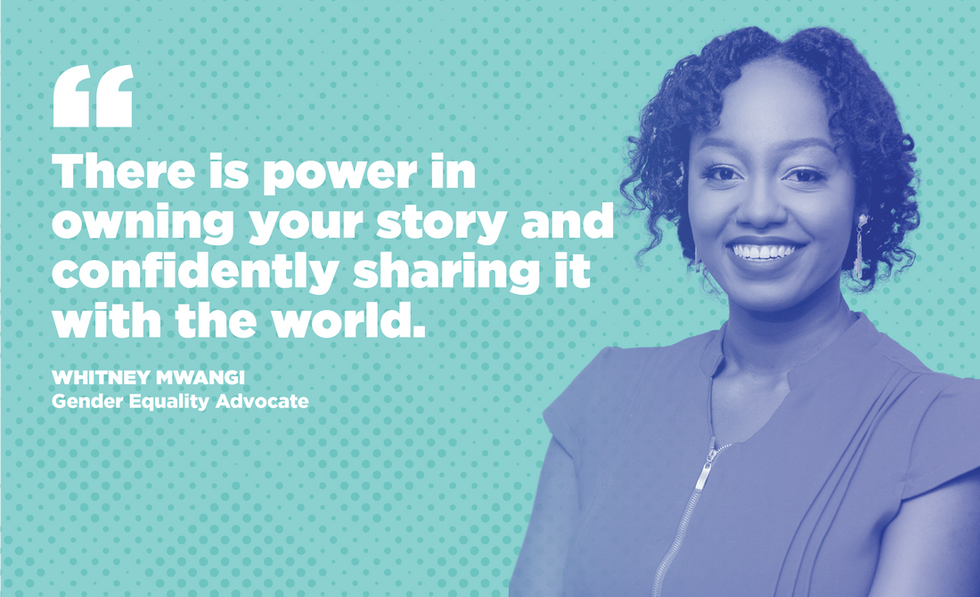 Knowing that everyone has a unique story to share, Whitney Mwangi teaches girls and young women across Africa to express themselves through writing. Her platform, The Story Book, is a fun, safe space where young people can find their voice, gain more confidence and learn from others through storytelling. Whitney often saw women (especially young women) sidelined. She even experienced it herself on more than one occasion. Now she takes every chance she can get to offer mentorship and encouragement so that women can live up to their full potential.
Whitney is equally passionate about ending infectious diseases across Africa, especially the three deadliest diseases: AIDS, TB, and malaria. Malaria in particular is a threat to Africa's younger generations, both for their health and their education, as it prevents them from being able to go to school. By working with global campaigns like United to Beat Malaria, Whitney helps ensure that the voices of young African girls and women are fully accounted for and represented in the global fight to end malaria for good.
Isabel Liu: championing STEM for Girls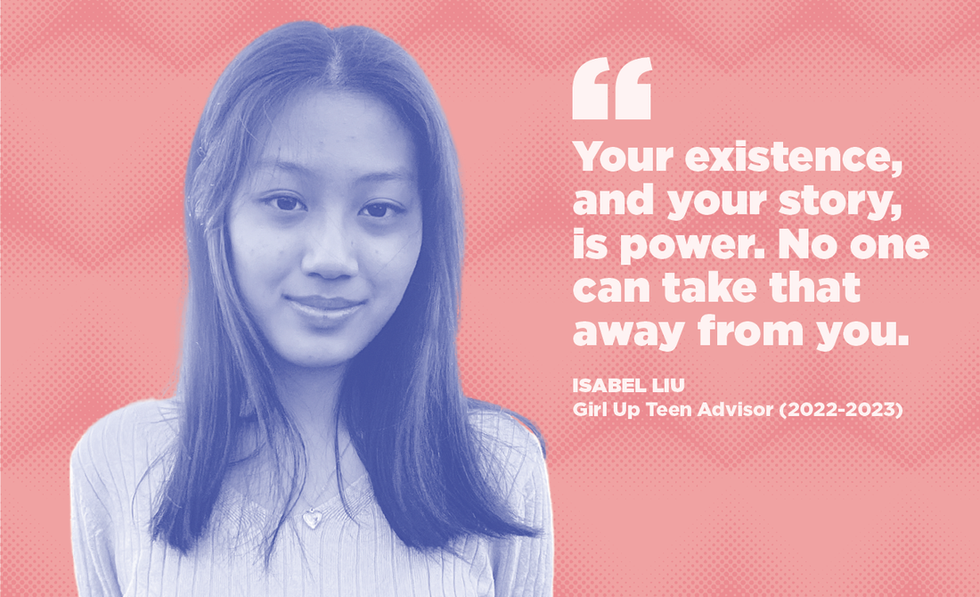 17-year-old Taiwanese American Isabel Liu is reimagining what's possible for the next generation of computer scientists. As a Teen Advisor for Girl Up and a Community Ambassador for the free coding camp Kode with Klossy, Isabel became moved by the glaring gender disparity in STEM (science, technology, engineering, and mathematics). The underrepresentation, she notes, is "consequence and a curse" that leaves women "more likely to be excluded, manipulated, and powerless." So now she graces stages to share her own stories, and those she's gathered from others, whether that's in the form of spoken-word poetry, emceeing, or interviews. Often surrounded by men, Isabel introduces ideas that put female and genderqueer youth at the forefront of social change.
Lady Tee Thompson: creating opportunities for women to grow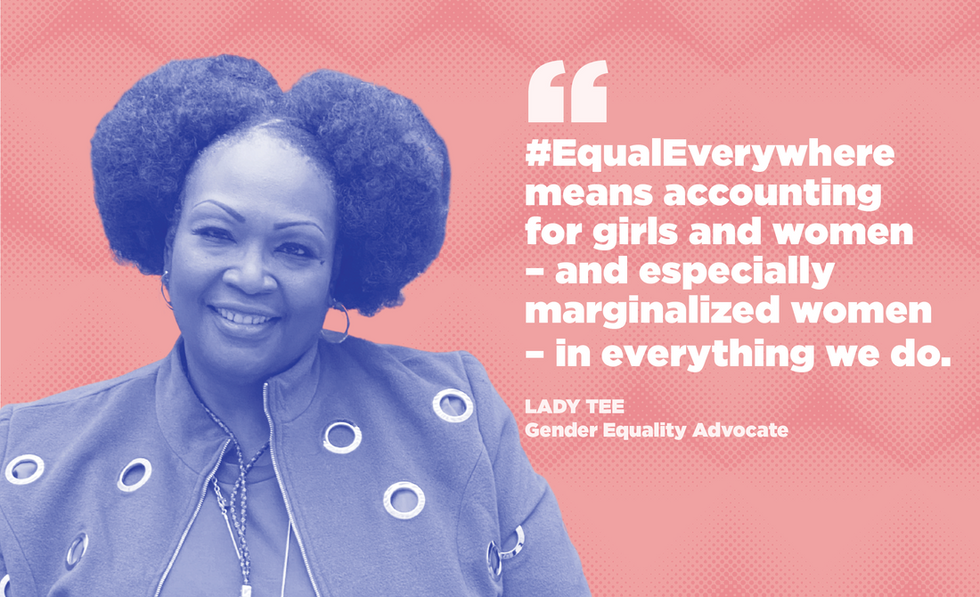 Lady Tee Thompson's experiences as a disabled, marginalized, and minority female entrepreneur have shaped and inspired her lifelong efforts to ensure women of all backgrounds have access to education and opportunity. Back in 1989, Lady Tee spoke to the Board of Education as a young student to keep open Highland Park Community College, Michigan's only Historical Black College at the time, where women made up a majority of the student body. Her efforts kept the school open for several more years, helping more women and marginalized students change their lives. Lady Tee has since shifted from local to global advocacy with a focus on supporting women entrepreneurs around the world. In 2015, after speaking at a women's empowerment conference in West Africa, where she learned that female farmers were denied training and land rights to scale up their business, she launched a training firm called AgroBiz.org. Their U.S. Study Tours offer a variety of learning opportunities, everything from special farming practices to entrepreneurship. To date, AgroBiz has mentored over 50,000 girls and women across the U.S. and 14 other countries.
In addition, Lady Tee acts as co-Chair of the Women's Affinity Group for The United Nations Association of the USA (UNA-USA).
UN Foundation's #EqualEverywhere campaign makes it easy to support these champions and spread their message. Take a stand for women and girls everywhere by posting their stories to social media using #EqualEverywhere and take the pledge at equaleverywhere.org.