popular
Trump is almost gone but we've found maybe the best, and most unusual, impression of him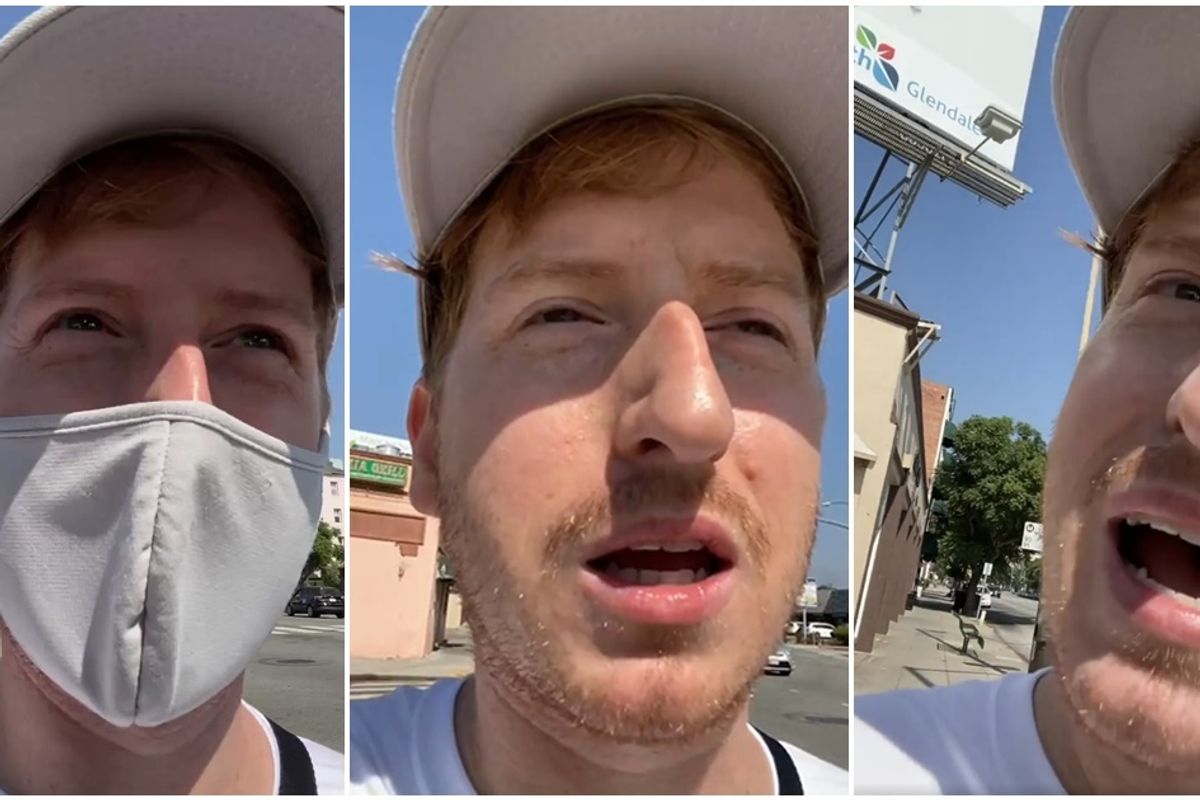 via James Austin Johnson / Instagram
In two months, Donald Trump will be out of the White House but, at the last minute, it looks like we may have found the best, if not the most unusual, impression of him out there.

Stand-up comedian James Austin Johnson has been impersonating the president since he was elected, but it wasn't until recently he figured out the right approach. Trump is such an over-the-top character in real life that he's tough to spoof.
---
"When he first got elected and I was playing with the voice in 2016, 2017, it would show my sort of left-wing anger a lot. I would be like, 'We're going to kill everybody. We're blowing up everybody's houses I don't like,'" Johnson told Vanity Fair. "I'd be more openly racist and homophobic as Trump."
However, that didn't seem to connect with audiences.
Johnson was raised as a conservative Christian in Tennessee, so he took his intimate knowledge of Trump supporters and used that to help shape his impersonation.

"Trump manages to uncomplicate the world for a lot of people. They don't give a shit about, he fucks porn stars and he fucks around on his wife. They don't care about any of his earthly sins," he told Discourse Blog.
"He repeats their own values back to them. And all they want to see is their values reflected in the world," Johnson continued. "The fact that we don't all see Trump in the same light could be a reason for why a lot of the Trump comedy doesn't hit."
So instead, he focused on Trump the "bullshitter."
"Whenever I ramble in that Trump voice, I'm hoping to just sort of subtly illustrate, like, this guy just has no idea what he's talking about," Johnson said. "He just talks out of his ass and he's pure Americana. He is confidence without substance. He gives voice to that angry confidence and he doesn't have to be right."
Johnson went viral for a lo-fi video he did of Trump discussing the music and career of "Weird Al" Yankovic. The impression is great because he masterfully recreates Trump's rambling style while speaking passionately about something pretty pointless.
Which is a lot of what Trump does at his rallies.
Another popular video is Trump discussing Scooby-Doo.
"Scooby-Doo, they call him Scooby-Doo. They call the show Scooby-Doo. But Scooby doesn't do anything. Scooby is not involved," Johnson, as Trump, said in an August video. "Half the time Scooby is not involved. He's just a bystander. It's one of the worst deals we've ever had.
"Scooby, frankly, gets much too much attention, money," Johnson said later in the video. "We're giving way too much attention to Mr. Scooby."
While a lot of comedians focus on the '80s womanizing version of Trump, Johnson sees him as an old many with terrible sinuses.
"I tend to hover around Rally Trump, and there's absolutely no rehearsal there. I pick a pop-culture topic, usually something that is an actual opinion I actually hold," he said.
Johnson, an avid gamer, also did a hilarious video as Trump conflating his election day performance with Pokemon.
Johnson believes the key to doing Trump is to be as unrehearsed as the president. "I think I might have written out a couple of things a couple of times, and I just noticed that those wouldn't take off online and it was missing some mojo of what makes Trump Trump," he said.
"Trump is not written out, and he's not rehearsed," he said.