Culture
People are sharing their heartwarming experiences with an app that lets you 'see' for blind people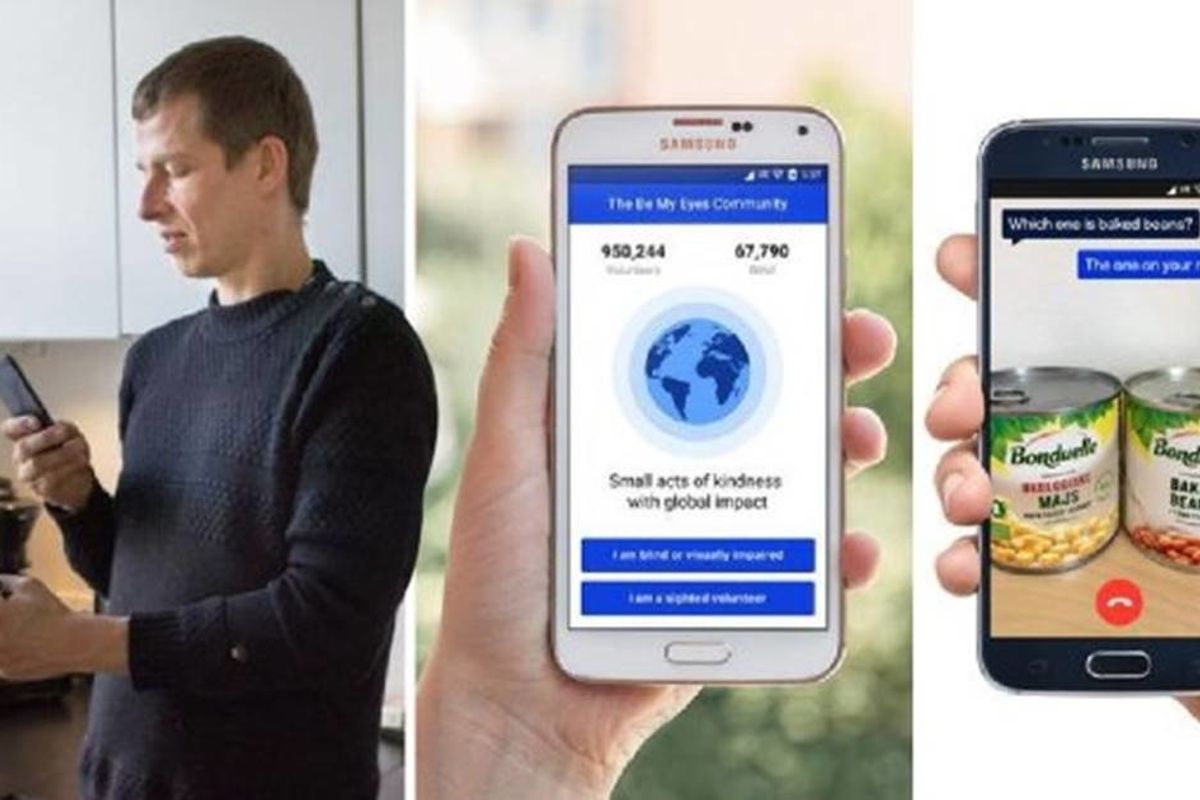 Smartphones and voice-activated technology have been a huge blessing for the visually-impaired.
They make it much easier for visually-impaired people to access information while making day-to-day activities a lot more convenient.
Before smartphones, they would have to carry multiple items such as GPS devices, voice-activated note takers, and bar scanners.
Now, a new app called Be My Eyes is making life a lot easier for visually-impaired people by connecting them to people with sight via Facetime. It also gives sighted volunteers the opportunity to give back.
Be My Eyes was created by Hans Jorgen Wiberg, a visually-impaired man, in 2015. Visually-impaired people would often use Facetime to ask friends and family members for help.
---
So Wilberg created Be My Eyes so they wouldn't have to be as reliant on personal relationships.
So i downloaded this app called "Be my eyes" awhile ago. You get FaceTime calls from blind people all over the world & help them with whatever task it is that they need help w/. I just got my first call & helped this lady pick out almond milk. Something so small made her day 🙏🏾 pic.twitter.com/iCCvVBdgw0
— Steven 7/27 (@Elsmoove_) June 30, 2019
Visually-impaired people use the app for countless purposes, including finding lost things in their homes, reading labels, counting money, and matching their clothes.
In four years, the community has grown to over 140,000 low-vision or blind users and over 2.5 million volunteers. There are so many people who've signed up to help that sometimes it takes weeks for them to receive their first call.
"When we launched, we didn't know if people would be willing to volunteer time to help complete strangers," Alexander Hauerslev Jensen, the CCO of Be My Eyes, told The Guardian. "But within the first 24 hours, we had more than 10,000 volunteers."
"The fact that we have so many volunteers enables us to have a really fast response time. I see it as a good problem," he continued. "It takes a few minutes to make a big impact on someone else's life. This is a combination of technology and human generosity."
People who've signed up for the app as volunteers have been raving about their experiences on Twitter. Here are just a few of the recent experiences they've had as Be My Eyes volunteers.
LMAO I hate myself.

I'm standing here naked with coconut oil on my body after the shower, dripping wet and then I get a be my eyes call for a blind person who needs help

I ignored the call bc I didn't want them to see me naked...

Fucking christ rhiannon
— prple k (@ronisokay) July 24, 2019
Lol so I downloaded that app Be my eyes where you help the blind people and the man who called me today needed help counting his money.
— Wop🍦 (@thechronicole) July 22, 2019
I downloaded this app called "be my eyes" a month ago and you help blind people from all around the world find things in their home, I just got my first call this woman was nice as fuck bro
— Sex Jr. (@kordlessbby) July 24, 2019
After downloading it months ago, I finally got the privilege to answer a call on the "Be My Eyes" app. A visually impaired person uses the app to video chat with you and you help them with whatever they're doing! I helped a guy find out how long to microwave his dinner.
— Thomas Clements (@TAClements) July 23, 2019
this be my eyes app (an app for visually impaired) makes me feel useful... i just need to learn how to pick up my phone fast lol 😅 #BeMyEyes pic.twitter.com/SRi5s166X5
— S• (@ShaneEscano) July 21, 2019
I just got my first be my eyes call and actually started tearing up after I love the app so much
— Ashley (@__AshleyJC__) July 20, 2019
Today I had my first "be my eyes" video call experience & I'm truly blessed y'all! I helped a bling young man find his sink & soap. It made my day! something so small &simple that made his life easier. You should download the app, you might be the next person they call for help❤️ pic.twitter.com/DndgfTT1bI
— H N Q U E E N 🇭🇳 (@Aleisasworld) July 19, 2019
Technology is AMAZING, from my living room in the UK I just helped a blind lady from across the world colour match clothes through the Be My Eyes app. If you want to sign up, follow this link —> https://t.co/2gkEHxcEzV
— Maria (@mariaaa_eleni) July 18, 2019
Hey twitter i just wanted to share this new app that i got called Be My Eyes :') you're able to help blind people with whatever they need through video chat. i actually just received my first call as i was typing it and i got so emotional.. if you guys have spare time to help.... pic.twitter.com/6kMfM1IGJJ
— Mamizz. (@lexxie1441) July 16, 2019
I just got my first call from the "Be My Eyes" app and honestly I felt like that was the best deed I've done all day.
— QOTD (@bruddarobles) July 13, 2019
y'all should download the app "be my eyes"! blind people & sighted volunteers (like me) sign up & when a blind person needs help, they send a call on the app. i just got my first ever call & was letting a lady know what the name on an envelope was. it's so heartwarming to help!
— julia 🌻 (@thirleighx) July 12, 2019