Family
The controversial HPV vaccine has nearly eliminated the cervical disease in Scotland.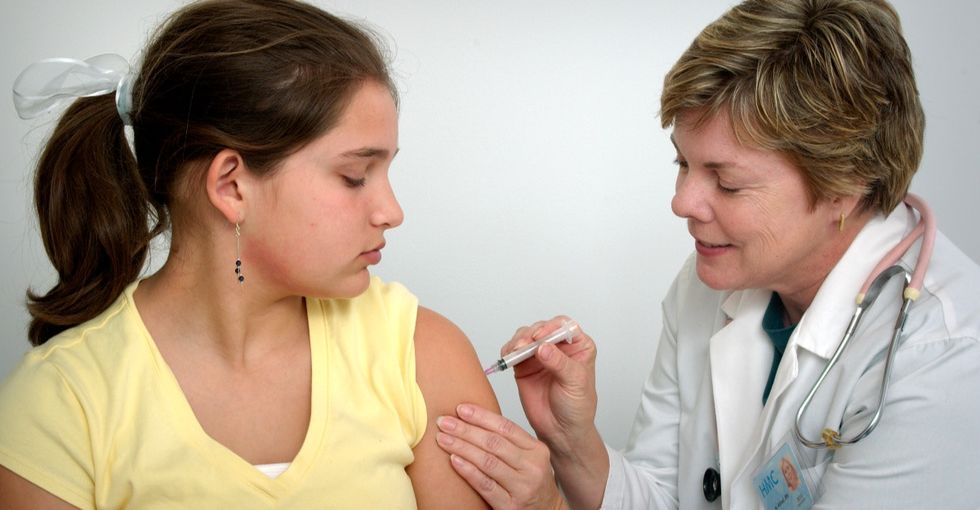 There's been a lot of controversy around the safety and effectiveness of vaccines over the last decade, but a new study just put a big check mark in the plus column for the HPV vaccine.
The study involved 140,000 women and shows the vaccine that protects against the human papillomavirus has been effective in dramatically decreasing cases of the cervical disease later in life. Researchers claim the vaccine, recommended to girls when they are in their early teens, has cut the pre-cancerous cells by 90 percent, nearly eliminating cases of pre-cancer since they implemented the new vaccination program in 2008.
But that's not the most interesting factor. This new research also found that being vaccinated at a younger age was associated with increased effectiveness.
---
And there's good news for parents who've chosen not to vaccinate their kids as well.
Unvaccinated women also showed a reduction of cervical cancer, likely due to the fewer HPV cases in general thanks to the increase in those who had been vaccinated.
Researchers hope these findings will help ramp up cervical cancer prevention programs around the world, and inspire more families to get their young women vaccinated so that cervical cancer can be eliminated once and for all.
"The main message is that the vaccine works," Dr Kevin Pollock, of Glasgow Caledonian University, explained to the BBC. "As long as the high uptake continues, the virus has got nowhere to go and it is being eliminated."
Unfortunately, many parents are still morally against the vaccine, fearing it encourages sex at a young age.
It might seem like a no-brainer to get your child an HPV vaccine, however, historically there has been some controversy around it, especially with regard to administering it to younger women.
Some worry that it encourages their children to be prematurely sexually active. Others simply don't believe in vaccinations in general. What's more, if parents refuse to allow their child to be vaccinated, and that child then waits until they're legally old enough to get it themselves, it likely won't be nearly as effective. An individual needs to receive the vaccine before they become sexually active — not after — in order for it to do its job. If they wait until they're 18, there's a much higher chance that they'll already be sexually active, thereby negativing the vaccine's effectiveness.
Just because teens have access to things like condoms, birth control pills and vaccines that have to do with their reproductive health doesn't mean they are going to have sex. However, as this study shows, such vaccines could save them from contracting a life-altering and potentially deadly disease. At the end of all the arguments, isn't protecting your child's long-term health the most important thing?