Democracy
A nurse helps explain some of the more baffling COVID-19 restrictions affecting everyday life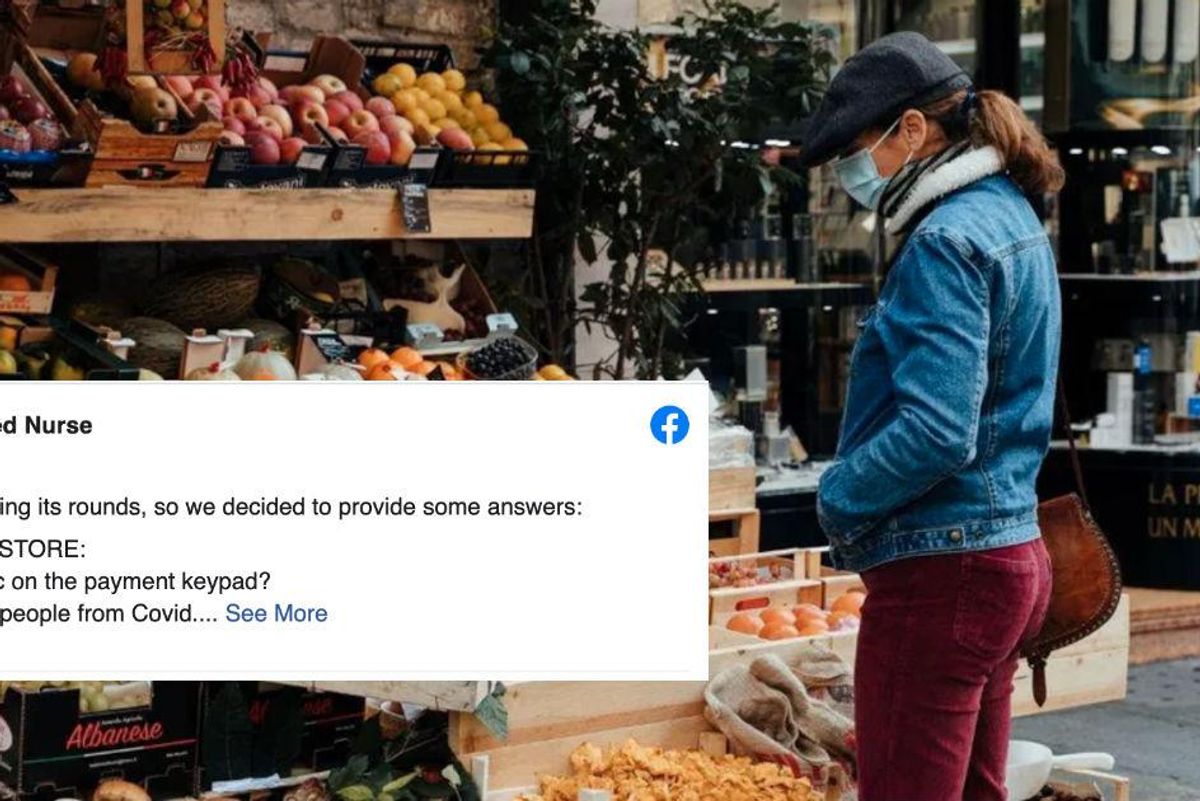 Since the beginning of the pandemic, guidelines and restrictions and mandates have come at us in a dizzying fashion. Each state has done things differently, and in most states each county has its own approach as well. And while some of the mitigation measures make perfect sense, others seem questionable or downright silly.
Some criticisms are certainly legitimate. Allowing certain indoor gatherings while closing down outdoor park spaces, for example, is an approach that has been panned by prominent experts in epidemiology who rightly point out that outdoor spaces are safer. But that doesn't mean that all measures that seem odd to us aren't based in solid reasoning.
A nurse on Facebook offered a response to a post that's been going around asking why certain measures have been put into place when the people who are charged with carrying them out don't know how to explain them. Marking her answers to the points with two asterisks, the nurse explained why what might seem illogical from a lay perspective actually has solid grounding in virology expertise.
---
"This has been making its rounds, so we decided to provide some answers:
Me AT GROCERY STORE:
Why is there plastic on the payment keypad?
Cashier: to protect people from Covid.
Me : but isn't everyone touching the plastic keypad the same way they would the regular keypad?
Cashier: no words. Confused look.
**cashiers generally do not study virology, epidemiology or public health. This is the wrong person to ask.
Answer: less porous plastic coverings over key pads offer a surface that is more easily sanitized without risking damage to the mechanisms of the machine by harsh liquid chemicals. The plastic coverings are supposed to be wiped at close intervals of time to reduce the fomite transmission of virus.
Me : Why Dont you pack the grocery bags anymore?
Cashier : Because of covid 19 to reduce the spread of catching or spreading the virus.
Me : But a shelf packer took it out of a box and put on the shelf, a few customers might of picked it up and put back deciding they Dont want it, I put it in my cart then on the conveyer belt, YOU pick it up to scan it.. But putting it in a bag after you scan is risky??
Cashier : no words, confused look
**cashiers generally do not study virology, epidemiology or public health. This is the wrong person to ask.
Answer: having no grocery bagger, an infection reduction strategy employed by many places does eliminate 1 person's set of hands on the groceries, which is somewhat helpful, however the real reason to eliminate the bagger position is to reduce the risk to the cashier and the bagger. While customers move through the store quickly, reducing their exposure time, a checker and a bagger standing at close proximity for hours (even masked), increases employee exposure risk. This risk can translate to employee outbreaks, reducing the workforce for the company. Spreading employees out, or reducing the numbers of clustered employees prevents the spread of infection within a store's workforce.
Me AT DRIVE-THRU
Server: (holds a tray out the window with a bag of food for logical friend to grab)
Me: why is my bag of food on a tray?
Server: so I don't touch your food because of Covid.
Me: didn't the cook touch my food? Didn't the person wrapping my food touch it and then touch it again when placing it in my bag? Didn't you touch the bag and put it on the tray? Didn't you touch the tray?
Server: no words. Confused look.
**drive-thru servers generally do not study virology, epidemiology or public health. This is the wrong person to ask.
Answer: the food is touched by the cook, and then by the person who wraps and bags the food. The wrapper/bagger then places the food onto the servers tray, and the drive-through server only touches his/her tray instead of the bag, eliminating one set of hands on the bag for the customer, but more importantly eliminating the need for the server to touch anything other than their own tray for the day. This protects the amount of hand to hand contact the server has with others throughout the day as well as the recipient of the food.
Me in SOCIETY
Society ; If you cough or sneeze do it in your elbow or sleeve,
Also society : Dont shake hands or hug anyone or you will spread the virus..
To greet people do an elbow tap instead.
Me : Elbow tap
? Isn't that where you tell people to sneeze or cough? into their elbow? Now you want people to tap each other with that elbow
wouldn't it be safer to sneeze into elbow and shake hands like we did before Covid
**Answer: these 2 infection control measures are really supposed to be taken in separate. Hands are the primary germ spreaders, almost everyone understands that. When we cough or sneeze into our hands, and then touch other surfaces, we are likely to spread these germs and possibly make others ill. If you do have to cough or sneeze, using the inside aspect of your elbow, a surface that you are not likely to utilize in other activities is less likely to spread germs. However, if you are frequently coughing or sneezing into your elbow, you should not be in public greeting anyone at all, whether it's with a handshake or an elbow bump. You should be at home, away from others.
Me AT RESTAURANT:
Hostess: ok, I can seat you at this table right here (4 feet away), but I will need you to wear a mask to the table.
Me: what happens when I get to the table?
Hostess: you can take off the mask.
Me: then it is safe over there?
Hostess: yes.
Me: are those fans blowing above the table? Is that the air-conditioning I feel? Is the air circulating in here?
Hostess: no words. Confused look.
**hostesses generally do not study virology, epidemiology or public health. This is the wrong person to ask.
Answer: wearing your mask while walking with the hostess to your table protects you, the hostess, and others who you may breathe, sneeze or cough on en route to your table. Once at your table you should be seated six feet or more away from other guests who are not part of your party. Your party should only consist of members of your own household who you routinely gather with unmasked. Air conditioning, ventilation and fans help disperse and recycle air that may contain virus evenly throughout the space, to be eventually filtered. While stagnant air sits for long periods of time with high concentrations of virus, well-circulated air allows diffusion of the virus into concentrations less likely to cause infection in individuals nearby. Since a certain concentration of virus uptake is needed to make someone ill, this is an effective mitigation strategy that is proven by studies showing less viral transmission among people in well-ventilated spaces.
SOCIETY : You are not allowed to stand and drink at the pub you have to sit down.
**Answer: same as the restaurant scenario. Standing around a bar in close proximity to people that are not from your household leads to the spread of the virus into other households who then spread it to each other. Preventing the mingling of households is the object here. ETA: having patrons sit, also protects the bartender & other staff from being surrounded by a wall of unmasked customers.
But at the shopping centre you are not allowed to sit down, all the chairs are roped off.
**Answer: shopping for essentials should be limited to getting what you need in the quickest period of time reasonable. Eliminating the option to linger in public by eliminating seating areas reduces the amount of people in a single area at a time which reduces transmission.
Who thinks this stuff up?
**Answer: Virologists who study the makeup and behavior of viruses, epidemiologists who study the infectious behavior of pathogens, and public health officials who study public behavior and modification strategies as they pertain to health and safety.
Life is hard for logical people right now. We are being raised without the ability to process and execute logic
**Life is hard for everyone right now, but a lot of us are making it harder by assuming that "logic" is the same as expertise.
"
While it's not a bad idea to ask questions about what we're being asked to do, it's a good idea to actually ask people who have the ability to answer those questions from a place of knowledge and experience. Simply saying "it doesn't make sense" doesn't mean that it doesn't, and we'd all be better served if we posed our questions to those qualified to answer them.