Let's Do More Together
Madeline Swegle breaks 110-year record and becomes the Navy's first Black female fighter pilot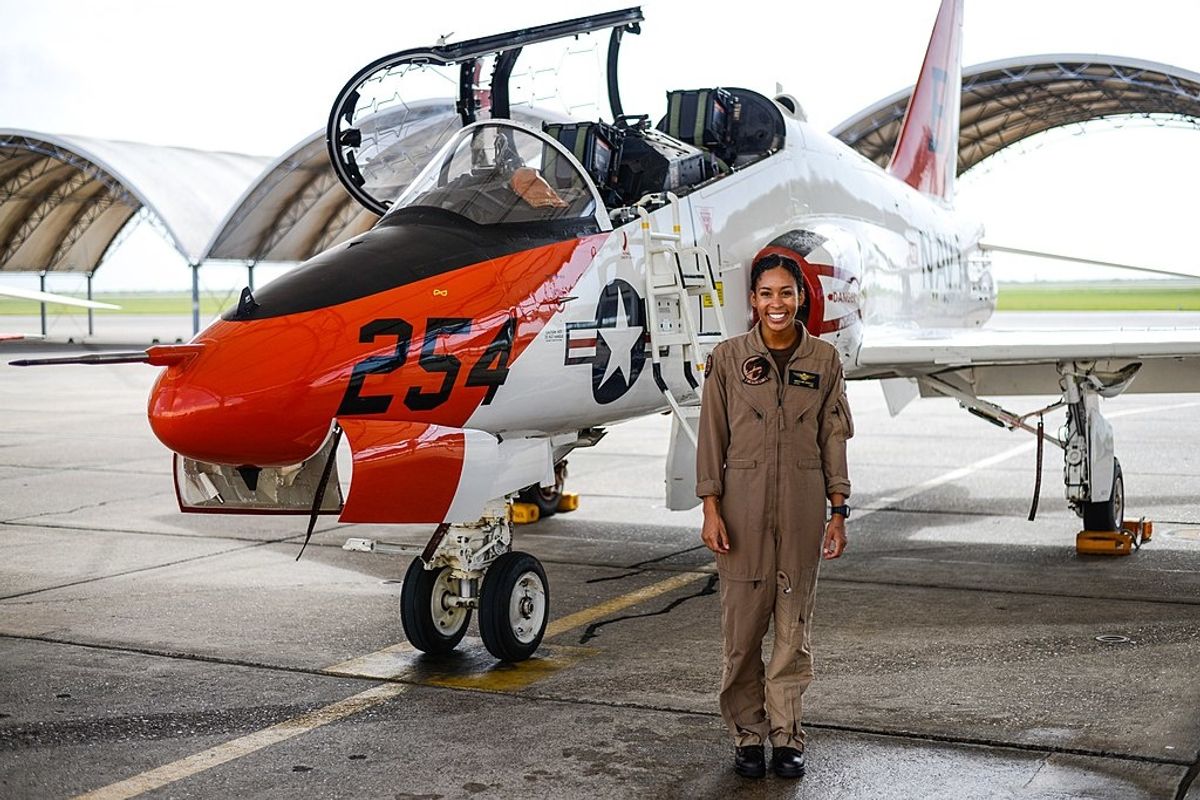 Anne Owens and Luke Redito / Wikimedia Commons
True
When Madeline Swegle was a little girl growing up in Burke, VA, she loved watching the Blue Angels zip through the sky. Her family went to see the display every time it was in town, and it was her parents' encouragement to pursue her dreams that led her to the U.S. Naval Academy in 2017.
Before beginning the intense three-year training required to become a tactical air (TACAIR) pilot, Swegle had never been in an aircraft before; piloting was simply something she was interested in. It turns out she's got a gift for it—and not only is she skilled, she finds the "exhilaration to be unmatched."
"I'm excited to have this opportunity to work harder and fly high performance jet aircraft in the fleet," Swegle said in a statement released by the Navy. "It would've been nice to see someone who looked like me in this role; I never intended to be the first. I hope it's encouraging to other people."
As Swegle's story shows, representation and equality matter. And the responsibility to advance equality for all people - especially Black Americans facing racism - falls on individuals, organizations, businesses, and governmental leadership. This clear need for equality is why P&G established the Take On Race Fund to fight for justice, advance economic opportunity, enable greater access to education and health care, and make our communities more equitable. The funds raised go directly into organizations like NAACP Legal Defense and Education Fund, YWCA Stand Against Racism and the United Negro College Fund, helping to level the playing field.
---
According to the Council on Foreign Relations, the U.S. military has taken significant steps over the past decade to build a more diverse and inclusive force that attracts the country's top talent. However, women and racial and ethnic minorities remain underrepresented in parts of the military, particularly at the highest levels of leadership. According to the Congressional Research Service, in the enlisted realm, 63% of senior enlisted troops are white, while 19% are Black; and only eight out of every 100 senior officers are Black. Women represent 16 percent of the enlisted forces and 19 percent of the officer corps.

Lieutenant Commander Joseph Thompson, an officer serving in the Navy's Dental Corps, knows how it feels to be a minority in the military.
"As a fellow Naval Officer of African descent, I am extremely proud of Lt Swegle's accomplishments. I know the standards of excellence required to be a naval fighter pilot are extremely high. In a historically white male dominated sector of the Navy for her to break through the glass ceiling, not only as a female, but as one of African descent is nothing short of phenomenal...her accomplishments have not only made me proud, but have also motivated me to keep pushing forward in pursuit of my own goals."
Join P&G Good Everyday to take simple, everyday actions to help create conversation and meaningful change in support of Take on Race.