Pop Culture
A mom made up a story about John Cena to get her son to flee Ukraine. Cena made it come true.
John Cena showed up in a big way.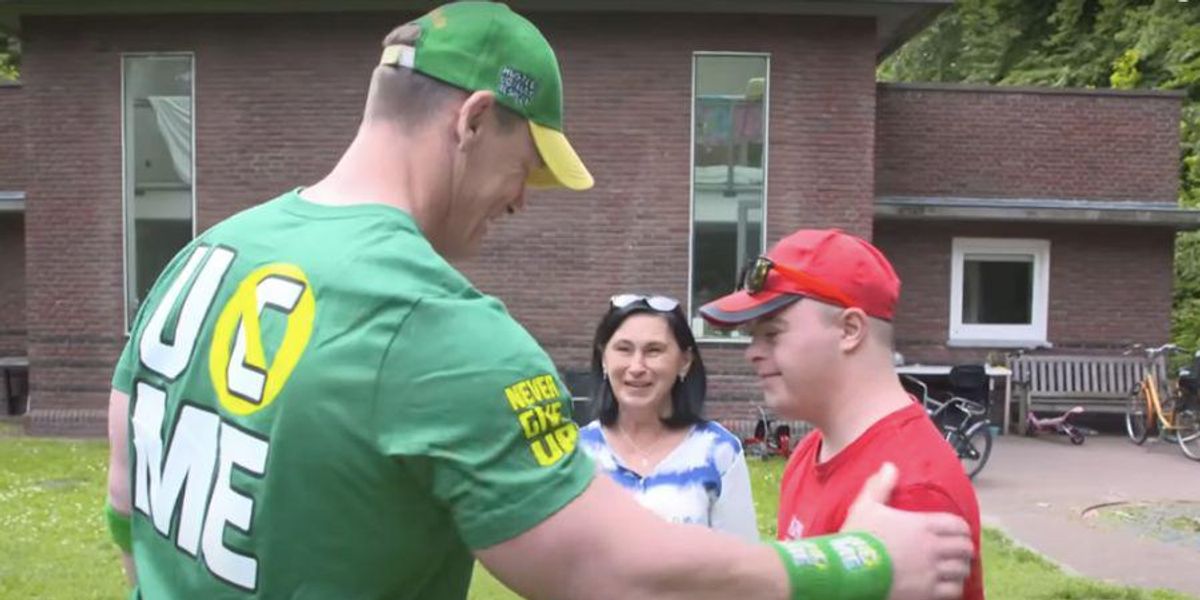 Since Russia invaded Ukraine nearly four months ago, more than 13 million Ukrainians have fled their homeland. Some cities, such as Mariupol, have been completely destroyed—"reduced to a wasteland littered with bodies," according to an explainer in Reuters—and may be uninhabitable for the foreseeable future.
Many families fled early in the war, when the danger became clear. But not everyone understood why they were leaving.
Children are befuddled by war, as they should be. It is nonsensical, illogical and unbelievable to think that you must leave your home and move to a country far away because a grown-up who is supposed to be a leader is trying to blow up your house. People with intellectual disabilities may also not understand a sudden uprooting, especially when the reason is something even fully abled adults struggle to make sense of.
When Liana Rohozhyn's home in Mariupol was destroyed earlier in the war, she and her family were forced to flee. Her son Misha, a nonverbal 19-year-old with Down syndrome, was understandably distressed about having to leave Ukraine. To comfort him through the long journey across Europe to safety, Liana told Misha they were going on a trip to find the champion wrestler, John Cena.
---
It was a fictional story made up by a desperate mother in a dire situation. As a parent, you do what you have to do to keep your children safe. Little did Liana know that John Cena would not only see her family's story, but go out of his way to provide a measure of comfort during a tragic and disorienting time.
Cena just happened to be in Europe when he read about the story of how Liana had motivated Misha with the hope of meeting him. Being only an hour's flight away, Cena's immediate response was, "We're going."
The WWE star met the family near Amsterdam and spent a "special" afternoon "building blocks and eating cake."
He shared kind words about Misha and his mother.

"Misha's ability to embrace persistence, that's extraordinary," he said, adding that Misha and Liana are "two great examples of how persistence can lead to joy, even through the toughest of times."
After spending the day with the family and gifting Misha a load of WWE gear, Cena told the young man, "This was a wonderful adventure in which I got to meet a wonderful new friend. Thank you for giving me strength."
Liana told him he had "a big heart."
Watch:
The sweet story has touched the hearts of people the world over, with people sharing praise for Cena and for Misha's mother.
"There are several things I find remarkable about this interaction," wrote commenter Emily Clauson on YouTube. "How this man talks to Misha softly, with respect and love. He is not putting on a performance. He isn't acting 'compassionate' for the cameras. He is connecting with a human being. They were just two guys hanging out enjoying their day. He spoke to him as an equal. I find that so admirable."
"I'm from Ukraine and it brought me to tears!" wrote another commenter. "We Ukrainians really appreciate this support from all over the world, we need it so much at these dark times! as they say, in dark times you can see light people. Thanks for standing we Ukraine, would never expect to hear about so many people with big hearts. ❤️🇺🇦"
"I love how much he embraces Misha's mom," wrote another. "A lot of news reports on this story just seem to forget about how strong she is. This man is amazing!"
"Misha's mom is an amazing woman. She kept her son going to get out. I wish them well and thank you John Cena for responding," wrote another.
This is not Cena's first trip to make someone's dreams come true. According to SB Nation, he has granted more than 650 wishes through Make-A-Wish since 2004, the most on record.
Cena himself shared that Misha and Liana define his motto, "Never Give Up," and thanked the Wall Street Journal and World Wrestling Entertainment for pulling it all together.
\u201cWhat a wonderful way to spend a Saturday. Misha and his mother, Liana define #NeverGiveUp. \n\nThank you to the @WSJ and @WWE who helped make this special visit possible.\u201d

— John Cena (@John Cena) 1654635645
Thank you, John Cena, for showing us what the best of humanity can look like.