Democracy
Russian citizens are risking being jailed to protest the war in Ukraine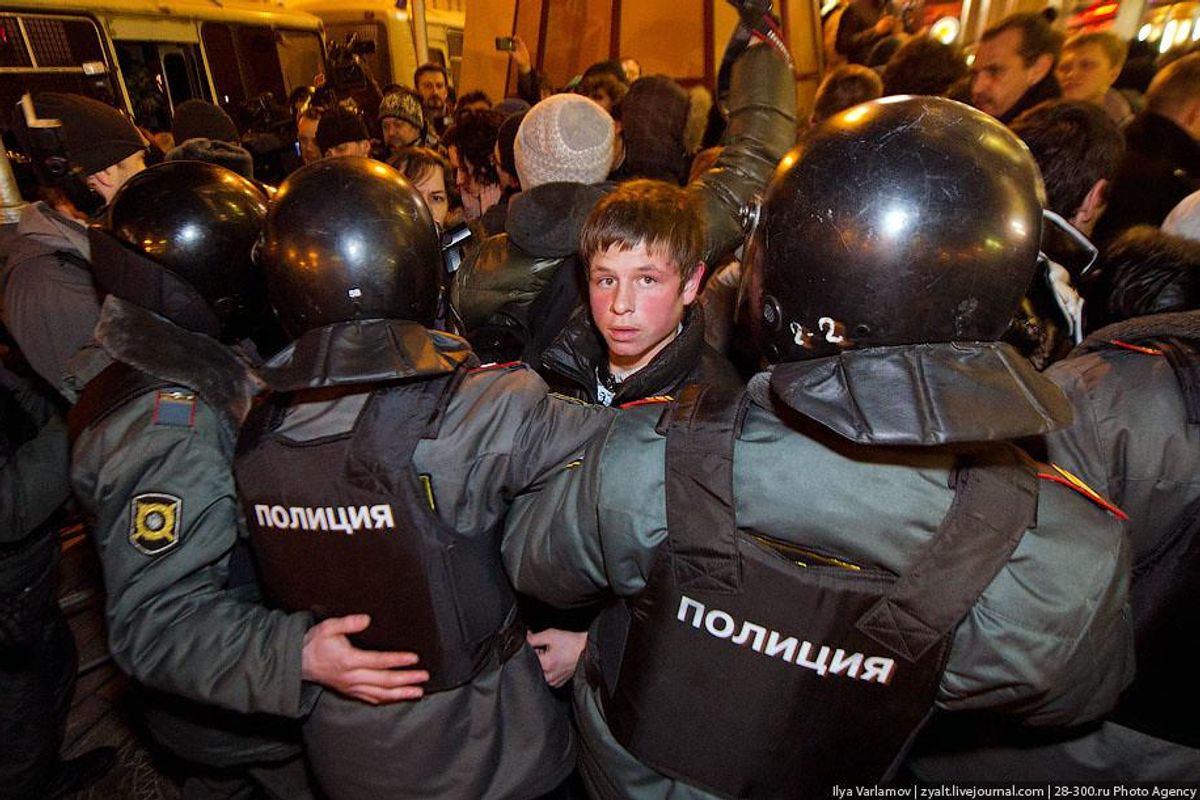 Ukrainian citizens aren't the only ones standing in defiance of the Russian invasion on Ukraine. Thousands of Russian citizens have defied Vladimir Putin's one protester rule, and have been protesting the war in Ukraine en masse. And obviously, this isn't just any protest.
Here in America, we can protest just about anything, just about any place we deem fit to feel our discontent. Unless people become unruly or destructive, there generally aren't arrests or violence. As long as the group you've gathered is protesting peacefully, it is within your rights to remain unbothered by whatever authority may be present to ensure peace.
In Russia, protests that consist of more than one person are illegal and expressly outlawed in all forms. There have been reports of people protesting and never returning. Russian citizens are swiftly jailed and oftentimes injured during the arrest. There have been videos of people screaming as they are being carted away by the police, some have speculated that they are screaming because they aren't sure they'll return. No matter why they're screaming, it's obvious from the videos that protesting in Russia is dangerous, and the fact that these people are willing to risk their lives to speak up for their neighbors is admirable.
---
Protests are erupting in several Russian cities tonight against Putin's large-scale invasion of Ukraine, along with attempts from police to forcibly suppress them. Here's his hometown of St. Petersburg. I'll be threading videos below as I find them.pic.twitter.com/B5MyG5E4ou

— Alejandro Alvarez (@Alejandro Alvarez) 1645722151
Currently, more than 6,400 Russians have been arrested for protesting since the start of Russia's invasion of Ukraine.On one day alone, more than 2,000 people were arrested in 48 cities across the country for protesting, according to OVD-info, a rights group. The rights group was deemed a foreign agent last year due to Putin's opposition to activists, rights groups and opposition figures. The bans on protests and activist groups haven't slowed down the increasing demand from the Russian people to end the war in Ukraine.
Tennis star Andrey Rublev showed his disapproval of the war by writing "no war please" on a camera after his win in Dubai. Rublev is the seventh best male tennis player in the Association of Tennis Professionals (ATP) and the on-camera writing came days after protests began in Russia. The people of Russia are feeling emboldened enough to stand against a war that they do not support in a way that can cause them physical harm, and at the very least certain jail time.
Huge anti-war protest happening in Moscow, the capital of Russia: \n\nRussian citizens rejecting the Ukraine invasionpic.twitter.com/Cx6GADwlPy

— philip lewis (@philip lewis) 1645731508
While in Moscow protestors were often outnumbered by the police, they dared to show their very real anger with the war by shouting, yelling and displaying signs with anti-war sentiments scrawled across them. Some protesters even wore masks with the word "enough" written on them. Outside of a department store in St. Petersburg, protesters stood shoulder to shoulder, linking arms and chanting.
Protests spread much further than Russia, as thousands of people protested in the streets across Europe in opposition to the war. Russia has been levied heavy sanctions from across the globe; even Switzerland, a country famous for its neutrality, spoke out against the war. It's been heartwarming to see all of the support the Ukrainian people are receiving, but the most unexpected support is coming from within Russia itself.