Family
People are leaving strollers on train platforms for Ukrainian parents arriving in Poland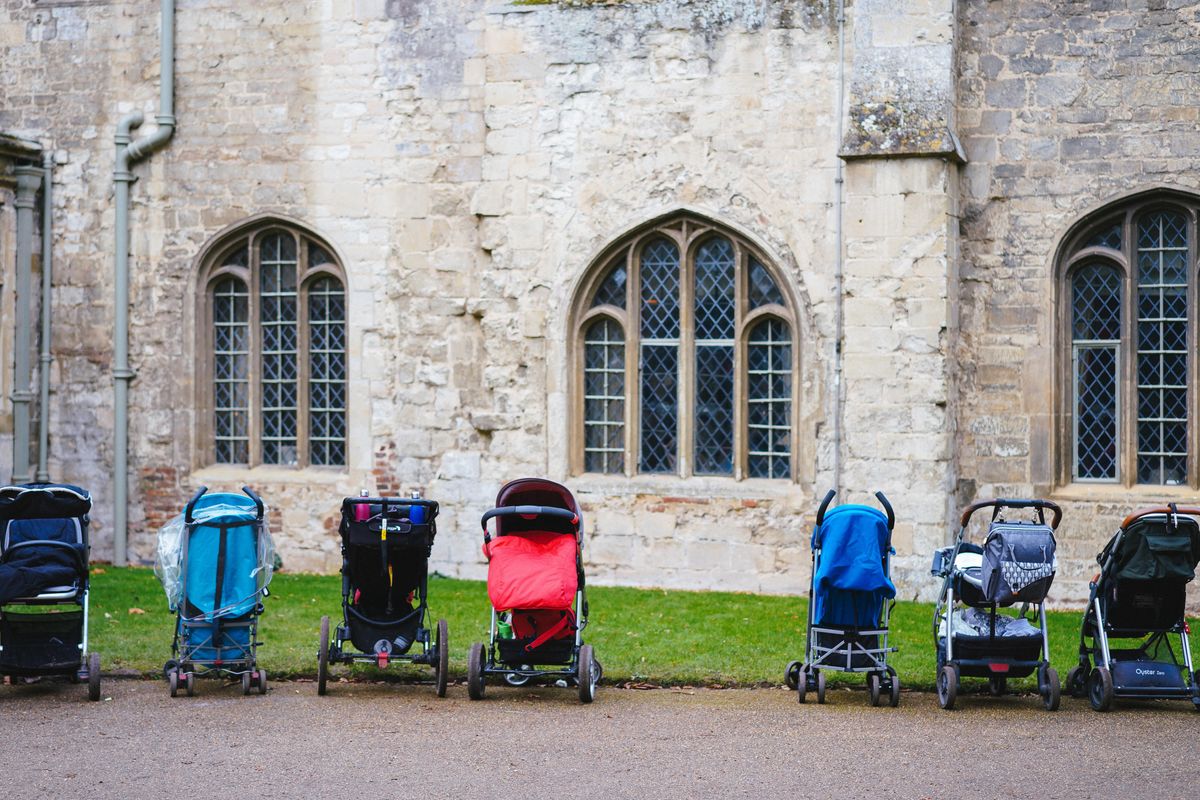 A parent's love knows no bounds and that sentiment is on full display as mothers and grandparents trek through unfamiliar territories fleeing the war in their home country of Ukraine. The images coming out of Ukraine and the bordering countries of the refugees are heartbreaking. Despair, confusion and heartache are etched across the faces of loving parents, grandparents, sisters and brothers. Grief is palpable as seen in the videos and images on our screens, but some volunteers in Poland are helping families experience their first sense of reprieve since Russia invaded Ukraine.
Moms across the globe know what it's like to care for a tired, scared or cranky child. They especially know how it feels to parent while you are also tired, scared or cranky. Not many of us understand what it feels like to parent through an active war, or while fleeing from your home country, but every parent can empathize with what these families must be going through. Several volunteers in Poland took it upon themselves to ease the literal and figurative load of the parents seeking refuge from Ukraine by leaving strollers on a train platform. Many of the strollers were filled with blankets and other things a parent may need, but wouldn't have had the space to carry while fleeing their country.
---
Passeggini lasciati in stazione per le donne in arrivo dall'Ucraina con neonati. \nFoto copyright F.Malavolta\n#RussiaUkraineConflict #ukraine #WWIII #photojournalismpic.twitter.com/rlmXzqkIN0

— Francesco Malavolta (@Francesco Malavolta) 1646291447
It's currently estimated that more than 1.5 million people fleeing Ukraine have entered neighboring countries over the past 10 days. The number of refugees who have entered Poland from Ukraine is expected to reach 1 million in the coming days. Poland has been the recipient of the largest number of refugees since the invasion of Ukraine began.
The empathetic gesture by these volunteers in Poland stands in stark contrast to the war happening in Ukraine. News of this thoughtful act came from a photographer, Francesco Malavolta, after he shared a poignant photo to his Twitter account. He later shared another photo of fully decked out strollers waiting for tired moms and children along the border of Poland and Ukraine. The display of compassion from one human to another is soul soothing.
Dopo la stazione ferroviaria di Przemy\u015bl in Polonia, anche sul confine tra Slovacchia e Ucraina vengono lasciati passaggini per quelle mamme costrette a scappare dall'Ucraina con i loro neonati. Copyright foto e testo Francesco Malavolta#ukraineconflict #Ukraine #WWIII #slovakiapic.twitter.com/w5HfDbYGvd

— Francesco Malavolta (@Francesco Malavolta) 1646672733
People from all over the world are trying to find ways to help the Ukrainian people. Outside of the strollers being left for weary refugees, there are people utilizing digital means to put money in the pockets of the people of Ukraine. Some people are buying digital goods from Etsy, while others are renting out Airbnbs with the sole purpose of spending their dollars in a way that directly benefits Ukrainian individuals.

While strollers stuffed with goodies won't end the war or bring families back together, moms will be able to lay their babies down, giving their arms, backs and souls some respite.