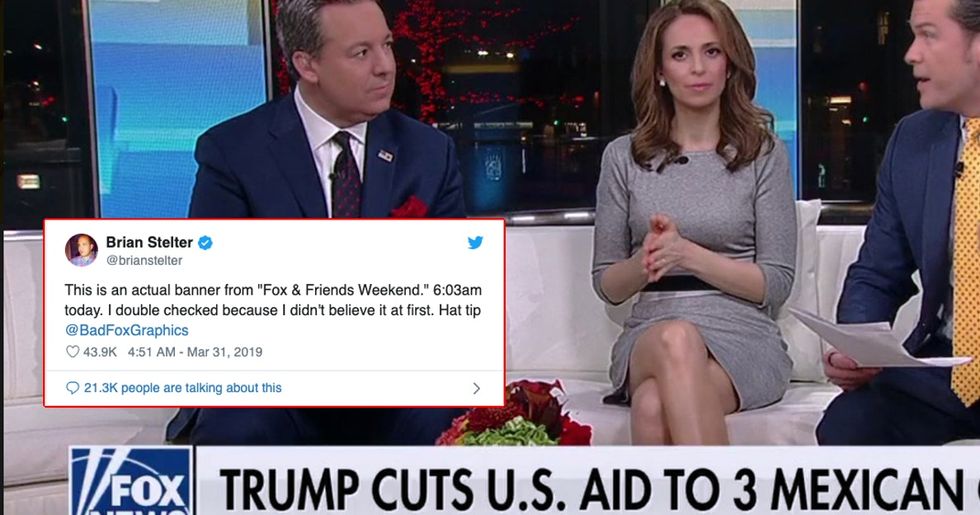 A recent blunder on 'Fox & Friends' went viral because it perfectly played into the common perception that the news channel traffics in ignorant racism.
Recently, "Fox & Friends" ran a news graphic touting President Trump's decision to end foreign aid to "3 Mexican countries."
(For the record there is only one Mexican country — Mexico.)
---
This is an actual banner from "Fox & Friends Weekend." 6:03am today. I double checked because I didn't believe it a… https://t.co/OEIooEG1YF

— Brian Stelter (@Brian Stelter)1554033079.0
However, while the chyron ran, the Fox anchors correctly stated that the State Department announced the administration will be cutting federal aid to El Salvador, Guatemala, and Honduras.
All of which are their own countries, not tiny Mexicos.
The error inspired some hilarious memes:
An example of 3 #MexicanCountries https://t.co/aX7OrJSpGS

— Mauricio (@Mauricio)1554046944.0
So we've been asking the wrong Mexico to pay for the wall this whole time?? #MexicanCountries

— GerriannT (@GerriannT)1554060607.0
That's racist #MexicanCountries https://t.co/SSY819QWCe

— Arq. Carles Igor & Partners Co Ltd (@Arq. Carles Igor & Partners Co Ltd)1554096902.0
We're all Mexicans! #MexicanCountries https://t.co/SRgcaXzQdc

— Wichi! (@Wichi!)1554132186.0
Trump world view. #MexicanCountries #Nambia #FauxNews #TrumpWorld https://t.co/ATAKRkdAnI

— Benjamin Slyngstad (@Benjamin Slyngstad)1554083730.0
Hey @FoxNews, I was wondering if you can tell me how many more #MexicanCountries are there in Latin America.🤔 Now… https://t.co/IDyshYX2Yy

— Juan Manuel Guzman (@Juan Manuel Guzman)1554077134.0
How many #MexicanCountries are there anyway? Just three? Which ones have nachos? Do I have to watch Fox & Friends t… https://t.co/CujdefLE0a

— ZachsMind (@ZachsMind)1554044757.0
Do you agree @FoxNews?#MexicanCountries #murica https://t.co/OvhGaawwPk

— Isaac Mora (@Isaac Mora)1554152049.0
After pictures of the ridiculous graphic went viral, 'Fox & Friends' host Ed Henry apologized for the error. "We had an inaccurate graphic onscreen while talking about this very story," Henry said. "We just want to be clear, the funding is being cut off to the three Central American countries. We apologize for the error — it never should've happened."
While the mistake gave Fox's critics something to point and laugh at, the bigger issue is that Trump's decision to cancel aid to what's known as the "Northern Triangle" may make lives for people in those countries even more difficult.
Trump wants to cut aid because he believes the countries "set up" migrant caravans to come to the U.S. But cutting funds to those countries could make the violence and poverty worse, leading more people to come to the U.S. for asylum.
"Ironically, our goals of having people stay and thrive in El Salvador are very similar to the current administration's," said Ken Baker, chief executive of Glasswing International, which uses U.S funds to runs education, health and entrepreneurship programs in El Salvador. "Through our programs, we've been able to provide opportunities and the belief that they [potential migrants] can thrive here."