The Star Of 'Jane The Virgin' Just Won A Golden Globe And Blew Everyone Away With Her Speech
Gina Rodriguez, the star of the CW's "Jane the Virgin," is one of very few Latino actors with a leading role on TV. So when explains what her Golden Globe award represents to her community, it's just tears all around.
01.12.15
Latinos are one of the most underrepresented groups in film, with Latino actors landing only 4.9% of all speaking roles, according to a recent USC study. When they are on screen, they're more likely to be sexualized, costumed in revealing clothing, and generally portrayed as objects of desire. Which is why Gina Rodriguez's win is so important. She won for portraying a living, breathing, complex person, not a one-dimensional caricature. Her victory is evidence that people want to watch stories about real people, not stereotypes, regardless of their ethnicity. Hollywood might finally be slowly opening up to telling different stories, and moments like this could be the push it needs.
Gina says it best:
---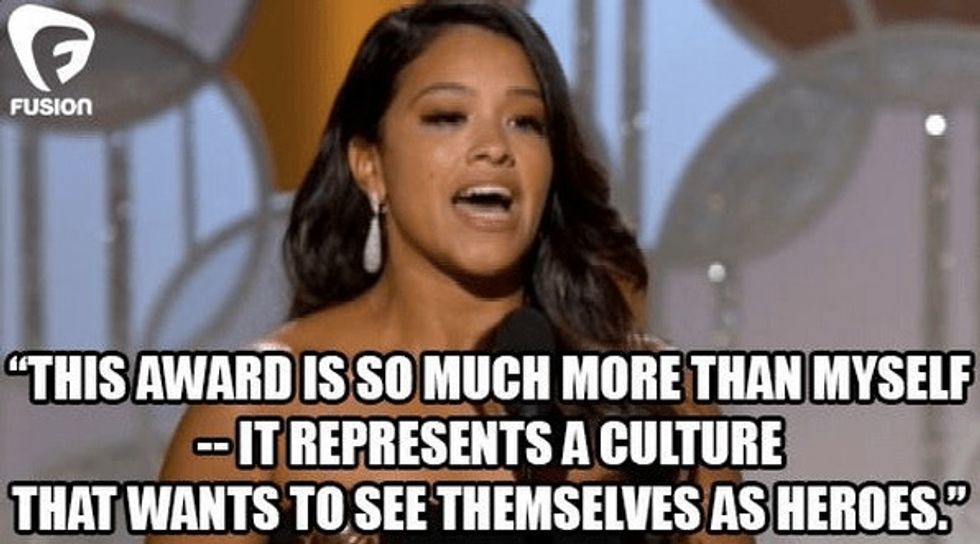 Amen.
More