Inclusivity
Ship captain has some fun with sexist troll after his grammatically challenged attack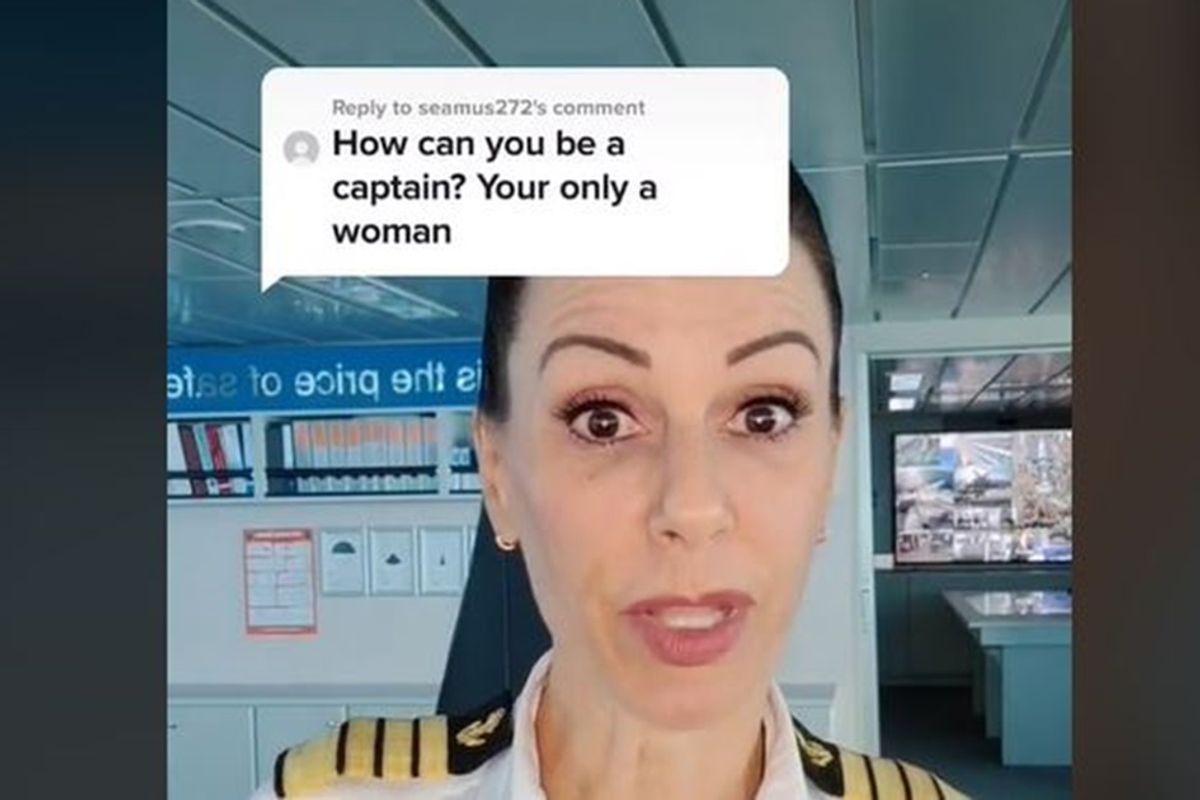 via Captain Kate McCue / TikTok
When most people hear the name captain, they immediately assume the person being referred to is a man. Kate McCue, the first American woman to command a mega cruise ship, has shattered that stereotype.

In 2015, she became captain of Celerity Cruise Lines "Celebrity Equinox" a 122,000-ton, 1041-foot ship, and last year, she was named the captain of the "Celebrity Edge" a billion-dollar ship designed by women.
The first thing you hear when arriving on her ship is, "This is Captain Kate, but you can call me Captain because it took me 19 years to earn this title."
"People don't have a tendency to call men captains by their first name," she told the New York Times.
---
She's a popular figure online with over 173,000 followers on Instagram.
She's also known for taking her hairless cat on every voyage.
Given her popularity and the fact it's rare for a woman to be a captain of a mega-ship, she runs into the occasional sexist comment online. Captain McCue normally avoids interacting with trolls, but she gave a perfect response when someone asked her, "How can you be a captain? Your only a woman."

She posted a video on TikTok addressing the sexist comment while dressed in her captain's uniform, standing on the bridge of her ship.
"Normally as I'm scrolling through comments and see something like this, I totally ignore it and move on with my life," she said.
"But I think it's about high time that I address this, because it's 2020," she said before the big twist, "and in this day and age I'm shocked that someone still doesn't know the difference between 'you're' and 'your'."
"Just a quick reference: 'you're', as in 'you are', as in 'you are sexist,'" she explained.
"Don't worry, I'm here for you," she says. "If you need any more clarification, you can find me here – in my captain's chair."
While most people would have just shut down the troll for being sexist, Captain McCue found a way to point out he's stupid in two ways. She also provided a grammar lesson that folks still need desperately. Mistaking "your" for "you're" has to be one of the most common grammar infractions one sees on social media.

Captain McCue credits the cruise industry's innate diversity for making it easy for a woman to become captain of a mega-ship.
"I don't have war stories. I know that's not the case for everyone, but I've been really blessed in my career," she told The New York Times.
"I have only worked on international flagships where everyone is a minority of some sort. Most of us have a different religion, sexual orientation, nationality," she continued. "When I was promoted I never got negative judgment from the crew, and I think the secret is that I was always surrounded by diversity."