Culture
Racist women told Burger King manager to 'go back to Mexico.' He gave them a lesson in civics instead.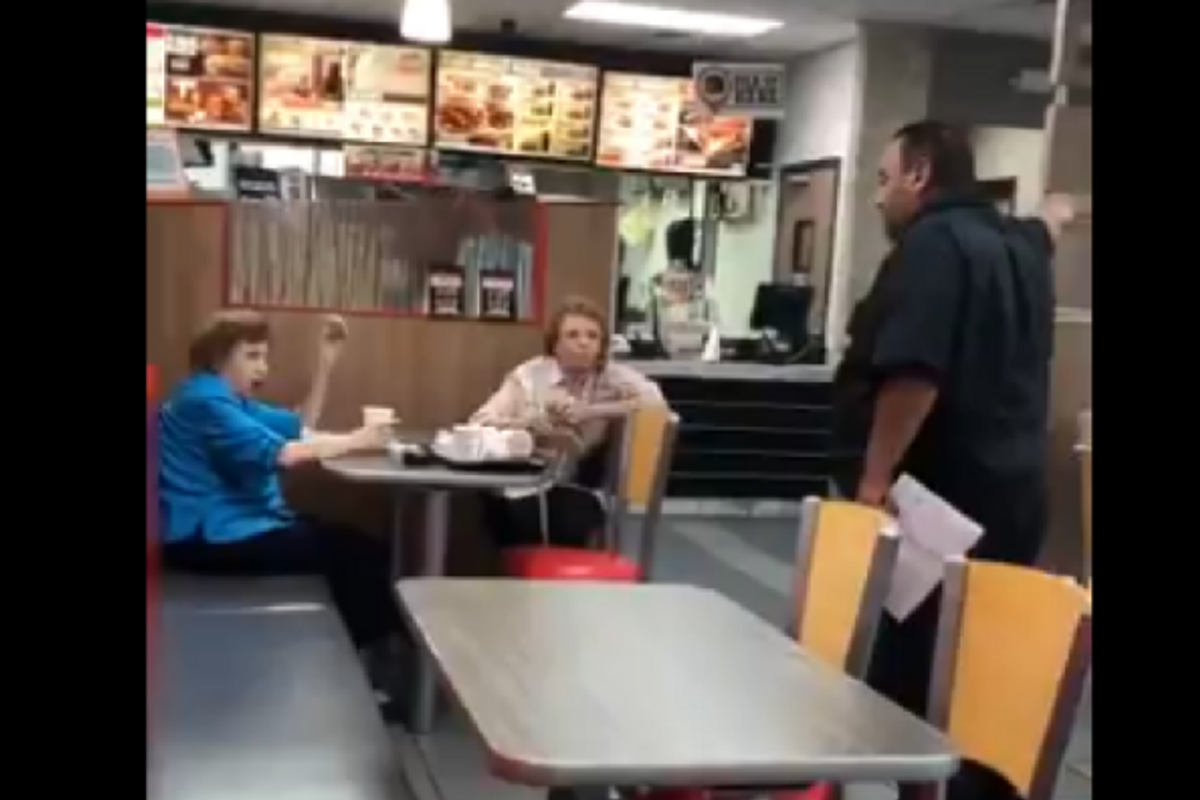 🔥This is how you handle racists. These two women in Burger King heard a man speaking Spanish. "GO BACK TO MEXICO"… https://t.co/NJn6phAlF4

— Holly Figueroa O'Reilly (@Holly Figueroa O'Reilly) 1562929574
Social media may be "ruining society" according to a lot of people's grandparents. But it's also a pretty helpful tool for spotting racists and publicly shaming them. Incidentally, a lot of those racists are also people's grandparents... kinda makes you think, hmmm?

Recently, two elderly white ladies were spotted in a Burger King in Central Florida being racist towards a man who they overheard speaking Spanish. That man turned out to be the manager.
Some nearby customers were filming the incident and posted the video online where it's gone viral. "Go back to Mexico," says one of the women. "If you want to keep speaking Spanish, go back to your Mexican country." She then continues: "this is America. Our main language is English. ... Speak your Mexican at home."
---
It's too bad racism is such a toxic and dangerous force destroying so many people's lives, because otherwise its sheer stupidity would be straight-up hilarious. You can't help but laugh at the ignorance of the old women in this video, especially since justice is served.
The manager, who is Puerto Rican not Mexican, calls the women "ignorant" and demands they leave the restaurant.
"Freedom of speech, ma'am," he says. "Guess what, ma'am, I'm not Mexican. You're being very prejudiced and I want you out of my restaurant right now."
One of the women says she wants to finish her meal first but the manager threatens to call the police and report them as trespassers, so they finally leave. "Just have a nice day and don't come back," he says.
Unfortunately this isn't the first time a white person has aired their racist views in a public place, berating strangers for how they look, dress or speak. And it sadly probably won't be the last. But at least these hateful grannies won't be enjoying a Whopper at this particular Burger King anytime soon. And if they refuse to eat anywhere that employs people who speak multiple languages, they're going to starve. And that, my friends, is Darwinism at work.
This article originally appeared on SomeeCards. You can read it here.