More
Pop-Tarts for President! Because literally anything is possible in America in 2020.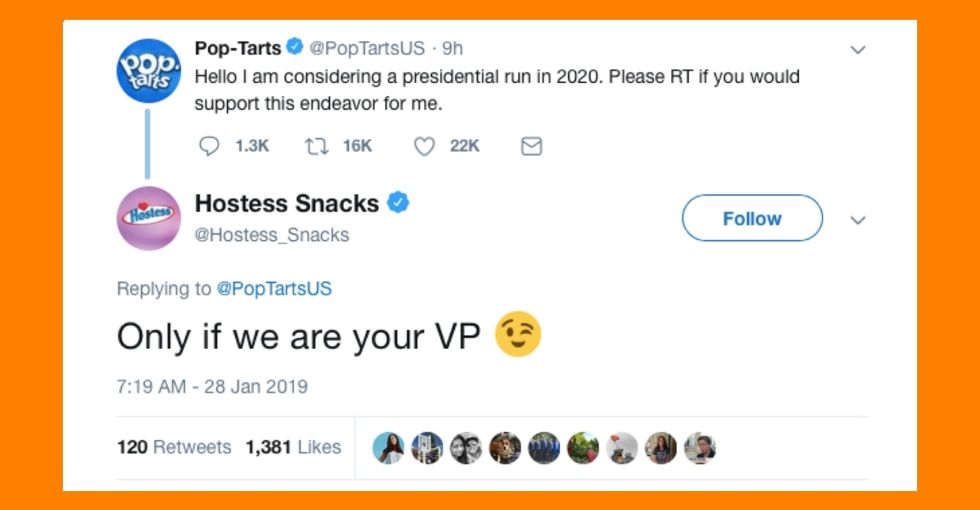 Pop-Tarts has announced that it's considering running for president because WHY NOT.
In a week when everyone from the founder of Starbucks to self-help guru Marianne Williamson has announced they want to run for president in 2020, it's not all that surprising to see that America's favorite toaster strudel is throwing its hat in the ring.
Hello I am considering a presidential run in 2020. Please RT if you would support this endeavor for me.

— Pop-Tarts (@Pop-Tarts) 1548687701.0
It's not really that far fetched. Technically Pop-Tarts were "born" in America. They're more than 35 years old and have been in the U.S. for more than 14 years. And since corporations are legally considered people, I don't see any reason why Pop-Tarts shouldn't make a go of it.
---
I mean, those are literally the only requirements to be voted into the most powerful position on the planet, so why the heck not?
Hostess Snacks asked to be Pop-Tarts' running mate, and honestly, it's an unbeatable ticket.
Judging by America's long-standing love affair with sugary, highly processed snacks, Pop-Tarts and Hostess might just be the one combination that could beat every candidate from both major parties.  
@PopTartsUS Only if we are your VP 😉

— Hostess Snacks (@Hostess Snacks) 1548688765.0
Twitter is basically how the presidency is run these days. And with Pop-Tarts' superior grasp of the English language and Hostess Snacks' ability to choose clever memes, who in the field could possibly best them?
It's a new day, America. If 2016 proved anything, it's that literally anyone and anything can become president. Pop-Tarts 2020 is just the natural next step in the evolution of American politics.
Not everyone is convinced of this progress, however. Some would prefer we go back to the days of the monarchy.
One Twitter user, Zed Sez, wrote, "I'm tired of presidents. It's about time we got a king. @BurkerKing"
We're all tired of presidents, Zed. And Burger King—bless them and their social media manager—has heard your call.
@NissZedX @PopTartsUS @benshapiro you said it not us

— Burger King (@Burger King) 1548701796.0
Oh Berder King...OOPS...Burger King. Why don't you go ahead and announce your candidacy too? Make Wendy's your running mate and bring a little salty female flavor to the table. BOOM. Now we've got a race!
We should just ditch the Republican vs. Democrat thing and duke it out over Sweet vs. Savory.  
Our politics are ridiculously divided along party lines, but that's nothing compared to the political passion that competing food candidates would arouse in the American people. Imagine how may apathetic non-voters we could get off the couch if the ballot box were offering a choice between sweet and salty snacks.
Seriously, though. Imagine it.
Pop-Tarts/Hostess vs. Burger King/Wendy's would be create the ultimate American election. We could even throw Starbucks/Folger's in there as the "independent" ticket to make it extra interesting. Guaranteed huge voter turnout.
The debates would be delicious. The outcome would be finger-lickin' good. We're already a caricature of ourselves to much of the world; we might as well embrace the stereotype and make junk food and corporate power our official national identity.
It's 2019. Literally anything is possible. What a time to be alive.