Culture
Ghana's dancing pallbearers have a message for anyone who isn't social distancing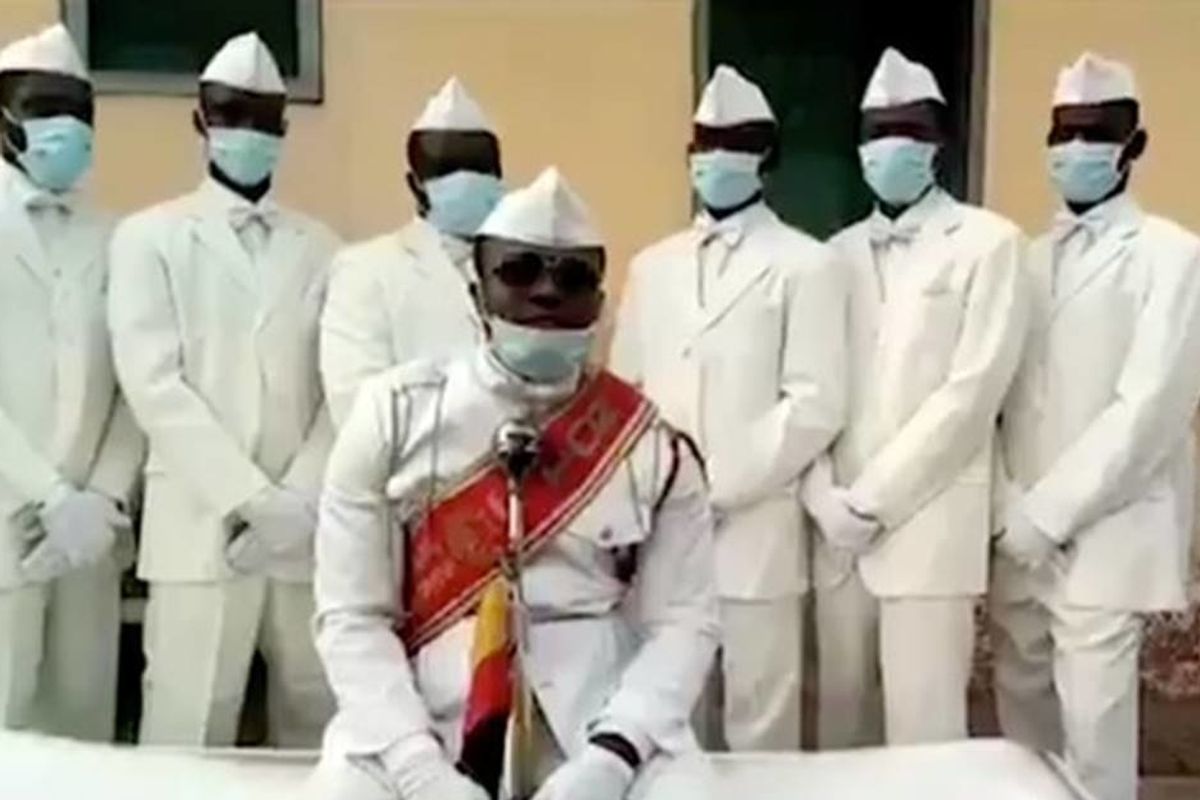 via Benjamin Aidoo / Twitter
In 2017, the dancing Ghanaian pallbearers went viral after being covered by BBC Africa. Led by their front man Benjamin Aidoo, Otafrija Pallbearing Services earned millions of views for their flashy outfits and insane ability to dance while carrying a coffin.

At some point, someone mixed footage of the pallbearers dancing to Vicetone and Tony Igy's 2010 club hit "Astronomia," giving an even darker edge to the footage. According to Know Your Meme, this combination made its first appearance as a punchline in skiing fail clip.
---
The pallbearers soon became the punchline in countless fail videos. The clips are often used to mock people who've made reckless mistakes and now have to meet their maker.

Follow for more 🤣 🤣 https://t.co/GLGFk4J3na

— Coffin Dancers Meme ⚰️ (@Coffin Dancers Meme ⚰️) 1588256056.0
Follow for more 🤣 🤣 https://t.co/h5wsWwmrfd

— Coffin Dancers Meme ⚰️ (@Coffin Dancers Meme ⚰️) 1587831423.0
Follow for more 🤣 🤣 https://t.co/ymKxcux6PY

— Coffin Dancers Meme ⚰️ (@Coffin Dancers Meme ⚰️) 1587831225.0
The pallbearers gained even more fame as their dancing coffin routine became a way for people to shame those who aren't practicing social distancing during the COVID-19 pandemic.

This one about the reopening of a shopping mall during COVID-19 is particularly funny.
Réouverture d'un centre commercial au Brésil... https://t.co/PYZzLL7WG4

— OUT OF CONTEXT ⚰️ (@OUT OF CONTEXT ⚰️) 1587634875.0
African Funeral/Coffin Meme: Coronavirus editionwww.youtube.com
The dancing pallbearers have become 2020's version of the Grim Reaper. In Brazil, they're used in public service announcements telling people, "Stay home or dance with us."
From Ghana to Global Superstars: The Dancing pallbearers from Prampram https://t.co/ulKecwkqP8 https://t.co/Bw9VHJPNoZ

— Ameyaw Debrah (@Ameyaw Debrah) 1587043536.0
Aidoo is taking his new viral fame in stride and actually has a good sense of humor about it.

"It's a bit scary, but it's funny, too," said Aidoo, 32, who lives in Accra, the capital of Ghana. "People are saying, 'I'd rather stay home than have these guys bury me.' "
This pallbearer extraordinaire should be comfortable around death. He's been working at a funeral home since he was a teenager. Ghanaian funerals have long incorporated dancing, but since the 1990s people began hiring dancing troupes to give their deceased family members the ultimate send-off.
Aidoo's troupe now has over 100 members and he hopes to take his business worldwide.
"Over time," Wilhelmina Donkoh, a Ghanaian author and historian, told MSN, "the pallbearers wanted to distinguish themselves by putting up intricate displays." She understands the appeal of the dancers at a time when people are afraid.
"People want and need comic relief," she said, "to cover up the reality of a disease without a cure."
Aidoo and his dancers went viral again this week, but this time it was a video of their own making. In a clip posted to Twitter, Aidoo decked out in his famous suit, but this time wearing a protective mask around his neck, thanked "all the doctors in the world. You are working hard and taking care of everyone."
But the video ended with a sinister warning.
"Now remember, stay at home or dance with us," Aidoo said with a laugh.
From NANA OTAFRIJA to all the doctors in the world 🌍 Thank you 👏🏻 Mention 👇🏻 all the doctors out there with your… https://t.co/aSUFzW0Rue

— Benjamin Aidoo (@Benjamin Aidoo) 1588655067.0