Well Being
Mama cat rushed her kitten with an eye infection into a hospital and 'asked for help'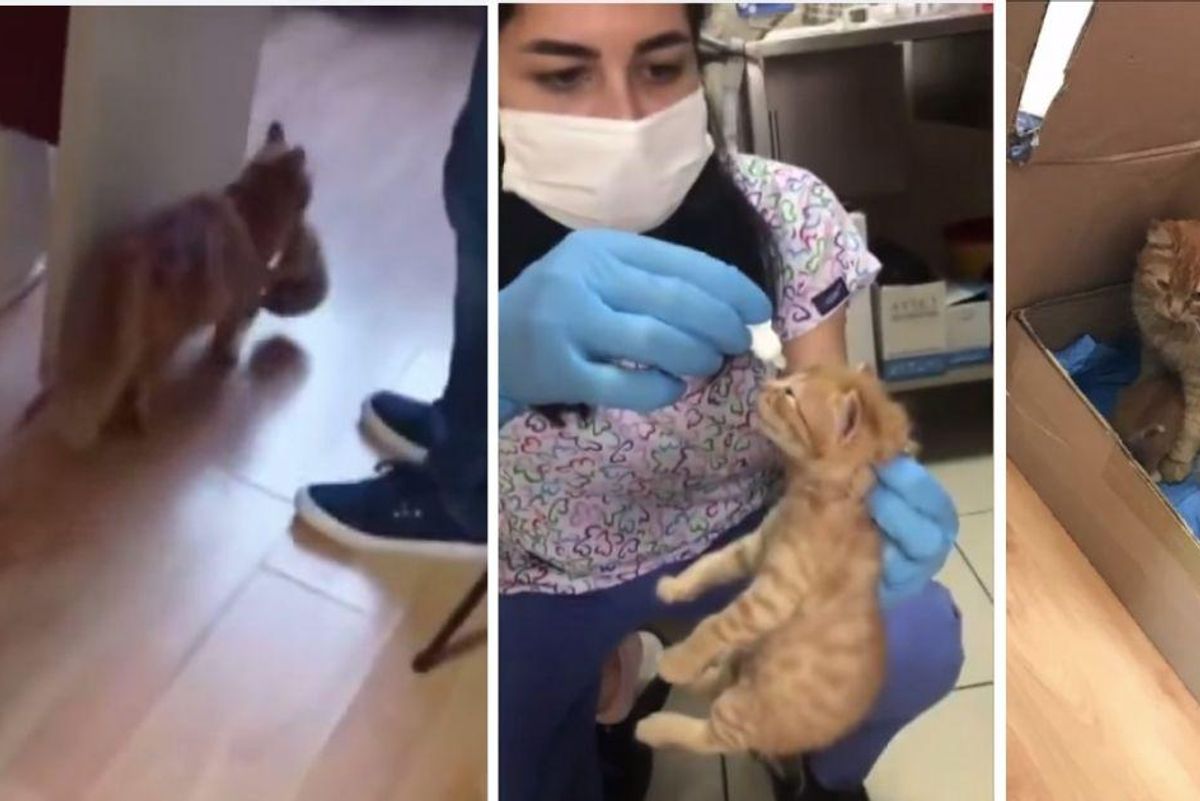 A family of kittens in western Turkey has won people's hearts with an emergency visit to a hospital.
Not an animal hospital—a human hospital. And it wasn't a pet owner who brought them in, but the mama cat herself.
According to Gulf Today, staff had previously left food and water for the stray orange tabby outside the Izmer, Turkey hospital, but that morning she kept meowing outside. Finally, she fetched one of her kittens and carried it right into the hospital, clearly on a mission. She wasn't scared or shy as hospital personnel cleared the path for her. With her baby in her mouth, she trotted through the hallways, seemingly looking for someone to help.
Medical personnel examined the kitten along with its siblings and consulted with a veterinary clinic.
As it turned out, the kittens had an eye infection. Mama kitty's maternal instincts are really something else. Just look at this sweetness caught on video:
---
According to the Daily Mail, one of the hospital workers told local media: "We were giving food and water to the mother cat living on the street with other people living in this area. However, we did not know that she gave birth to kittens.

"As we began to receive patients in the morning, she showed up with her kittens. She asked for help, meowing for a long time. We were shocked.
"Upon careful examination, we saw that the kittens were not able to open their eyes due to infection.
"We consulted with veterinarians and gave medicine as described. When the kittens opened their eyes a short time later, we were thrilled.
"Later, we sent the mother cat and kittens to Uzundere for further care. This is the first time something like this has happened to us. We were emotional and delighted to see that they recovered well."
This isn't the first time that a mama cat has made news for bringing her kittens into a hospital in Turkey, however. Last spring, a different cat brought her kitten into an emergency room at a hospital in Istanbul. Merve Özcan described the scene in Twitter posts that went viral at the time.
"Today we were in the hospital emergency, a cat rushed to the emergency with her baby she was carrying in her mouth," Özcan wrote. "Her baby is a little mischievous, her mother grabs it where she finds it."
Yavrusu biraz haylaz biri, annesi bulduğu yerde kapıp götürüyor https://t.co/GYvBXt3UQz

— Merve Özcan (@Merve Özcan) 1588004649.0
Medics looked over the kitten for obvious signs of illness, while mama cat was given milk and food. Then they were sent to a vet.
"The Turks have long been known for their love and care for stray animals," Bored Panda reported, "with many leaving out food and water for them on the streets."
No wonder these cats felt so comfortable bringing their kittens into human hospitals for help.
While we can't know for certain what prompted these mama kitties to bring their babies to these medical professionals, it's clear that their maternal instinct to protect and keep their kittens healthy is strong. And the fact that they seem to trust the hospital personnel to take care of their babies says a lot about how humans have treated them. Good for these Turkish medical workers for setting an inspiring example of kindness to animals.