Family
Mother's viral story of taking her baby to a job interview hits a nerve with moms everywhere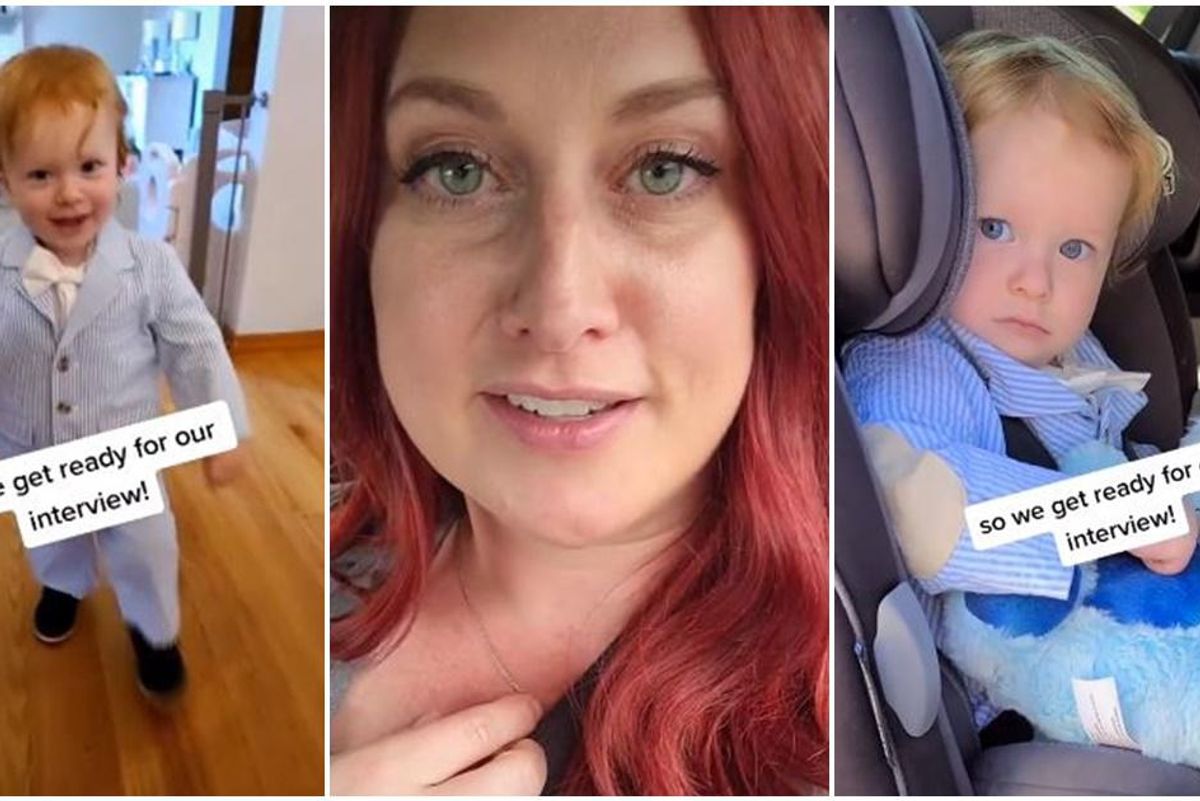 via 314Handcrafted / TikTok
A mother's experience job hunting with a one-year-old child highlights the reality many parents face and how employers can be part of the solution.

Mother-of-two Maggie Mundwiller, 38, was laid-off six weeks after her one-year-old Mylo was born in the middle of the pandemic. Finding a job over the past year has been hard enough, let alone with a newborn baby.
"A lot of people are not able to pay for the childcare if they're unemployed even if there is one parent that is employed," she told WMUR. "You have so many other bills that you have to pay for."
---
She recently interviewed for a marketing position at a senior living facility and received a last-minute call from the company to come in for a follow-up. However, her family had prior commitments they couldn't get out of to watch the baby.
Mundwiller asked the company if they could reschedule the interview because she had no one to look after her child. The company told her not to worry, because it's child-friendly. "So, I just let them know, OK we'll be there in a few hours and Mylo will be interview ready," Mundwiller said.
Mudwiller dressed little Mylo up in a dapper suit, gave him his first resume, and cleaned up his stroller so they could make the best impression possible. She hoped to "make a good impression and make light out of a situation that's a little bit different than what we're used to," she said.
The interview went well because she felt she had nothing to hide. "The interview certainly felt more laid back than a traditional one. I could be my authentic self without hiding parts of my personal life," she told Buzzfeed.
The video of her and Mylo getting prepped for the interview went viral on TikTok earning over nine million views. It even caught the attention of Senator Elizabeth Warren.
"I remember what it was like as a young mom trying to juggle a big new job—standing in the driveway, bouncing my baby on my hip, panic mounting because the babysitter hadn't come yet," Warren wrote on Facebook. "That's why I'm in this fight for quality, affordable child care."
Mudwiller was completely shocked that her video was seen by the Senator.
In a follow-up video, Mudwiller revealed that she had got the job and that all she and Mylo had to do was make sure they were the right fit for the company.
The mother-of-two is happy that she was able to highlight an issue that so many parents face and to give them a voice. "You can tell that there's just so many people that relate and there hasn't been a voice for them, and so I feel like finally there's a voice for people who are struggling in the same way that I have been," she said.
Mudwiller's interview made her realize how important it is for companies to cater to employees with children so she's working on a website for parents that lets them know which employers are child-friendly.