Photo courtesy of Justin Sather
True
Upworthy and GoFundMe are celebrating ideas that make the world a better, kinder place. Visit upworthy.com/kindness to join the largest collaboration for human kindness in history and start your own GoFundMe.
While most 10-year-olds are playing Minecraft, riding bikes, or watching YouTube videos, Justin Sather is intent on saving the planet. And it all started with a frog blanket when he was a baby.
"He carried it everywhere," Justin's mom tells us. "He had frog everything, even a frog-themed birthday party."
In kindergarten, Justin learned that frogs are an indicator species – animals, plants, or microorganisms used to monitor drastic changes in our environment. With nearly one-third of frog species on the verge of extinction due to pollution, pesticides, contaminated water, and habitat destruction, Justin realized that his little amphibian friends had something important to say.
"The frogs are telling us the planet needs our help," says Justin.
While it was his love of frogs that led him to understand how important the species are to our ecosystem, it wasn't until he read the children's book What Do You Do With An Idea by Kobi Yamada that Justin-the-activist was born.
Inspired by the book and with his mother's help, he set out on a mission to raise funds for frog habitats by selling toy frogs in his Los Angeles neighborhood. But it was his frog art which incorporated scientific facts that caught people's attention. Justin's message spread from neighbor to neighbor and through social media; so much so that he was able to raise $2,000 for the non-profit Save The Frogs.
And while many kids might have their 8th birthday party at a laser tag center or a waterslide park, Justin invited his friends to the Ballona wetlands ecological preserve to pick invasive weeds and discuss the harms of plastic pollution.
Justin's determination to save the frogs and help the planet got a massive boost when he met legendary conservationist Dr. Jane Goodall.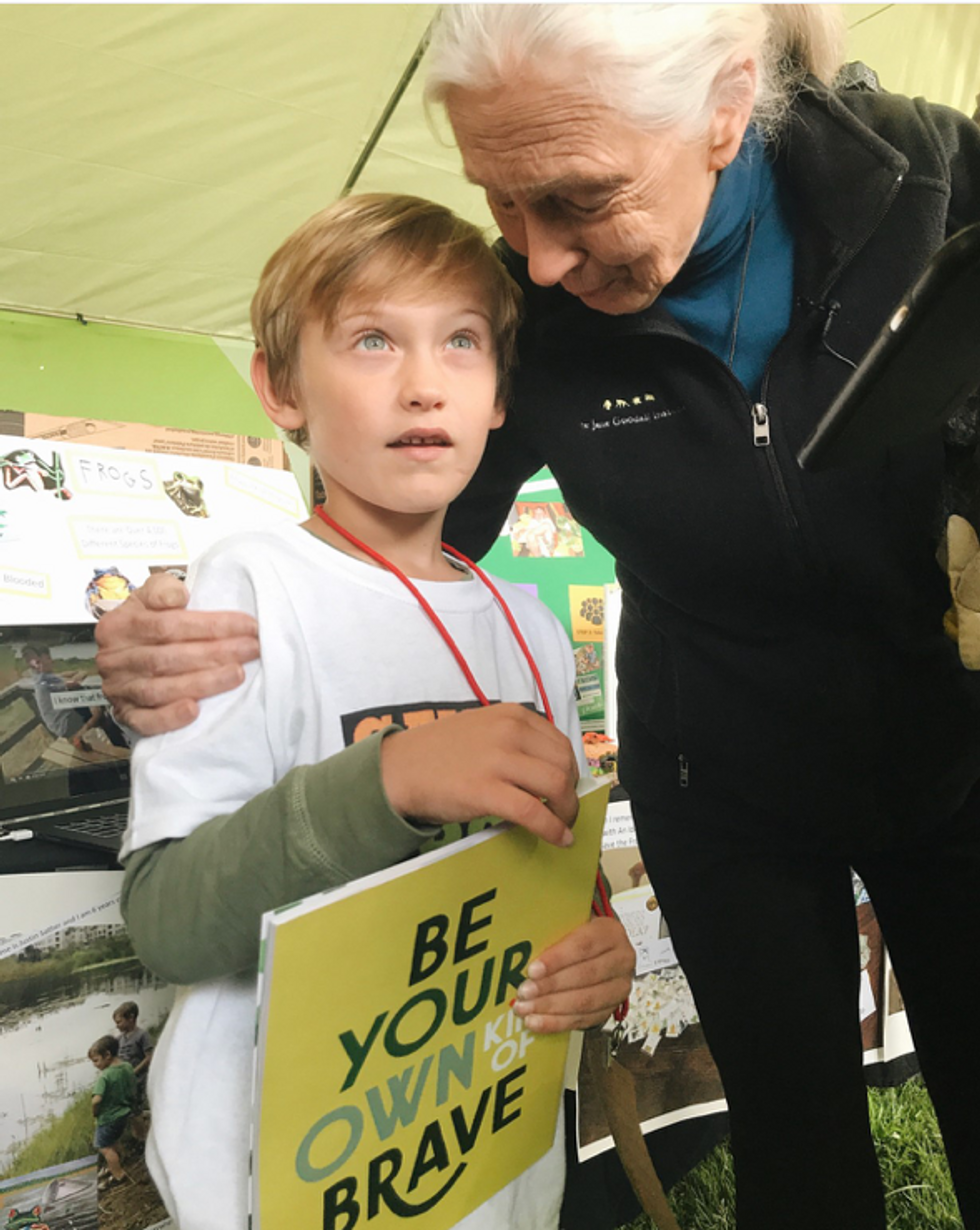 Photo courtesy of Justin Sather
At one of her Roots and Shoots youth initiative events, Dr. Goodall was so impressed with Justin's enthusiasm for helping frogs, she challenged the young activist to take it one step further and focus on plastic pollution as well. Justin accepted her challenge and soon after was featured in an issue of Bravery Magazine dedicated to Jane Goodall.
In the following months, Justin learned how to turn fishing line into bracelets, transform plastic bags into doormats, recycle crayons, and shred plastic to make bowls. For him, turning trash into treasure became a thing of magic. He even collected 200 pounds of plastic caps, and transformed this trash into a buddy bench for his school.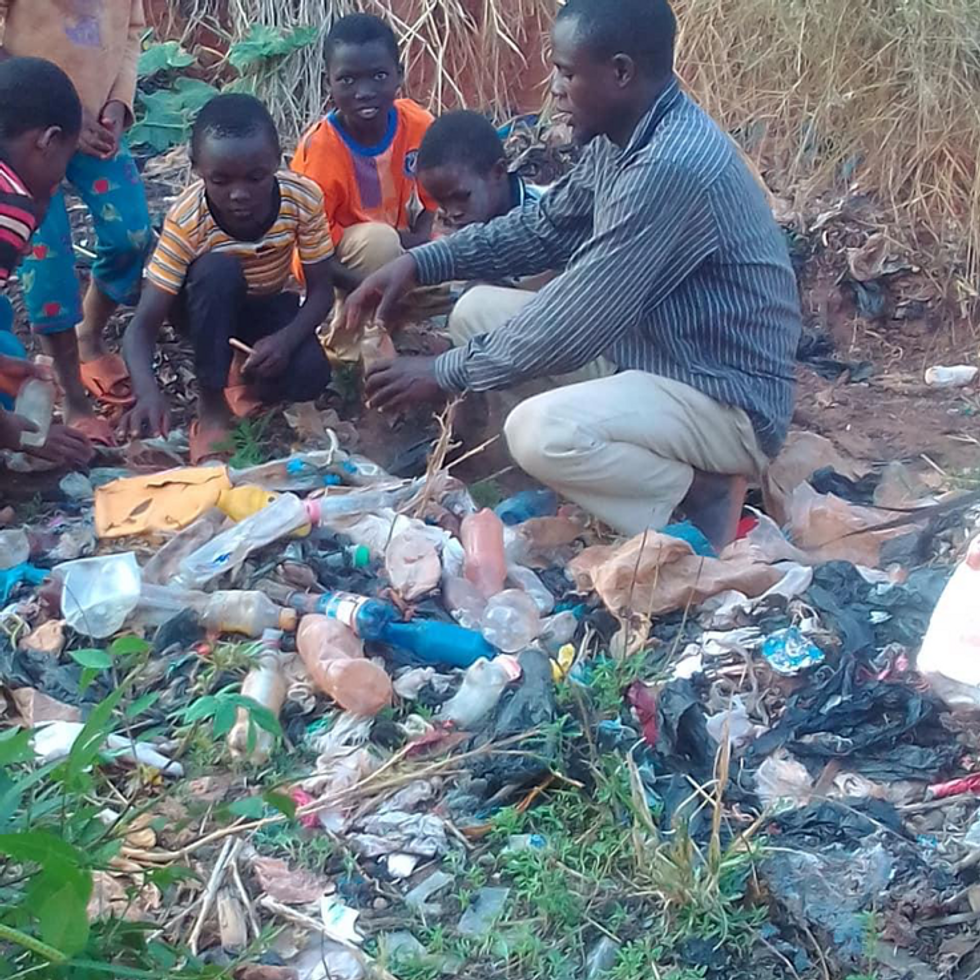 Photo courtesy of Justin Sather
On Earth Day 2019, Perise Foran, an environmental science student from Cameroon reached out to Justin asking for help. Justin saw that the streams where Perise lived were overflowing with plastic garbage, and quickly agreed to help his new friend. The two of them started off with a plan to transform the 8,000 plastic bottles Perise collected on a World Litter Run and had been sitting in his yard for over 6 months.
According to Reuters, every minute, a million plastic bottles are bought around the world. And according to PlasticOceans.org, every minute, a full garbage truck's worth of plastic is dumped into our oceans. Upon learning those facts, Justin further strengthened his resolve.
He started asking everyone he was connected to for suggestions on what could be done with Perise's stockpile of bottles. Soon, creative upcycling ideas began pouring in from all around the world. Justin completed the projects with family and friends in the United States, and encouraged Perise to do the same in "parallel" in Cameroon. That's when Justin's Parallel Projects GoFundMe was created. Its aim is to raise awareness about water quality, find creative solutions to the plastic pollution issue, educate people to move away from single-use plastics, and inspire youth to become eco-heroes.
Soon, the Parallel Projects ideas spread to other countries like Kenya, Canada, Tanzania, and Nigeria, resulting in trash transforming into toys, bottle cap art, flower planters, jewelry, and more.
One might think that Justin had his hands full with all these projects… but he didn't stop there.
This summer, Justin's dream of visiting the rare and exotic frogs of Ecuador's Choco Cloud Forest came true with the Reserva Youth Council. Through his land conservation GoFundMe, and with generous donations from the Rainforest Trust, Old Navy, and the public, Justin purchased 30 acres of land which protected habitat for critically endangered species that were at risk from logging and ranching.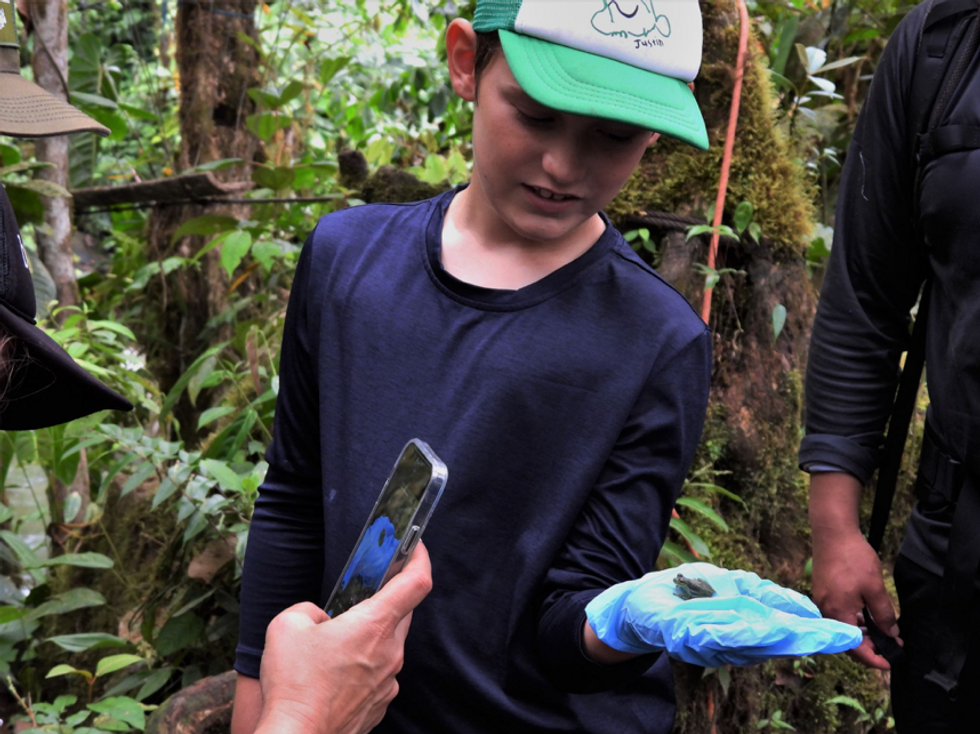 Photo courtesy of Justin Sather
Through a separate Reserva Youth Council initiative, Justin's goal now is to collect a million letters from young people like himself to send to world leaders with the aim of protecting 30% of the planet by 2030.
For anyone looking to help the planet Justin suggests to "start off small, take chances, and be brave."
To learn more about Justin Sather and his initiatives visit his website. Or donate directly to his GoFundMe's For the Love of Frogs, the Parallel Projects, and habitat protection in Ecuador.
C-SPAN
When the "Me Too" movement sparked a firestorm of stories of sexual harassment and abuse, the world learned what most women already knew. Sexual abuse isn't rare. And far too often, it is covered up, with the perpetrator being protected while victims are left to languish.
Few stories have made that reality more clear than the uncovering of the years-long, widespread sexual abuse of young female athletes on the U.S. women's gymnastics team by the team's physician, Larry Nassar. The scope of his abuse is mind-blowing. The fact that it was happening all the time, behind the scenes, while the young women he was abusing were in the spotlight winning medal after medal, is shocking.
Now we're finding out how bad the investigations were, how these women were dismissed, ignored, and neglected, how investigators allowed the abuse to continue despite ample evidence that it was happening. That is simply enraging.
In emotional testimony before the Senate Judiciary Committee this morning, Simone Biles, McKayla Maroney, Maggie Nichols, and Aly Raisman spoke frankly about what they experienced. Their stories deserve to be heard and their criticisms of the investigations need to be taken seriously.
Simone Biles took a moment to collect herself during her opening statement.
"I sit before you today to raise my voice so that no little girl must endure what I, the athletes at this table, and the countless others who needlessly suffered under Nassar's guise of medical treatment, which we continue to endure today," she said. "We suffered and continue to suffer, because no one at FBI, USAG, or the USOPC did what was necessary to protect us. We have been failed, and we deserve answers. Nassar is where he belongs, but those who enabled him deserve to be held accountable. If they are not, I am convinced that this will continue to happen to others across Olympic sports...
"A message needs to be sent: if you allow a predator to harm children, the consequences will be swift and severe. Enough is enough."
McKayla Maroney was blunt in her assessment of what happened to her and offered a scathing rebuke of the FBI investigators. who she says falsified what she told them and "conceal Nassar's crimes from the public, the media, other law enforcement agencies, and most importantly, other victims."
"They chose to protect a serial child molester, rather than protect not only me but countless others," she said.
(Warning: Detailed descriptions of sexual abuse.)

Maggie Nichols' opening statement personalized her abuse: "I was named as Gymnast 2 in the Office of Inspector General's report and previously identified as Athlete A by USA Gymnastics. I want everyone to know that this did not happen to Gymnast 2 or to Athlete A. It happened to me, Maggie Nichols."
Aly Raisman detailed what an abysmal failure the investigations into Nassar were, and shared her frustration that they are still seeking answers six years later.
"The FBI and others within both USAG and USOPC knew that Nassar molested children and did nothing to restrict his access," she said. "Steve Penny and any USAG employee could have walked a few steps to file a report with Indiana Child Protective Services, since they shared the same building.
"Instead they quietly allowed Nassar to slip out the side door, knowingly allowing him to continue his "work" at MSU, Sparrow Hospital, a USAG club, and even to run for school board. Nassar found more than 100 new victims to molest. It was like serving innocent children up to a pedophile on a silver platter."
Each of these women's testimonies matters. It takes strength and courage it takes to speak about abuse you've experienced in a public forum, much less to call out powerful institutions for their failures. Kudos to these fierce defenders of justice and protectors of children for sharing their stories and for attempting to ensure that the systems that failed them will not continue to allow harm to others.
Get stories worth sharing delivered to your inbox