popular
U.S. launches national strategy to address missing and murdered Indigenous people — finally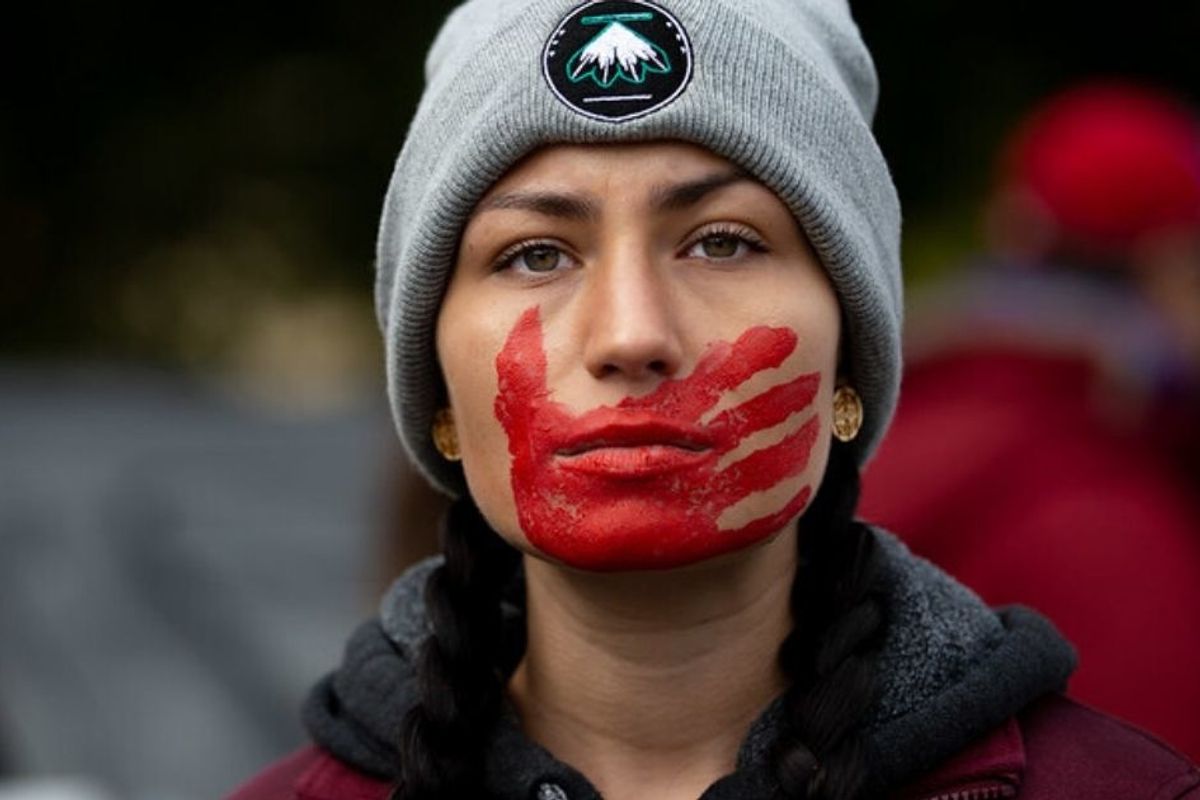 For years, Native communities in the U.S. and Canada have been trying to raise awareness about Missing and Murdered Indigenous Women (MMIW). Statistics show that Indigenous women go missing and are murdered at rates far higher than any other demographic, and the issue has only recently come into mainstream consciousness.
Canada launched an inquiry into MMIW in 2017, and released a historic report—in which the epidemic was called "genocide"—this past summer. Now, the U.S. is formally launching a federal task force and strategy of its own to address the issue—only broadening the scope to include all Native Americans, not just women.
---
Attorney General William P. Barr recently announced the Missing and Murdered Indigenous Persons (MMIP) Initiative during a visit to the Flathead Reservation in Montana.
"American Indian and Alaska Native people suffer from unacceptable and disproportionately high levels of violence, which can have lasting impacts on families and communities," Barr said. "Native American women face particularly high rates of violence, with at least half suffering sexual or intimate-partner violence in their lifetime. Too many of these families have experienced the loss of loved ones who went missing or were murdered. This important initiative will further strengthen the federal, state, and tribal law enforcement response to these continuing problems."
U.S. Attorney Kurt Alme, vice chair of the Attorney General's Native American Issues Subcommittee (NAIS), added, "The missing need to be found and brought home, murderers and abusers must be brought to justice, and violence against women must stop. With the Attorney General's leadership, this initiative will provide an improved, nationally coordinated response when a Native American goes missing."
According to the Justice Department website, the strategy has three parts:
- Establish MMIP coordinators: The Department of Justice is investing an initial $1.5 million to hire 11 MMIP coordinators in 11 states to serve with all U.S. Attorney's offices in those states, and others who request assistance. The states are Alaska, Arizona, Montana, Oklahoma, Michigan, Utah, Nevada, Minnesota, Oregon, New Mexico, and Washington state. MMIP coordinators will work closely with federal, tribal, state and local agencies to develop common protocols and procedure for responding to reports of missing or murdered indigenous people. The first MMIP coordinator is already on board in Montana.
- Specialized FBI Rapid Deployment Teams: The strategy will bring needed tools and resources to law enforcement. Upon request by a tribal, state, or local law enforcement agency the FBI will provide expert assistance based upon the circumstances of a missing indigenous persons case. FBI resources and personnel which may be activated to assist with cases include: Child Abduction Rapid Deployment (CARD) teams, Cellular Analysis Support Teams, Evidence Response Teams, Cyber Agents for timely analysis of digital evidence/social media, Victim Services Division Response Teams, and others. MMIP coordinators will assist in developing protocols.
- Comprehensive Data Analysis: The department will perform in-depth analysis of federally supported databases and analyze data collection practices to identify opportunities to improve missing persons data and share the results of this analysis with our partners in this effort.
Advocates for MMIW have emphasized the importance of better data, as lack of data has made it difficult to seek justice. For example, according to a study by the Urban Indian Health Institute (UIHI), 5712 indigenous women went missing in 2016, but only 116 were logged by the Department of Justice's missing persons database.
President Trump also signed an executive order creating an interagency task force, dubbed Operation Lady Justice, to address the issue of missing and murdered Indigenous people. He said in his remarks at the signing:

"It is my honor to sign an executive order — we're going to be doing it right now — to address a tragedy facing Native American communities: the crisis of missing and murdered American Indians and Alaska Natives, in particular women and children. It's a tremendous problem. It's been going on for a long time — many, many decades, beyond that. And we're going to address it. We've addressed it very strongly...

The statistics are sobering and heartbreaking. Recently, more than 5,000 Native American women and girls were reported missing in a single year. While the majority return home or are found, too many are still missing and their whereabouts are unknown — and they usually don't find them.

One study showed that Native American women in certain tribal communities are 10 times more likely to be murdered than the average American. The victims and their families deserve action. And this should have happened many years ago."
Shannon Holsey, president of the Stockbridge-Munsee Community Band of Mohican Indians, said in a statement that the executive order was an "important first step."
"While there is so much that needs to be done to stop the violence perpetrated on Native women and girls, I appreciate the Administration for taking an important first step in establishing this Task Force," she said.
However, there are understandably some Native folks who are skeptical about how effective the government's strategy will be.
"I appreciate the effort being made and am glad they put money behind it," says Joye Braun, member of the Cheyenne River Sioux tribe and Community Organizer with the Indigenous Environmental Network. "However, if they are truly serious they will look at the root causes of so many MMIP—those being racism and extractive industries like mancamps and oil booms."
You can't have it both ways," she adds. "I've witnessed loss of faith in a system that was inherently designed to suppress us as Indigenous sovereign nations. Most of these cases happen in geographical areas rife with racism. Until we face the root causes, inviting the FBI in is just adding layers of oppression. We need support for our own police and the ability to prosecute non-Natives in our judicial systems."
Indeed, the U.S. government's history with Indigenous people is littered with broken promises and disappointments, and there is far more work that needs to be done. But hopefully this "first step" will lead to greater understanding of the root causes of MMIP and help move the needle on this issue.