More
A photographer captured a track star's powerful MMIW statement. We all need to know what it means.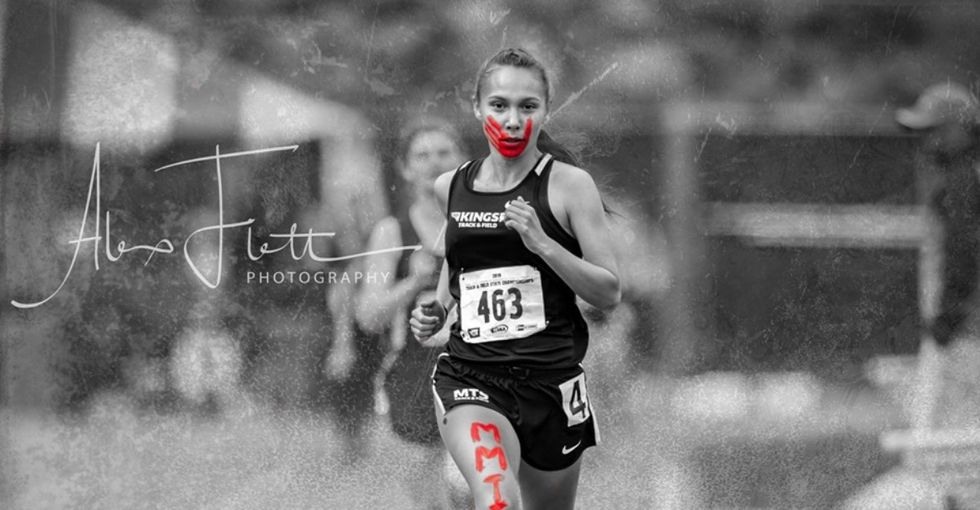 A red hand over her mouth. The letters MMIW painted down her leg. What message was this high school track star sending?
When photographer Alex Flett attended the WIAA 1B State Track and Field Championships at Eastern Washington University, he didn't expect that to capture an iconic image of a high schooler with a powerful message.
Rosalie Fish, from Muckleshoot Tribal School in Auburn, WA, showed up on the track with a statement painted on her body—a red hand covering her mouth and the letters MMIW down her right leg.
---
Flett, a Spokane tribal member, recognized the meaning immediately. MMIW stands for Missing and Murdered Indigenous Women—a movement to raise awareness about the epidemic of native women going missing or being killed. The red hand symbolizes the voices of these women being silenced.
Flett told Upworthy that he knew he had to capture the image as soon as he saw Fish at the meet. "When I first saw her walking down the track to compete for her first event, I was taken aback," he said. "Then all I could say was 'WOW!' I wasn't there to shoot images of her, but I knew I needed to. To capture this moment and the statement she was making, and the possible risk she was taking."
He used Photoshop to edit the coloring of the photo, creating a stark black-and-white image with the red paint highlighted.
Why MMIW? Because native women in the U.S. face murder rates far higher than the national average.
People in native communities have been talking about the epidemic of Missing and Murdered Indigenous Women for years. According to the National Congress of American Indians, native women in some communities face murder rates 10 times the national average, but a lack of official data has made it difficult to seek justice.
For example, according to a study by the Urban Indian Health Institute (UIHI), 5712 indigenous women went missing in 2016, but only 116 were logged by the Department of Justice's missing persons database.  
The Washington State Coalition Against Domestic Violence explained some of the findings of the UIHI report:
The report, authored by Annita Lucchesi (Southern Cheyenne), and UIHI director Abigail Echo-Hawk (Pawnee), highlights tremendous gaps in the information about these cases documented in law enforcement records and news reports. Of 72 law enforcement agencies surveyed, only 56% provided any data in response to public information requests. Of those, 25% provided incomplete information. Media coverage was sparse. One-quarter of the total cases received any media coverage.
The study found that "reasons for the lack of quality data include underreporting, racial misclassification, poor relationships between law enforcement and American Indian and Alaska Native communities, poor record-keeping protocols, institutional racism in the media, and a lack of substantive relationships between journalists and American Indian and Alaska Native communities."
There are multiple initiatives attempting to address the issue. The Red Ribbon Alert Project amplifies reports of missing or murdered indigenous women on social media. Savanna's Act is congressional legislation which would require updated data collection and protocols for investigating native missing person cases.
But individual awareness acts like Rosalie Fish's can help get awareness of the MMIW into the mainstream.
Fish's statement made a big impact at the meet, but an even greater influence after Flett's photo of her went viral.
Rosalie Fish won three state titles at the meet, in the 400-, 800- and 1,600-meter races. But her MMIW statement was what got people's attention.
"The impact Rosalie Fish had on everyone was huge to say the least," Flett said. "Everyone was talking about it, asking questions, many saying they never knew this was an issue."
After Flett posted the image of Fish to his Alex Flett Photography Facebook page, it took off. In just a few days, it's been viewed hundreds of thousands of times, which he hopes means more people will become aware of the issue.
"The main reason I think more people aren't aware of this issue is because there isn't as much talk about it out in mainstream America and definitely not enough light brought to the topic," he said. "I wanted to do anything I could to help bring awareness."
Flett hopes that his image "opens doors to conversations that need to be had about Murdered Missing Indigenous Women out in 'mainstream America' and not just among people in Indian country."
Kudos to Rosalie Fish for her courageous act to raise awareness for MMIW, and to Alex Flett for representing it so beautifully.
For more information about MMIW, see mmiwusa.org and follow MMIWUSA and Red Ribbon Alert Project on Facebook.