Education
Teachers reunite in magical moment to honor former student who always sent thank you letters
Minna Yang began sending notes to teachers in elementary school and never stopped. Those teachers never forgot her.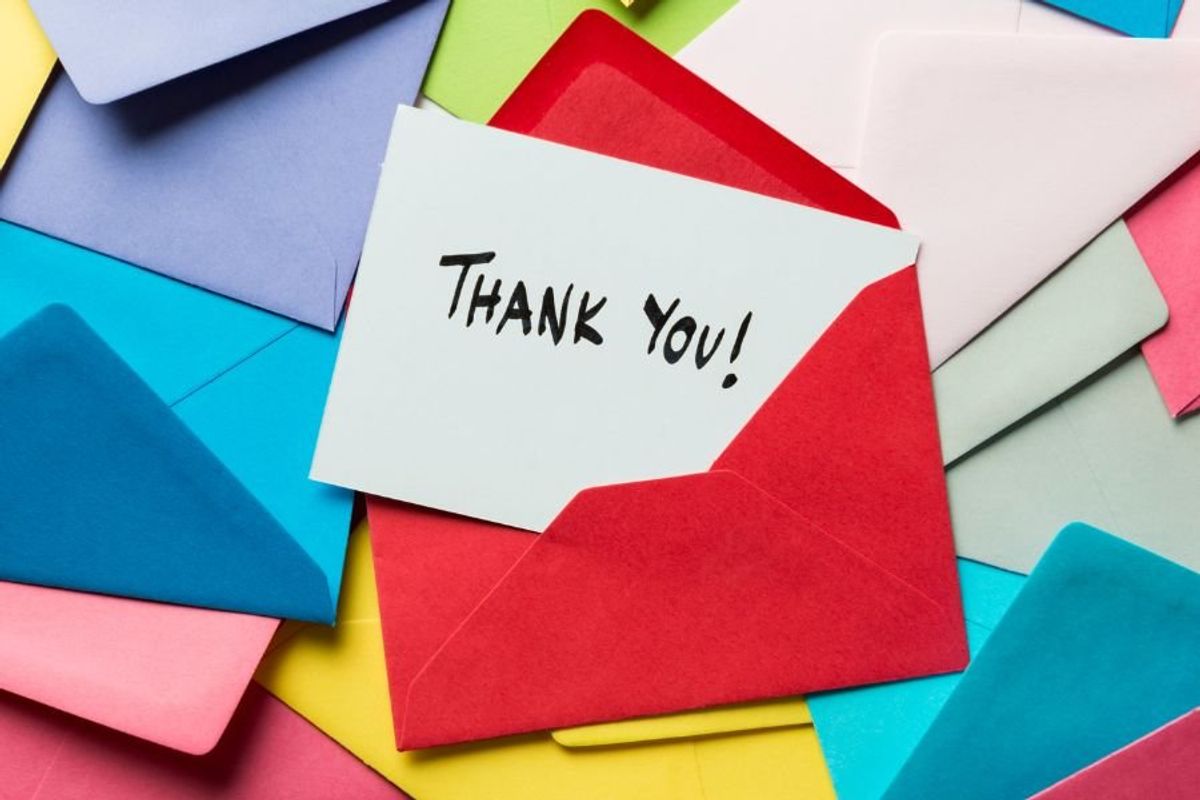 Canva
Many of us have sent a thank you to that one special teacher who really made an impact during our school days. Those standout heroes who taught us how to shine, grow beyond our limitations, and see the beauty of our potential.
However, Minnesota high school senior Minna Yang has gone above and beyond, sending literally hundreds of notes of appreciation to every single one of her teachers. Yes. Every. Single. One.
Yang began this sweet gesture as a shy elementary student and never stopped. Not only did she add new teachers to the list, she continued writing to teachers from her previous years, so the list would grow exponentially. By her senior year, she had 74 teachers and staffers in total who would receive a note.
---
"It became a mission for her to leave a wake of positivity," Sarah Wolfe, one of Yang's teachers, told NBC News.
To respond in kind, Yang's teachers banded together on their own mission. The day before her high school graduation, a small crowd of her former educators gathered to celebrate Yang's generosity and offer their own words of appreciation.
"I take your note out every time I feel like I can't do it, and you help me do it," one teacher said.
Teaching, as we well know, isn't an easy job. And in some ways—especially monetarily—it's a thankless one. Not getting paid enough while taking on more and more responsibilities has caused many teachers to quit the job they love, after all.
But still, people continue to take it on as a vocation because of an inner drive to help and nurture young people and help them become the best version of themselves. I imagine getting a note does indeed help them remember why they chose the career in the first place. They deserve so much more, yes, but, as we can see from the exchange below, knowing they made a difference in their students' lives is priceless.

Watch:
Yang's teachers weren't the only ones moved by her generosity. Several folks commended her attitude in the comments section.
"What's amazingly beautiful is that every teacher seems to have saved the notes she sent them. What a caring human being, one that touched a lot of adults in her life. That is priceless and doesn't happen often."
"She is an upstanding human being who recognizes and respects her teachers who molded her as a person and helped her grow. She is an inspiration to many and will no doubt succeed in life because of her character and the fact that she values the relationships with those who helped her along her journey."
"We need more people like her in the world, especially in this day and age. God bless you Minna in all you do."
Yang might be the student here. But she's giving a great lesson on kindness that we can all learn from.