popular
People are overwhelming Trump's voter fraud hotline with hilarious prank calls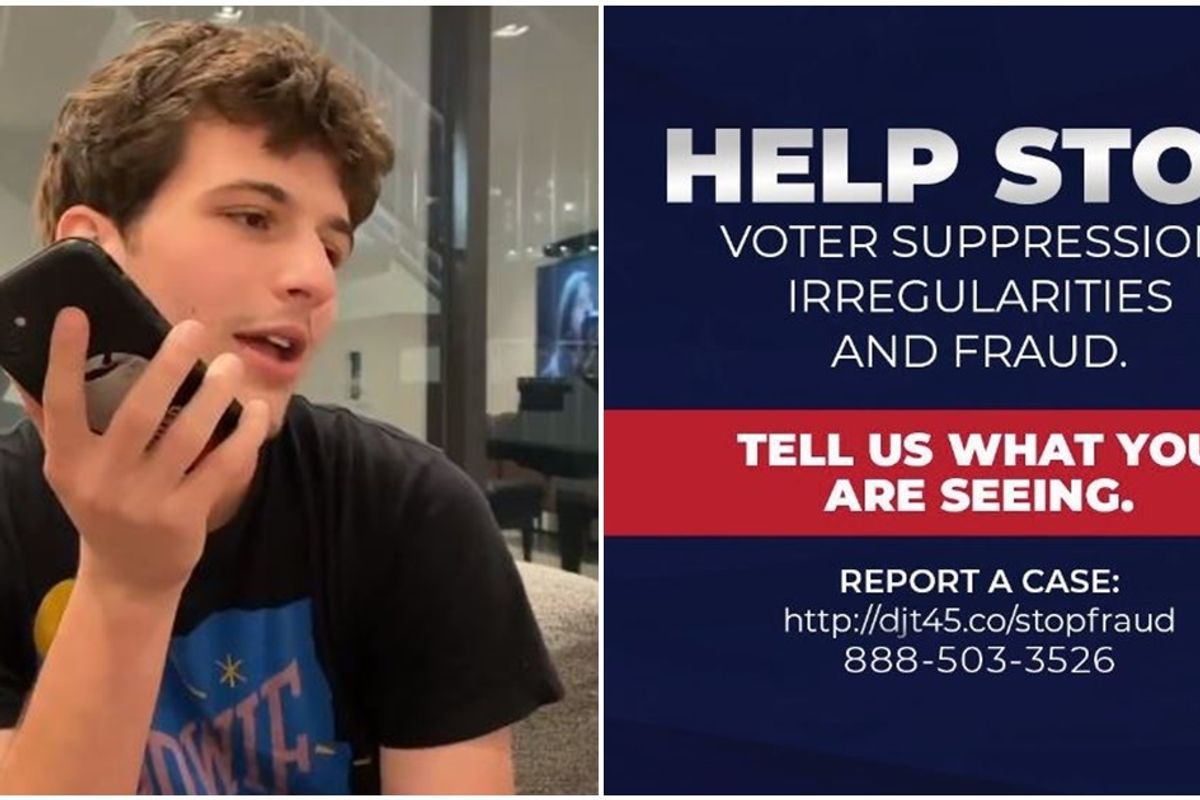 via Cameron Kasky / Twitter and Rudy Giuliani / Twitter
In one of the least shocking developments in recent political history, Donald Trump is claiming the reason he lost the election to Joe Biden is because of widespread voter fraud.

This move has been a part of his election playbook for the entire campaign. He was screaming about the likelihood of fraud for months before Election Day.
For Trump, it appears he figured the only way to win the election is by taking it out of the hands of voters and handing it to the conservative-leaning Supreme Court.
---
His campaign hopes that its fraud claims will ignite a legal battle that sets the plan in motion.
Even though Biden's victory is all but assured, Trump has yet to admit defeat because of his conspiratorial claims. "We're hearing stories that are horror stories," Trump said. "We think there is going to be a lot of litigation because we have so much evidence and so much proof."

"Democrat officials never believed they could win this election honestly," Trump said in a press conference Thursday. "That's why they did the mail-in ballots, where there's tremendous corruption and fraud going on."
The only problem is, according to independent fact-checkers, there is zero evidence of voter fraud.
"Trump has produced no evidence of systemic problems in voting or counting," an Associated Press fact-check states. "In fact, the ballot-counting process across the country has been running smoothly for the most part, even with the U.S. in the throes of the coronavirus pandemic."
To whip up some evidence for Trump's unfounded claims, his campaign created a hotline for people to report voter suppression, irregularities, or fraud. "Tell us what you are seeing," a tweet promoting the hotline reads.
Since the hotline launched it has been inundated with calls. However, unfortunately for Trump, they are mostly prank calls. The hotline has been so overwhelmed by jokesters the phone number has been changed three times.

According to ABC News, the hotline has become a "nightmare" for some staffers.

Comedian James Mwaura called the line to report something seriously troubling he witnessed at his polling site.
This guy proves the oft-repeated conspiracy theory that countless dead people voted for Biden.

She saw something truly frightening when she voted down in Georgia.

This voter recalled one of the most epic sagas of the '80s.
This guy found over 100,000 ballots burned in his firepit. But that's not his biggest concern.

The bees don't care about Trump's hotline.

Some people used the hotline to engage in some glorious schadenfreude.

This woman called in quoting Anderson Cooper.