Culture
This dad suspected his daughter was pranking him and yet she still managed to pull it off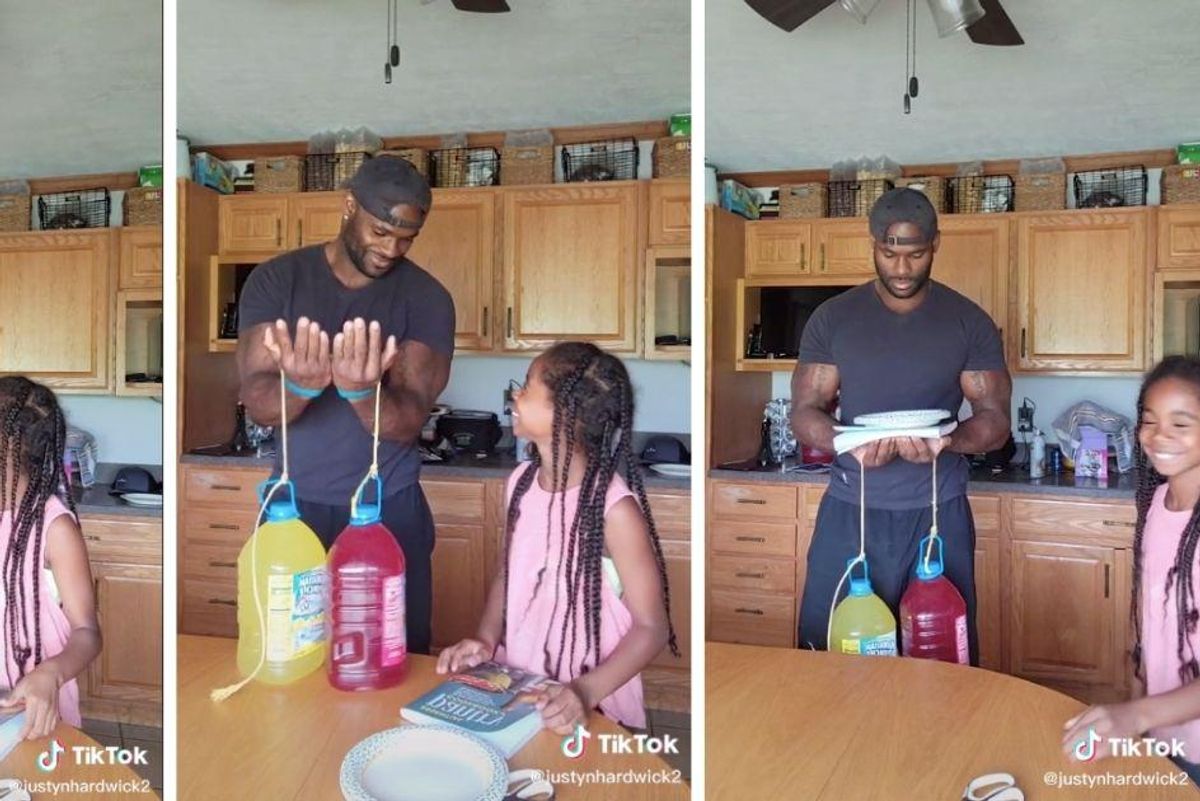 Justyn Hardwick/TikTok
Justyn Hardwick clearly knows his daughter Ary is a die-hard prankster. The father of three frequently shares his family's silly shenanigans on social media, and he knows to be prepared for every possible scenario.
That's why, when Ary asked him to help with a "weight challenge," his first instinct was to search for the trap. "You play too much," he told his daughter as he looked around the room for clues that something was amiss. His instant paranoia alone was funny.
But Ary kept her cool and convinced her pop to hold two large jugs of juice on a rope over his hands. Then she started stacking things on top of the rope.
Throughout the "challenge," Hardwick kept looking around, waiting for the prank. Then it came, and despite being prepared for it, he clearly was not prepared for it.
---
Watch:
The way she immediately high-tails it out of there and the way her dad uses her full name, "ARYANNA," at the end. Hilarious.
The video has racked up more than two million views on Facebook and has been shared widely on other social media channels as well.
David Johns, leader of the National Black Justice Coalition, shared the video on Twitter with some commentary that explains some of the appeal of the video beyond the obvious prankster humor. He wrote:
"1. I love that he knows her well enough to check for trap wires and cameras. 2. I love that she's already considered his concerns and has planned ahead. 3. I love the ability to share media that counters the lies the media frequently tells including: Black dads aren't absent…"
It's always delightful to see families have good, wholesome fun together. (To see more of the Hardwicks' silliness, follow Justyn on TikTok.)