Science
Mama orangutan's tender moments with her 3-month-old baby are melting everyone's hearts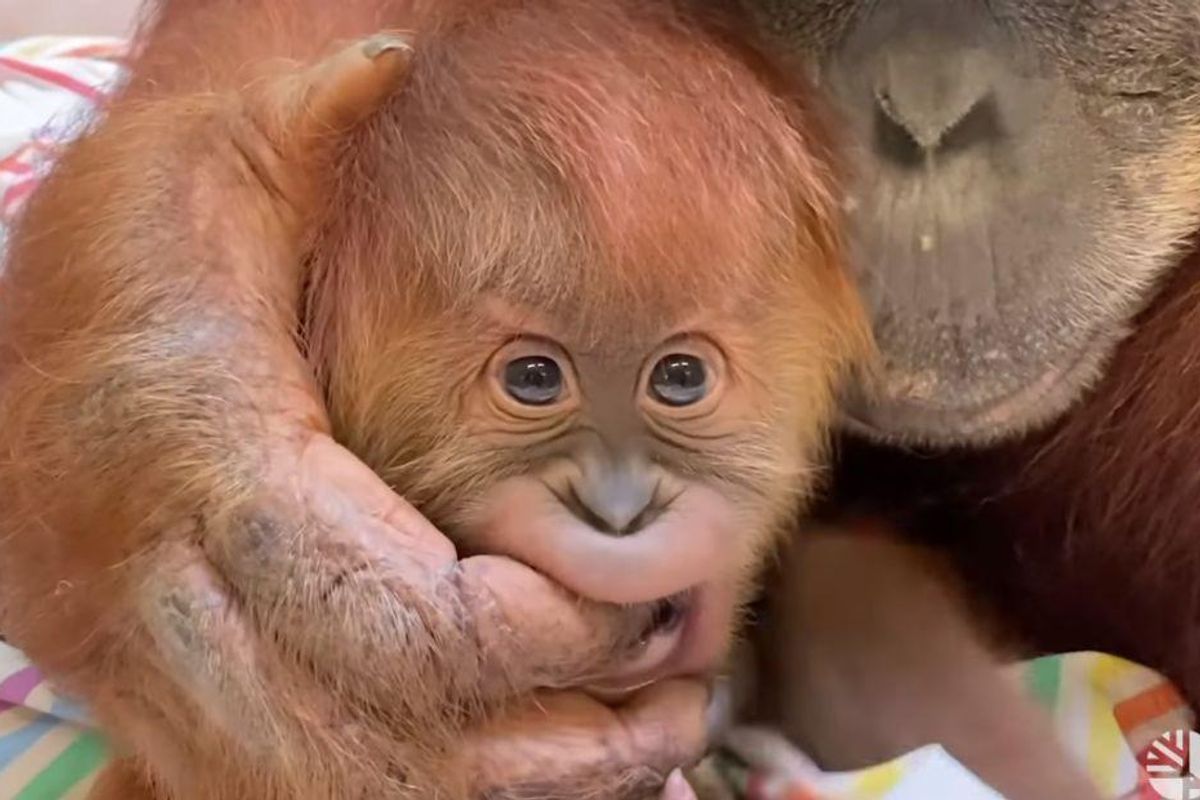 There's nothing like the magic of new motherhood, when you find yourself spending hours marveling at the incredible being you helped create and gazing at their impossibly tiny and adorable features.
It's sweet when humans do it, but seeing animals have those kinds of tender moments with their babies is so endearing.
Sekali, a Sumatran orangutan who lives at the Toronto Zoo, gave birth to a baby in April. In a video shared by the zoo, the baby gets some "tummy time" while Sekali gently strokes and cuddles him.
---
"Sekali continues to take excellent care of her little one, and he appears to be more alert and mobile," the zoo shared. "Keepers are seeing the baby standing up while holding onto mom and sitting up on his own now, so he is growing stronger each day."
The little guy is cute cute cute, but Sekali picking up his foot and "kissing" it is the sweetest darn thing ever.
Orangutan TummyTime
People gushed over the video on the zoo's Facebook page.
"LOOKS LIKE ALL MOMMA'S COUNTING THOSE LITTLE TOES AND FINGERS.... SHE APPEARS TO BE SUCH A TENDER MOM!!
I LOVE THIS!!!!
" wrote one commenter.
"Clearly his Mom just adores him so much," wrote another. "She is such a good Mom.........he's so sweet and bright-eyed .....a happy and content little guy."
"I'm going to get in trouble for saying this, but, that little one is cuter than a lot of babies!!!! Just look how gentle she is with baby!!!" shared another.
The story isn't all sunshine and roses, however. Sekali and her baby's species is in trouble.
In 2017, Sumatran orangutans were moved from the International Union for Conservation and Nature (IUCN) Red List of Threatened Species' "endangered" category to "critically endangered," with their habitat in the wild threatened by deforestation, primarily due to palm oil plantations replacing rainforests. According to the Sumatran Orangutan Conservation Programme, there are only around 14,000 orangutans left in the wild.
Orangutan breeding in captivity is not without its controversy, however. The purpose of captive breeding programs like the Orangutan Species Survival Plan is not to release the animals into the wild, but rather to maintain genetic diversity, enable research and educate the public about these magnificent creatures. Zoos have come a long way in recent decades, creating habitats that look and feel much less like cages and more like the wild, and studies have shown that zoos have a positive impact on people's interest in conservation. Orangutans in human care, like Sekali, may help motivate more people to care about what's happening to the species in their home habitats.
"We are incredibly excited to welcome this new addition to the Toronto Zoo family," said Toronto Zoo CEO Dolf DeJong. "This orangutan baby is an important contribution to a genetically healthy Sumatran orangutan population in human care. Meanwhile, Sumatran orangutans are under increasing pressure in the wild due to habitat loss and the palm oil crisis, which we are working with partners to address. We are proud to play an important role in the conservation of this amazing species."
If you'd like to learn more about orangutan conservation and how to help, visit the Sumatran Orangutan Conservation Programme or check out the Toronto Zoo Wildlife Conservancy.