Culture
Mom's funny impression of her husband proves that 'all women are married to the same guy'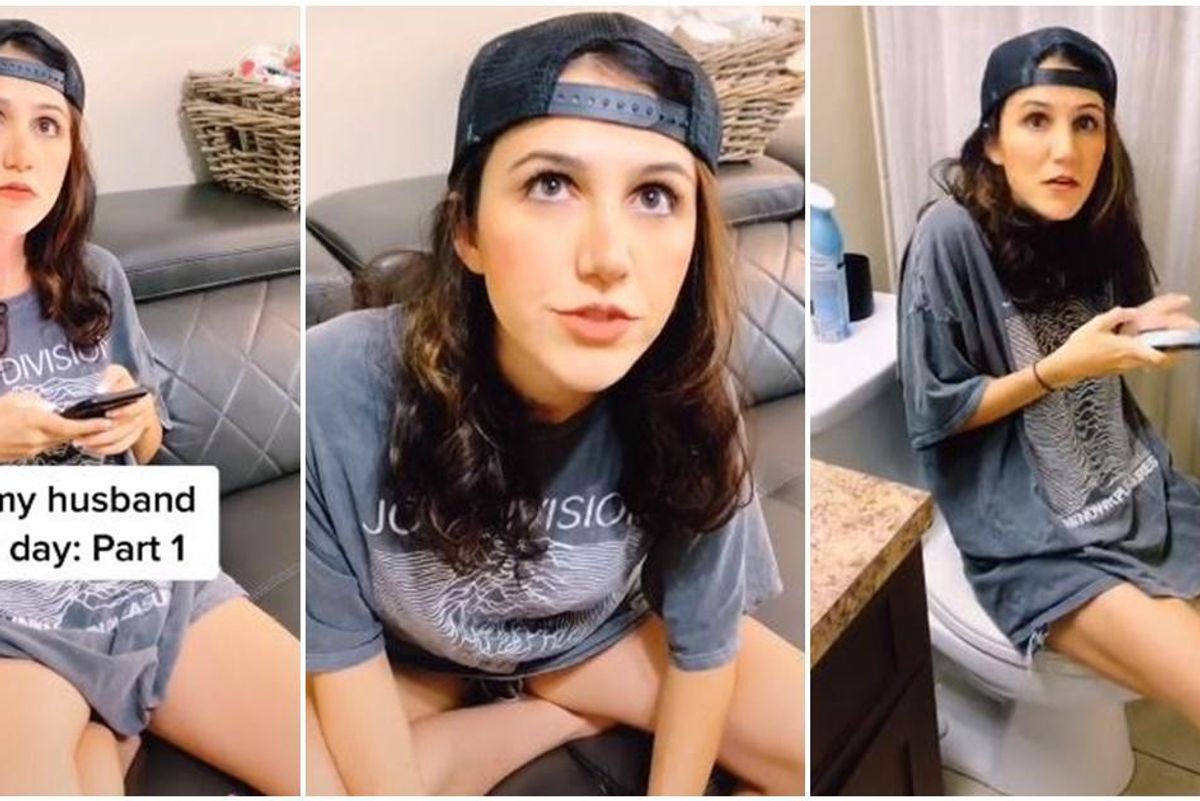 via Kat Stickler / TikTok
Kat Stickler has created a hilarious series of videos about her husband that a lot of women say they can relate to because theirs behave the exact same way.

Stickler is a mother who shares funny videos about her domestic life on TikTok where she's earned over six million followers.
In the videos, she transforms into her husband Mike by throwing on a backward baseball cap and adopting a deeper voice. From the videos, it's pretty clear that Mike always wants some sort of praise for doing the things he's supposed to do.
The interesting thing about the couple is that they went from dating to parents pretty much overnight. Three months after their first date, Kat was pregnant and they were married.
---
In the first video, Mike goes fishing for praise for doing the dishes, gets very specific about how the couple should watch the "Star Wars" movies, and laments over the fact that the baby prefers his mother.
One of the most endearing things about the couple is that it's pretty clear Mike is filming the sketches and that he thinks Kat is hilarious.
In the second video, Mike tries to take credit for changing a diaper. "Did you notice the diaper's clean? [The baby] pooped and I cleaned it. Did you see that?" he asks.
He also tries his best to take credit for doing the laundry, even though he has no idea what to do with it after it's dry.
In the third video as Mike, Kat changed things up a bit by mimicking her husband's reaction to getting a dog that, at first, he didn't want. And, just like the baby, he hopes that the dog likes him more than Kat. "Babe, ummm, I'm gonna feed her from now on so that she'll like me more," he says.
"I'm almost convinced we're all married to the same man," wrote one impressed TikTok user.

"All husbands share the same brain," another TikToker responded.
These videos were made in 2020 and unfortunately, Kat and Mike announced that after a very short marriage they have separated.
They posted a joint video on March 17 where they tearfully addressed the state of their relationship.
"Unfortunately, [the rumors] are true. We are separating. We just wanted to be transparent with you guys, because you guys have been with us from the beginning of this whole journey," she said.
It appears as though Mike has to bear the brunt of the blame for the relationship's failure.
"Kat is not at fault at all for any of this, just so you know," Mike says in the video. "There's a lot of things I need to work on in my own life."
Now that Kat's single, let's hope that the next guy has a good sense of humor and hilarious foibles for her to mimic. Chances are they'll be just the same as her ex's.