Joy
Their kids sent a violinist to surprise them on their 67th wedding anniversary. Cue the tears.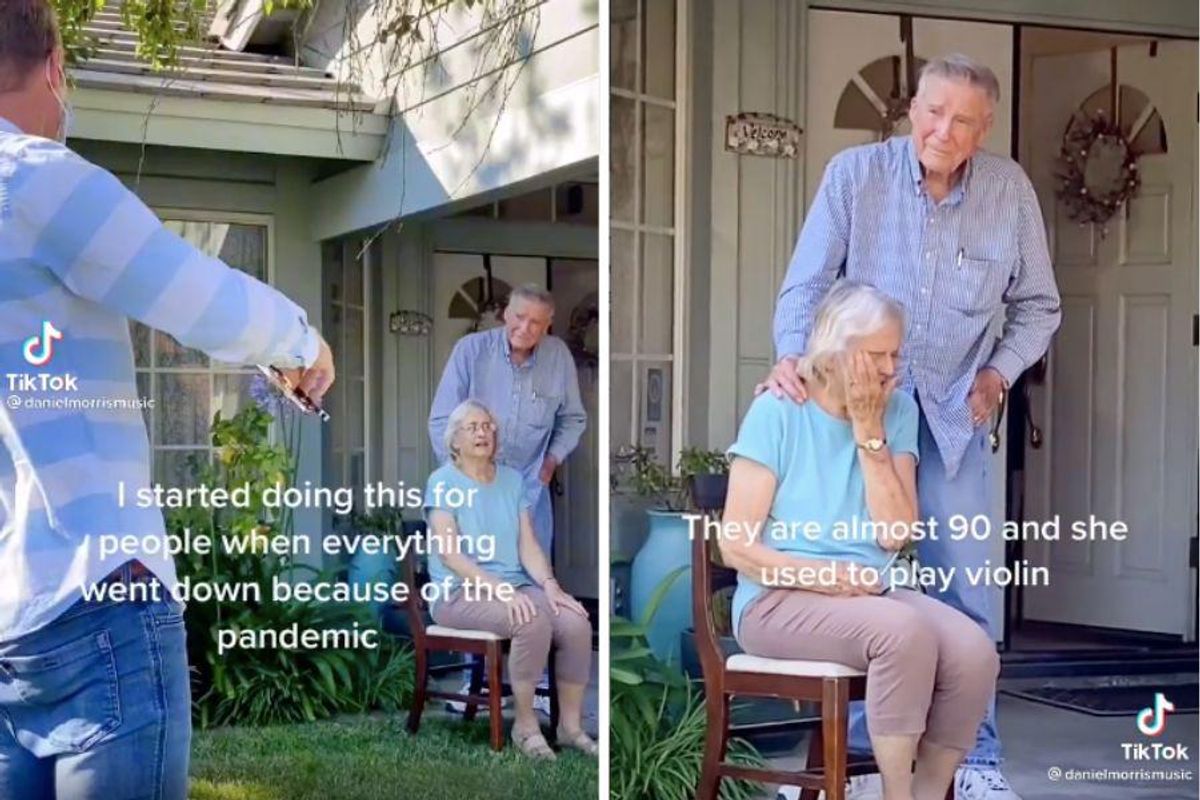 Being married for 67 years is quite a feat. Most Americans don't live long enough to be married that long, much less actually manage to stay married to the same person for nearly seven decades.
But lifelong relationships do happen, and one sweet couple celebrating their 67th wedding anniversary got a heartwarming surprise from their kids that's bringing people to tears.
Musician Daniel Morris posted a video on TikTok of an older couple in front of their house, the wife sitting in a chair and her husband standing beside her. Morris is playing "I Can't Help Falling in Love With You" on the violin from a safe social distance in their yard.
---
"I started doing this for people when everything went down because of the pandemic," Morris wrote in the video caption. "It has honestly changed my life watching music touch lives like this."
The woman becomes clearly emotional as she puts her hand over her face and wipes her eyes as he plays.
"It is this couple's 67th anniversary. Their kids from out of state sent me to play for them," Morris wrote. "They are almost 90 and she used to play the violin. He would take her to practice and sit in the audience to listen and wait for her.
"What a true love story," he added.
Morris chats with the couple a bit, then plays "Amazing Grace."
Watch:
@danielmorrismusic

Music heals the heart❤️#wedding #lovestory #truelove #foryoupage #boostofhope #violinist
"Music truly heals hearts," he wrote. Indeed it does.
Upworthy shared the video on our Instagram page, and the comments show how moved people were by it.

"Beautiful ❤️ Let us not forget that there is still a lot of kindness in the world," wrote one person.

"This is so beautiful. Music is the language of Love," wrote another.
"Can y'all stop cutting onions in here!" wrote another. "I'm not crying. You're crying."
"I'm a total cold-hearted a**hole and even I shed some tears," wrote another.
What a lovely tribute to long-time love, and what a wonderful gift for a couple who has seen and experienced so much. Thank you, Daniel Morris, for sharing the love with all of us.