Family
A couple's viral 60th anniversary photo shoot includes their sweet advice for a lasting marriage.
Their love story is as adorable as their photos.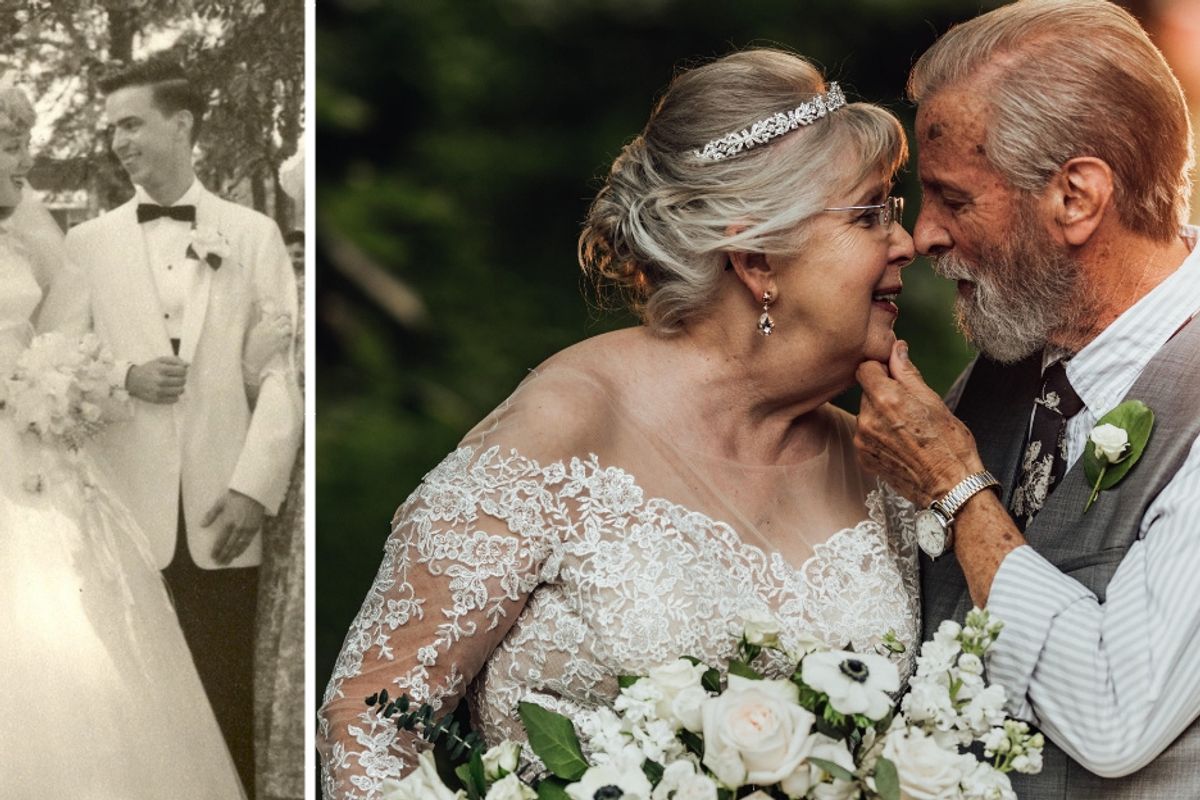 In an time when half of marriages end in divorce, defying the odds with a 60-year wedding anniversary is something to celebrate.
That's what photographer Abigail Lydick and her family thought when they coordinated a sweet anniversary wedding shoot for her grandparents, Ginger and George Brown. The couple has been married for six decades and they are still going strong.
Lydick shared Ginger and George's love story with Upworthy, and it's as adorable as their photographs.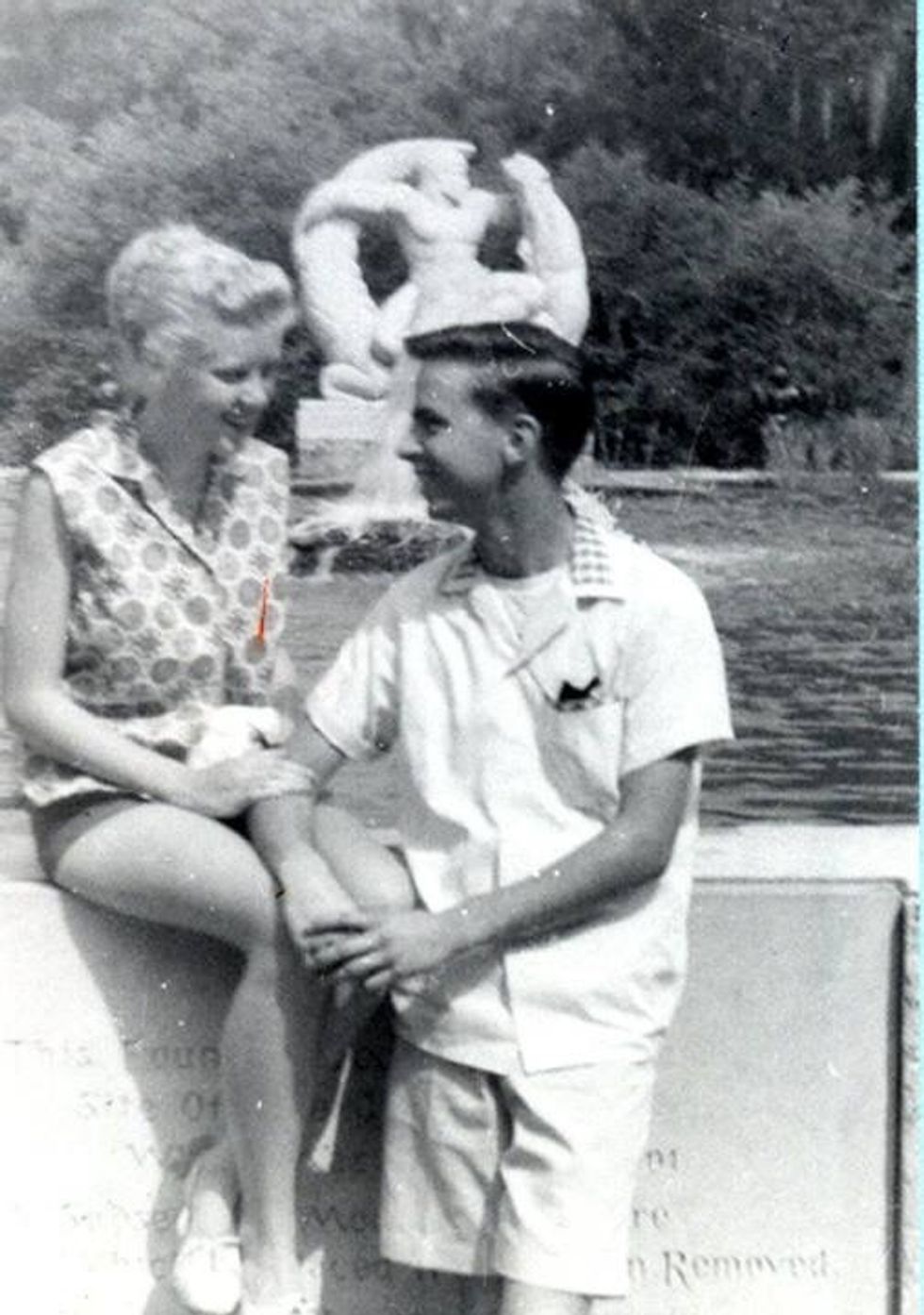 Abigail Gingerale Photography
It all began with a series of chance meetings.
Ginger and George first met in a restaurant booth in 1958, where they'd been seated together by coincidence. They barely spoke to one another that day. A couple of months later, they saw each other at a stoplight, where George honked at Ginger and waved. She recognized him from the restaurant, and his smile lingered in her mind. The third time they met, Ginger's brother introduced her to George at the county fair—the two men just happened to have been classmates. A week later, Ginger came home from a date to find George in her family's living room, hanging out with her brother and his wife. They all went out to a late night diner together, and from then on the two were hooked.

On June 6, 1959, a year and four days after their first encounter in the restaurant booth, Ginger and George were married. Sixty years later, they're still enjoying life together with their 4 kids, 18 grandkids, and 19 great-grandkids.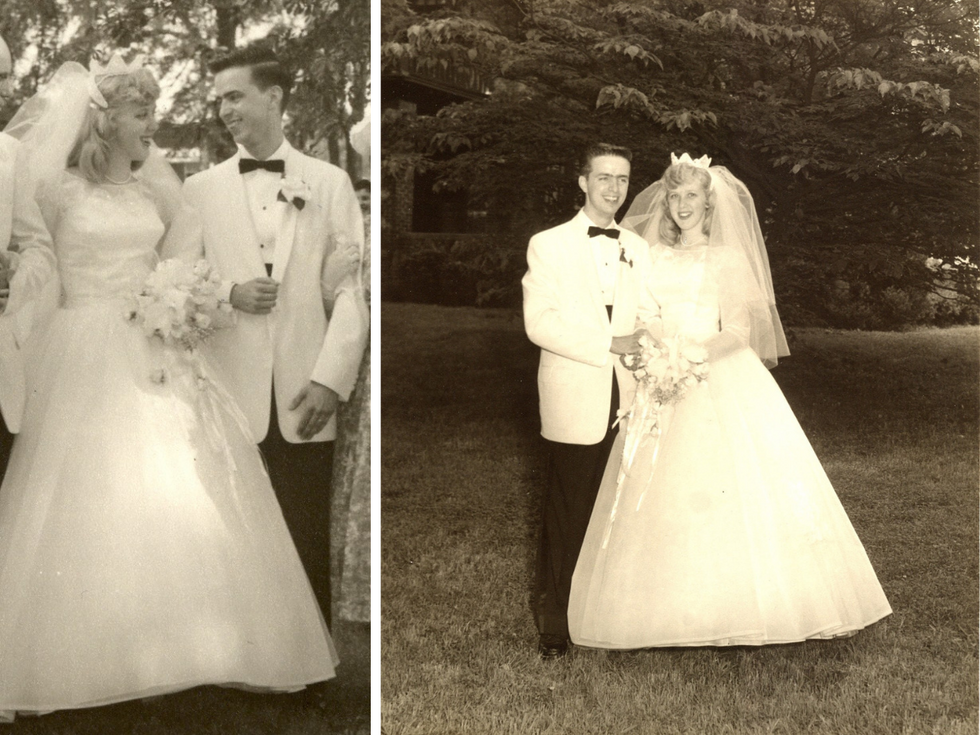 June 6, 1959 Abigail Gingerale Photography
The whole family chipped in to fly the couple up to New Jersey from their home in South Carolina for a special surprise photo shoot with Abigail Gingerale Photography , which Lydick runs with her husband, Andy. Local businesses also got in on the surprise. The Facebook post of the photo shoot has gone viral, and it's not hard to see why when you see the love pouring out of these pictures.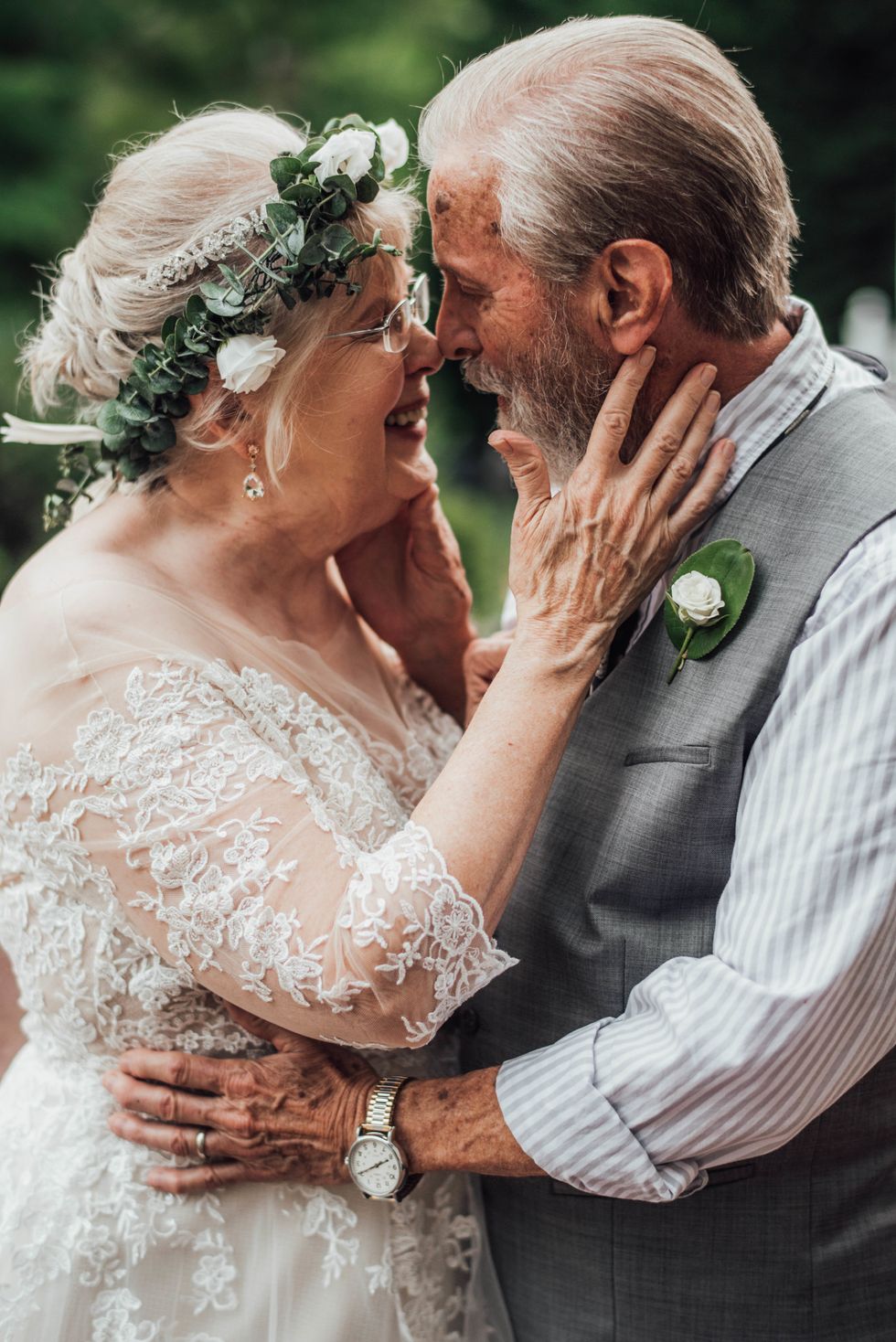 Abigail Gingerale Photography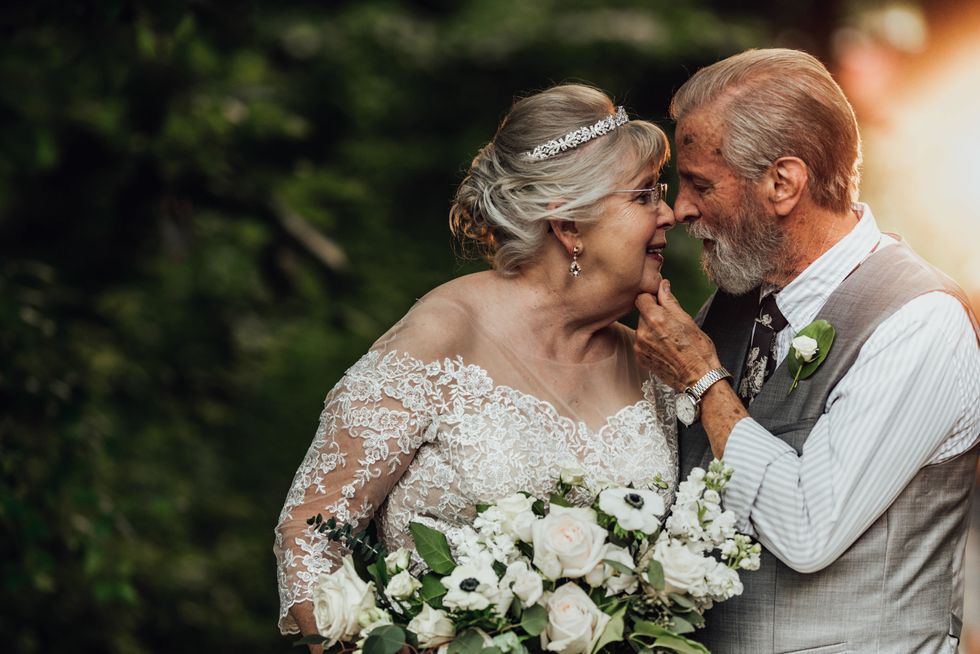 Abigail Gingerale Photography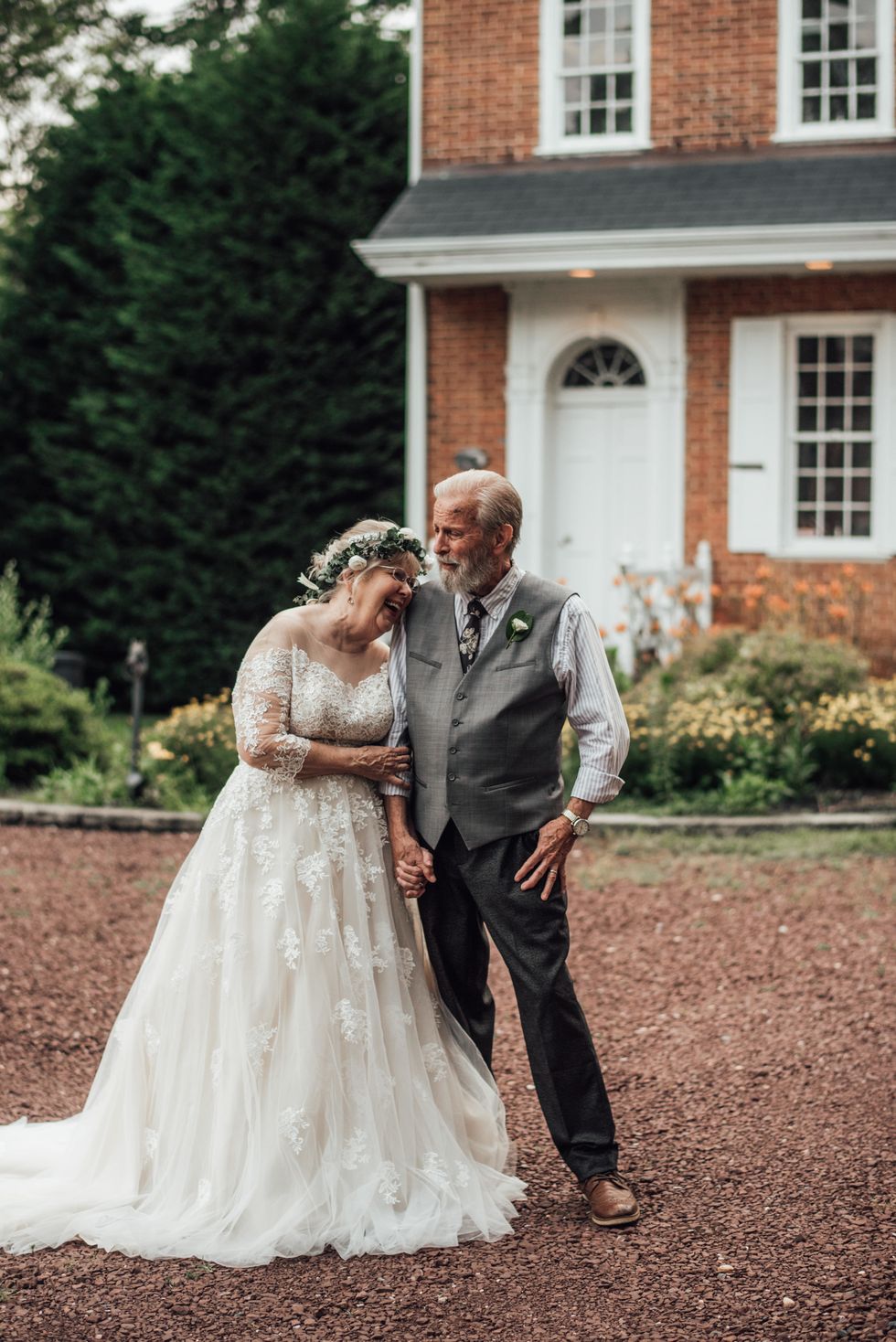 Abigail Gingerale Photography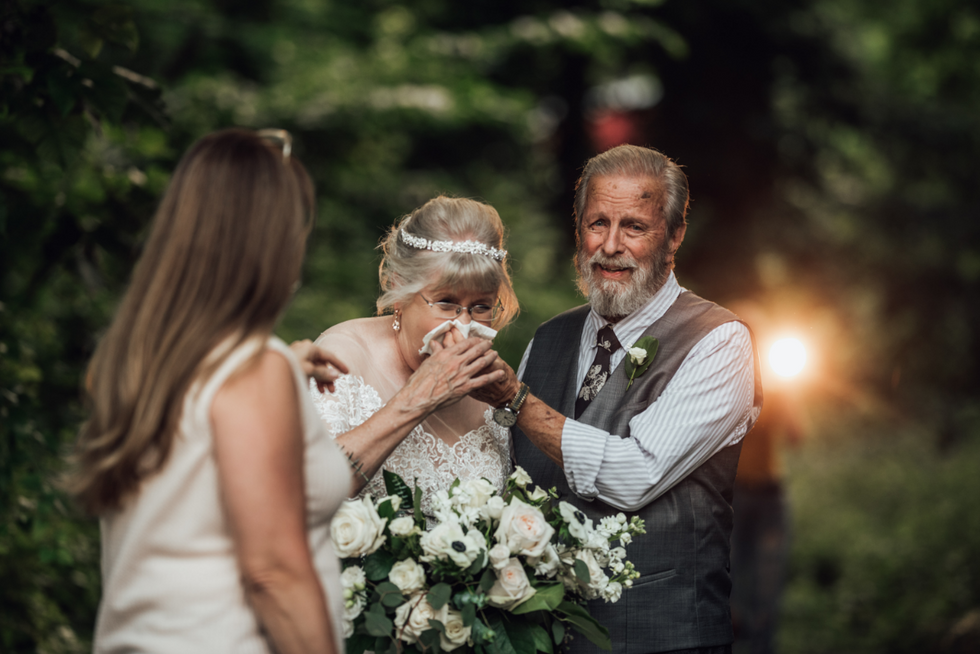 Abigail Gingerale Photography
"We contacted some of our vendor friends," Lydick says, "including the ladies at Bridal Suite Boutique, Ivy On Main Florals, and Christine Swope (who provided not only hair and makeup, but a hair cut and style for Granddad too!) Everyone pulled together to get all the details for their very own 60th anniversary shoot!"
"Grandmom was more nervous than anyone," adds Lydick. "She had never gotten any kind of professional hair and makeup done let alone fancy pictures, so we had to reassure her that she was going to rock this thing!
With Ginger dressed in a bridal gown and George dressed in a sharp gray suit, the happy couple look as if they could've just gotten married. Check out this "first look" photo. So dang sweet.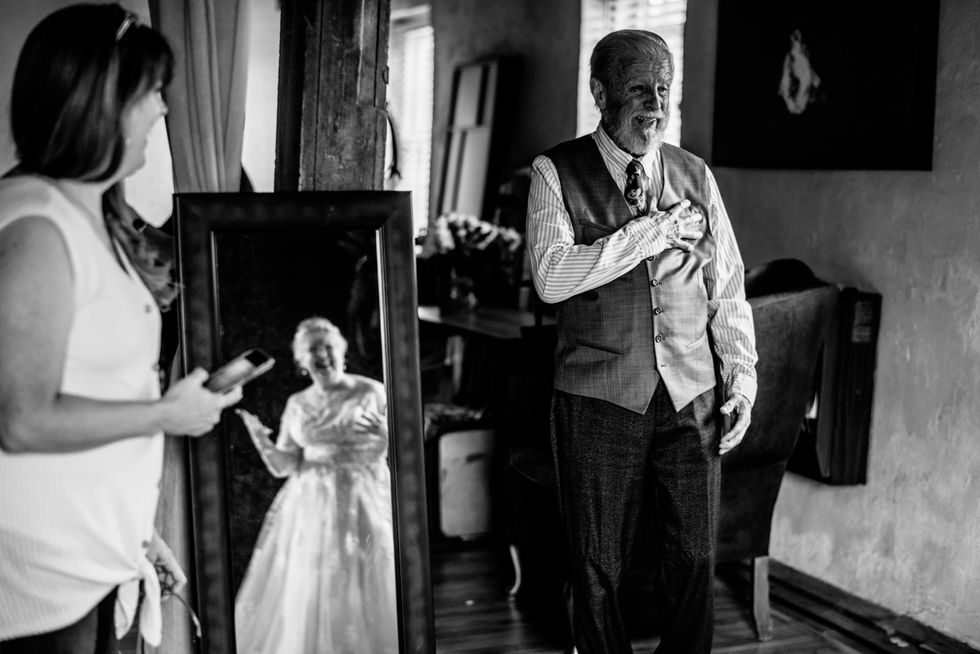 Abigail Gingerale Photography
During the shoot, Lydick asked her grandparents if they had any marriage advice for young couples. In addition to the fact that they kiss once a day or more here's what they said:
1. "Don't go to bed angry."
2. "Be prepared to forgive, always, because you just have to do it."
3. "Maintain a good sense of humor."
(Lydick says that last one is George's favorite.)
Is there anything better than living, breathing proof that lasting love really is possible? Congratulations to the happy couple!