popular
Jennifer Nettles' CMA dress called attention to the fact female country artists don't get 'equal play'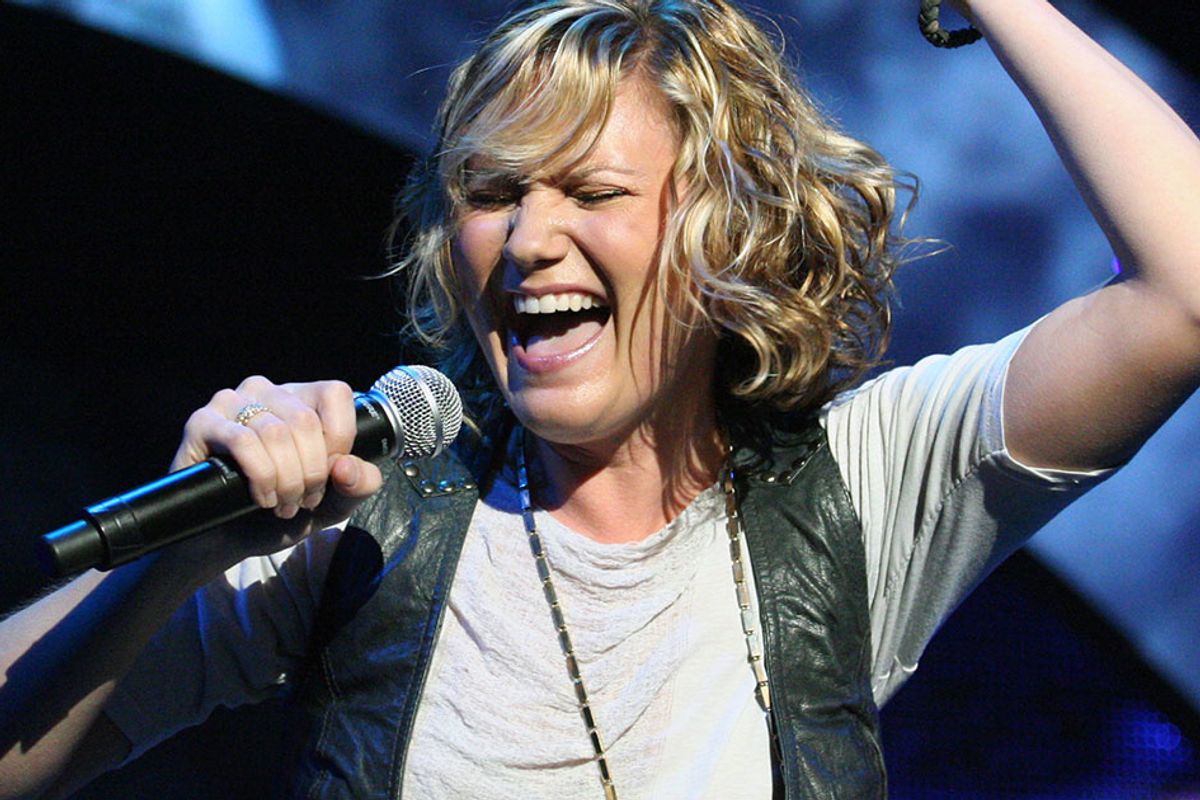 Wikipedia
Women in country music are fighting to be heard. Literally. A study found that between 2000 and 2018, the amount of country songs on the radio by women had fallen by 66%. In 2018, just 11.3% of country songs on the radio were by women. The statistics don't exist in a vacuum. There are misogynistic attitudes behind them. Anyone remember the time radio consultant Keith Hill compared country radio stations to a salad, saying male artists are the lettuce and women are "the tomatoes of our salad"...? Air play of female country artists fell from 19% of songs on the radio to 10.4% of songs on the radio in the three years after he said that.
Not everyone thinks that women are tomatoes. This year's CMA Awards celebrated women, and Sugarland's Jennifer Nettles saw the opportunity to bring awareness to this issue and "inspire conversation about country music's need to play more women artists on radio and play listings," as Nettles put it on her Instagram. She did it in a uniquely feminine way – by making a fashion statement that also made a statement-statement.
---
The outfit, designed by Christian Siriano and Alice Mizrachi, had a pink train and/or superhero cape with the words, "Play Our F*@#!in Records Please & Thank You!" written on it. The words "Equal Play" were written on her back.

Nettles drew attention to the importance of playing women on the radio. When women don't get opportunities to succeed, people begin to believe that women can't succeed. "Some of you big country fans may have heard of this problem over the past few years. 16% of the top 500 songs over the last 4 years (2014-2018) were women. 16% of the top 500!!!!! 16%!!!!," Nettles wrote in an Instagram post. "This is unacceptable."
"We need the celebration and support of women to move into country radio and country play listing. We want our songs to be played and our stories to be heard. The more our songs are played, the more women get to hear their own stories, challenges and triumphs reflected," she said.
Nettles' outfit was well-received on Twitter.
More importantly, the message of the outfit was also well-received.

If Nettles' dress didn't do enough to call attention to gender disparity in country music, the CMA Awards inadvertently did. Garth Brooks won Entertainer of the Year. Carrie Underwood was the only woman nominated for the award. Some fans claimed Underwood worked her butt off only to be snubbed in favor of a man.
Women are working hard to both succeed in our fields and break the bias against women. Imagine how much more we could do if the bias was removed?