Democracy
Highlights magazine denounces family separations in a blistering new editorial.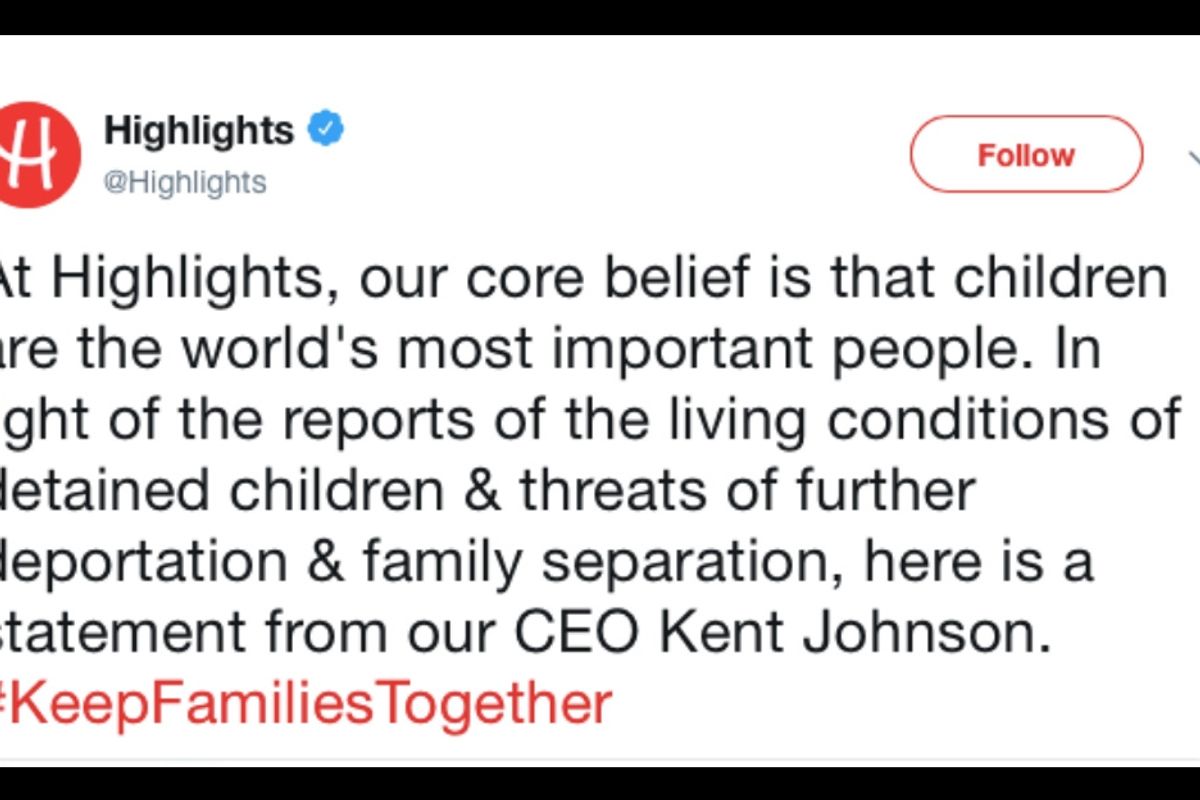 Highlights CEO Kent Johnson has penned a strong statement standing up for immigrant children's rights.
Highlights magazine has been a staple in American homes for more than 70 years. Millions of us grew up enjoying its picture finds and puzzles, reading its stories and riddles, creating its arts and crafts projects, and learning upstanding behavior from Goofus and Gallant.
It stands to reason that an American publication 100% dedicated to children might have some feelings about reports of children in America's custody being abused and neglected.
---
Highlights has released a statement by CEO Kent Johnson expressing those feelings:
As a company that helps children become their best selves—curious, creative, caring, and confident—we want kids to understand the importance of having moral courage. Moral courage means standing up for what we believe is right, honest, and ethical—even when it is hard.

Our company's core belief, stated each month in Highlights magazine, is that 'Children are the world's most important people.' This is a belief about ALL children.

With this core belief in our minds and hearts, we denounce the practice of separating immigrant children from their families and urge our government to cease this activity, which is unconscionable and causes irreparable damage to young lives.

This is not a political statement about immigration policy. This is a statement about human decency, plain and simple. This is a plea for recognition that these are not simply the children of strangers for whom others are accountable. This is an appeal to elevate the inalienable right of all children to feel safe and to have the opportunity to become their best selves.

We invite you—regardless of your political leanings—to join us in speaking out against family separation and to call for more humane treatment of immigrant children currently being held in detention facilities. Write, call, or email your government representatives.

Let our children draw strength and inspiration from our collective display of moral courage. They are watching."
At Highlights, our core belief is that children are the world's most important people. In light of the reports of t… https://t.co/GWqasxfRSh

— Highlights (@Highlights) 1561483914
There is no excuse for children being separated from their parents and held in conditions that one doctor has compared to 'torture facilities.`
Dr. Dolly Lucio Sevier was called to detention facilities in McAllen, Texas last week to assess sick children. According to ABC News, the physician's medical declaration stated that children in the facility were forced to endure "extreme cold temperatures, lights on 24 hours a day, no adequate access to medical care, basic sanitation, water, or adequate food."
"The conditions within which they are held could be compared to torture facilities," she wrote.
Lucio Sevier was granted access to the detention center when five infants were placed into neonatal intensive care due to a flu outbreak and lawyers threatened to sue the government if a doctor was not allowed in to examine the children.
In a follow-up interview, Lucio Sevier said, "It just felt, you know, lawless. I mean, imagine your own children there. I can't imagine my child being there and not being broken." She reported that babies were not being provided age-appropriate meal options, such as pureed foods for infants over 6 months, and that many teen mothers described not being able to wash their babies' bottles.
"To deny parents the ability to wash their infant's bottles is unconscionable and could be considered intentional mental and emotional abuse," she wrote.

No matter what our beliefs about immigration, we should all agree that torturing children is a line we do not cross.
We can debate all day long about what should be done about people arriving at our borders. We can talk about illegal border crossings, we can talk about how to handle a large influx of asylum seekers, we can discuss all of the whos, whats, whys, and hows of people trying to enter the U.S.
What is not debatable is that children should not be subjected to torture in our custody. It is not debatable that tearing small children from their mother's arms and placing them in a crowded room without meeting even their most basic needs is unconscionable. It is not debatable that cruelty to children is a red line we do not allow our government to cross.
Some people want to blame the children's parents for bringing them here illegally. But first of all, seeking asylum is not illegal. Asking for asylum, even if you are in the country without documentation, is legal. The law states that you have that right, regardless of immigration status. And even if you want to make the case that some of these parents broke the law, illegal entry to the U.S. is a federal misdemeanor—in what world does a misdemeanor warrant having your children taken from you and placed in 'torture facilities'? And once children are in the custody of the U.S. government, it makes no difference how they got there. Imagine the government removing children of U.S. parents accuse of abusing their children and placing them in conditions like those described in Clint and McAllen, Texas. It would be unfathomable. It is unfathomable.
No one can defend this treatment of children at the hands of our government. This is a line we simply do not cross. Period.