Capital One Impact Initiative
He was a homeless veteran. Karis Village offered him not just a home, but a community.
"To me, this building was just a gift."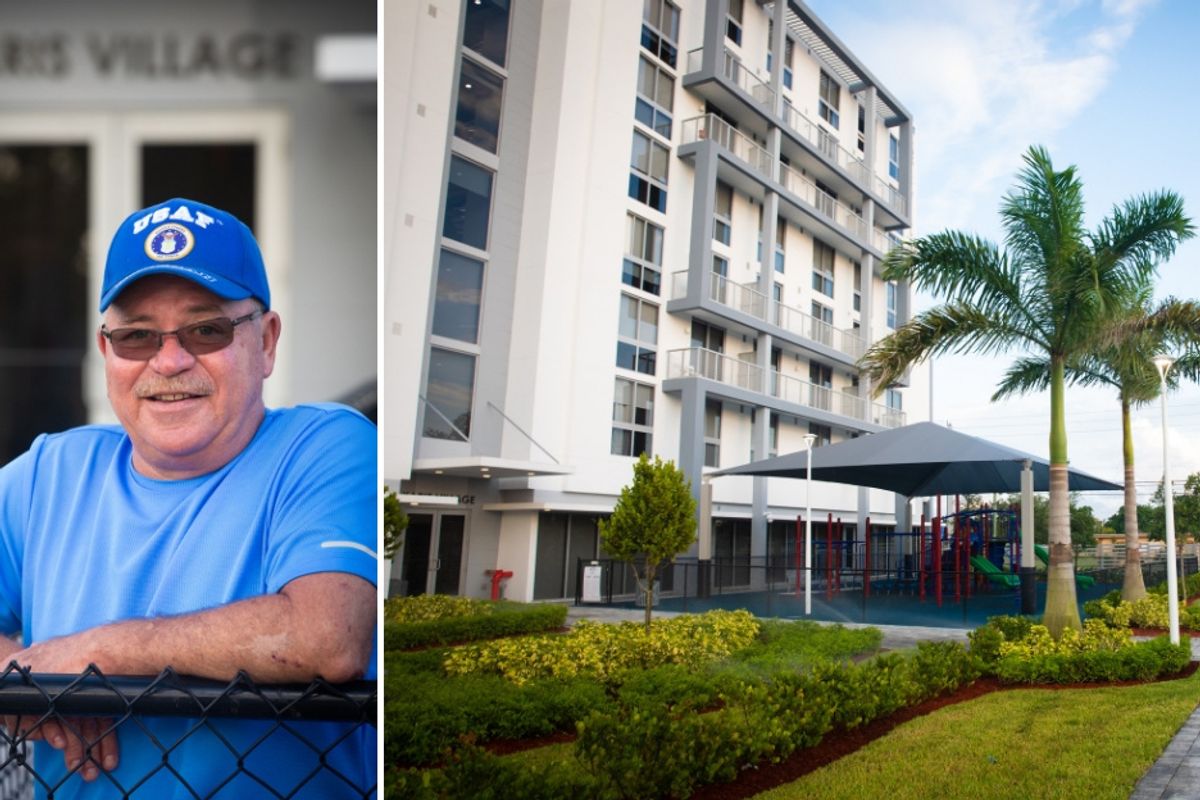 Capital One
True
Capital One
Brian Olesen never imagined he would end up homeless.
The former U.S. Air Force medic had led a full and active life, complete with a long career in the medical field, a 20-year marriage, and a love of anything aquatic. But after hip surgery and chronic back pain left him disabled in 2013, he lost his ability to work. Due to changes in eligibility requirements, he couldn't qualify for federal veteran housing programs. His back issues were difficult to prove medically, so he didn't qualify for disability. Though he'd worked his whole life, having no income for five years took its toll. He got evicted from a couple of apartments and found himself living on the streets.
But in 2018, two things completely turned Olesen's life around. He was able to both qualify for disability and to move into an affordable housing community in Miami's Goulds neighborhood called Karis Village.
When people think of affordable housing, they don't usually picture a place like Karis Village. The 88-unit development is brand new, and built with an attention to design that is not always expected for developments that serve as home to people on limited incomes. The apartments have tile floors, marble countertops, and all new appliances and furniture, and the grounds are beautiful and well-kept, with a playground and common areas for residents to gather.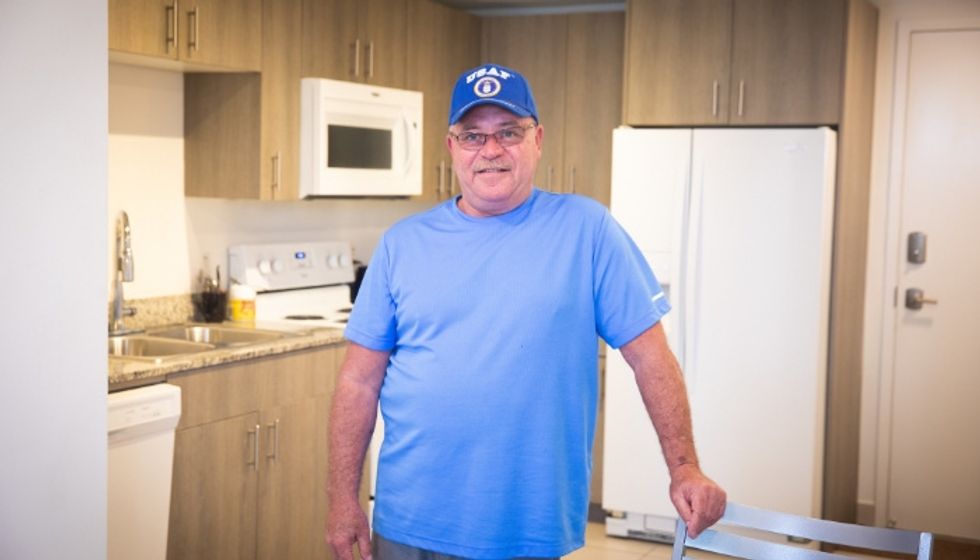 Brian Olesen in his kitchen at Karis VillageCapital One
Karis Village isn't just a housing development; it's a home and a community. Half of the units are set aside for veterans who have experienced homelessness, like Olesen. The other half are largely occupied by single-parent families.

"To me, this building was just a gift," says Olesen. "All of the different parties that got together to put this building together… making half the building available to veterans. We've got no place to go."
Addressing veteran homelessness was one of the goals of Karis Village, which was built through a partnership that included Carrfour Supportive Housing — a mission-driven, not-for-profit affordable housing organization in southern Florida — and Capital One's Community Finance team. More than just an affordable place to live, the community has full-time staff on hand to help coordinate services—from addiction recovery programs to transportation options to job search and placement. Also included are peer counselors who provide emotional and psychological support for residents.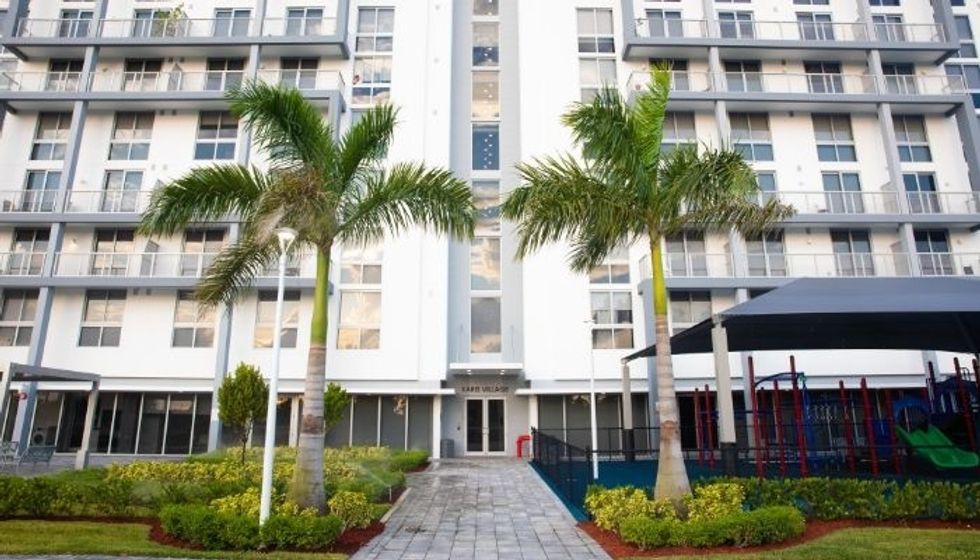 Karis Village, an affordable housing community in Miami, Florida.Capital One
Carrfour President and CEO Stephanie Berman says the core function of the services team on site is to build a supportive community.

"Often when you think of folks leaving homelessness and coming into housing, you think of shelters or some kind of traditional housing," she says. "You don't really think about a community, and that's really what we build and what we operate. What we're really striving to create is community. We find that our families thrive when you create a sense of community."
The intention to create a supportive community at Karis Village was a priority from the get go. Fabian Ramirez, a Capital Officer on Capital One's Community Finance team, says the bank did a listening tour in southern Florida to explore community development and affordable housing options in the area and to hear what was most needed. After deciding to partner with Carrfour, the bank provided not only an $8 million construction loan and a $25 million low income housing tax credit (LIHTC) investment to help build Karis Village, but it also kicked in a $250,000 social purpose grant to help fund the social support services that would be put in place for residents.
"It's not just all about providing the brick and mortar," says Ramirez. "It's about being able to contribute to the sustainability of the development and of the lives of the people who move into the building."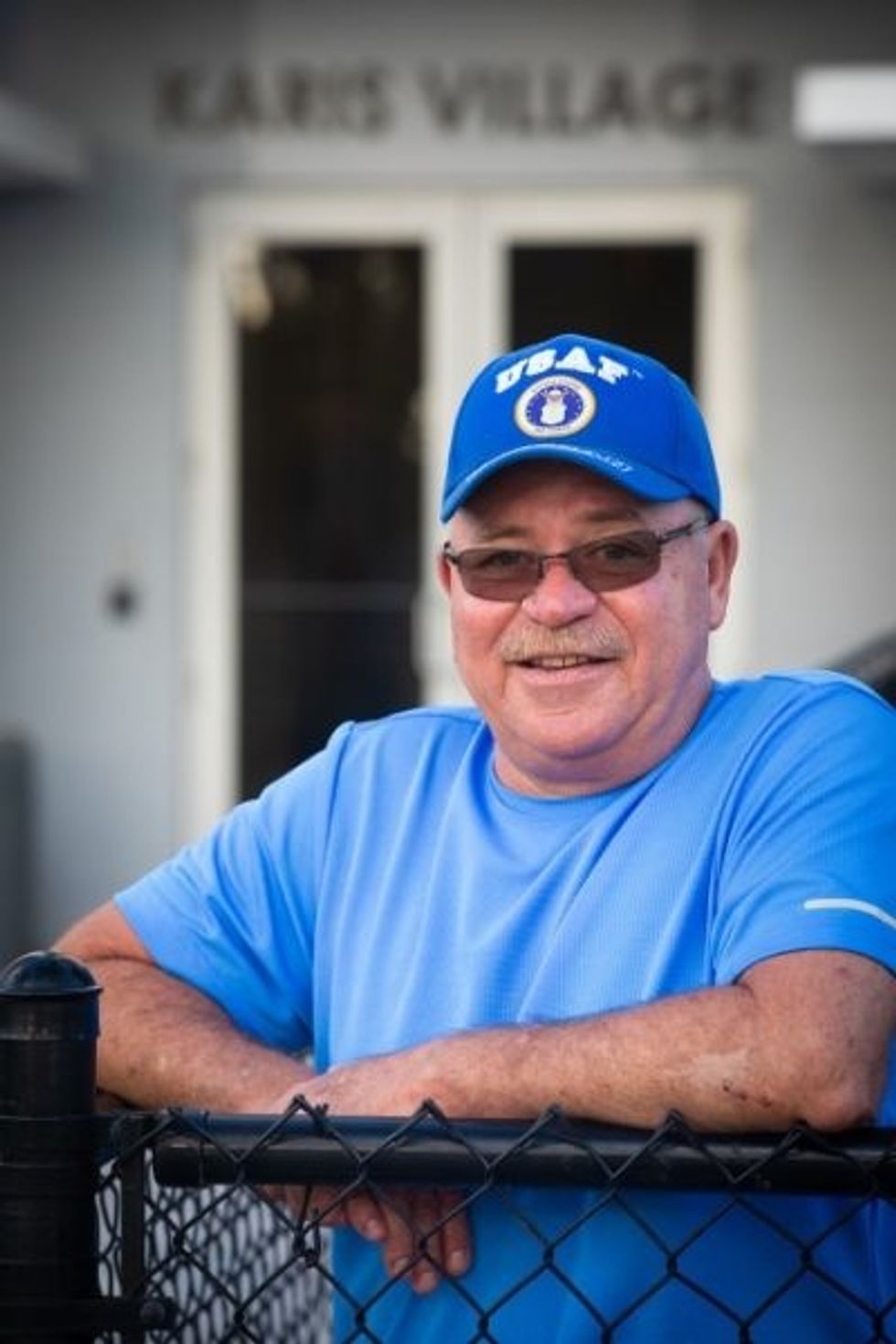 Capital One
Olesen says he and his fellow residents benefit greatly from the network of support services offered in the building. He says a counselor comes to meet with him once a month, sometimes right in his apartment. He also gets help maintaining a connection with the Veteran Affairs office. Other services include social workers and counselors for drug addiction and alcoholism.

Olesen loves being around other veterans, and he says hearing the sound of children playing keeps the community lively. He says anywhere else he could afford to live on disability wouldn't be nearly as nice and would likely involve shared kitchens and bathrooms and neighborhoods you wouldn't want to go out in at night.
If it weren't for Karis Village, Olesen says he doesn't know where he would be today: "I had nowhere to go and this is a safe, beautiful place to spend my retirement."
"I don't think they could have done a much better job of putting this place together and supplying us with what we need," he says. "I have so much appreciation for the ability to have a place to live. And then you add to that that it's beautiful and completely furnished and you didn't need to bring anything—I don't know what more you could ask for."
Karis Village and another development for veterans built the same year enabled the neighborhood of Goulds to meet the requirements set forth by the U.S. Department of Housing and Urban Development to declare an end to veteran homelessness in the area.
Ending veteran homelessness altogether is a complex task, but communities like Karis Village show how it can be done—and done well. When government agencies, non-profit organizations, and corporate funding programs come together to solve big problems, big solutions can be built and maintained.