Joy
Texas community tackles homelessness in unique faith-based way, and it seems to be working
Proselytizing is banned, "preaching the gospel" is done through deeds, not words, and a caring community is continually being built.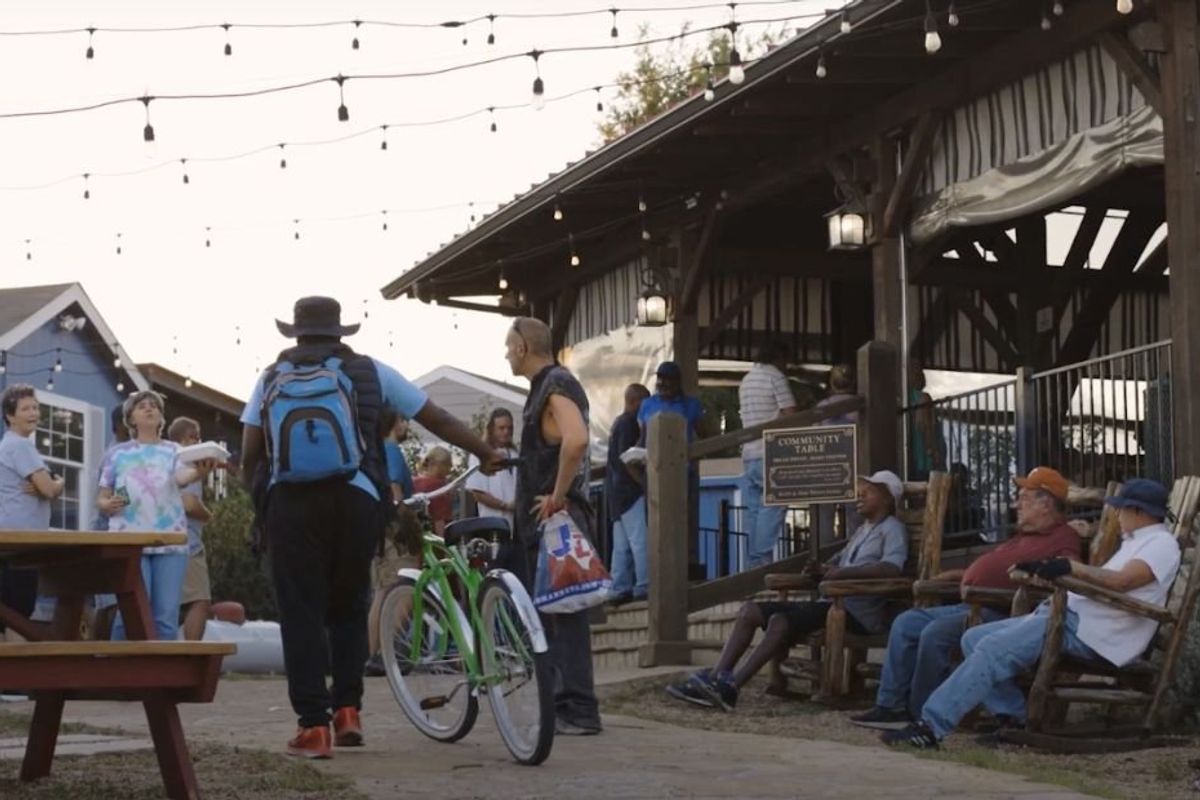 "Housing alone will never solve homelessness, but community will."
That's the philosophy of Mobile Loaves & Fishes, a faith-based organization in Travis County, Texas, that provides not only housing, but a caring, supportive community for people who have experienced chronic homelessness.
Homelessness is a challenging issue that affects communities across the United States, from small rural towns to large urban centers. It looks different in different places and for different people, but according to the 2022 Annual Homelessness Assessment Report, more than 580,000 people experienced homelessness in the United States on any given day in 2022.
Figuring out how to solve the multi-faceted problem is an ongoing struggle. Some advocate for simply providing housing, but that doesn't address the issues that might cause someone to be unable to maintain a home. Some suggest tackling the addiction and mental health disorders at the root of many homeless experiences, but that alone won't solve the problem, either.
Mobile Loaves & Fishes doesn't claim to have solved the homeless crisis, but the Community First! Village they've built sure looks like a solid step toward addressing it effectively.
---
Sitting at the outskirts of northeast Austin, Community First! Village is a 51-acre master-planned housing development that "provides affordable, permanent housing and a supportive community for men and women coming out of chronic homelessness." The village, which has been built up slowly and is slated to have 500 homes by the end of this year, has an outdoor movie theater and indoor spaces where residents can gather, an art house where they can create and express themselves, gardens where they can cultivate their own food and more.
Mobile Loves & Fishes founder Alan Graham taps into the heart of homelessness and explains why the community approach works with just a handful of words: "It's about being lonely, man."
The idea that community is the key to ending homelessness has been gleaned from the 35 years Mobile Loaves & Fishes has been serving meals and building relationships with their neighbors experiencing homelessness, learning about what they truly want and need. Their model is both simple and not—it's simple in its premise of focusing on personal connections, but multi-pronged in its approach to creating community. It truly takes a village to build this kind of community, but they're doing it.
As is clear in the name Mobile Loaves & Fishes, the organization doesn't hide its Christian foundation, but you'll rarely hear anyone involved talking about it overtly. Proselytizing in the community is not allowed—anyone who wants to share their faith shares it through deeds.
"What we want people to do is preach the gospel often, and only when necessary, use words," Graham told the Today show. They are all about showing love and faith through service rather than preaching to people about Christianity. "It's why most of our neighbors love Christ, but can't stand Christians," he added. There are no religious requirements in the community or for volunteers.
The community is not a utopia, of course. Residents bring struggles with them, but here they have a community to support them through those struggles.
"It's life. It's real life, with all the beauty in the marinade of dysfunction, all put into that one little tasty gumbo," said Graham. Residents aren't even required to be free from alcohol or drug use to find a home there.
"The two essential human needs are to be fully and wholly loved and fully and wholly known," said Graham. "And when you bring all that to the table, it creates an environment of welcoming."
Watch the Today show's segment on Community First! Village:
You can learn more about Mobile Loaves & Fishes and the other work they do in the Austin area to assist people experiencing homelessness at mlf.org.