Communities
After seeing a man struggle to pay for pet food, this couple created a pet food pantry for the community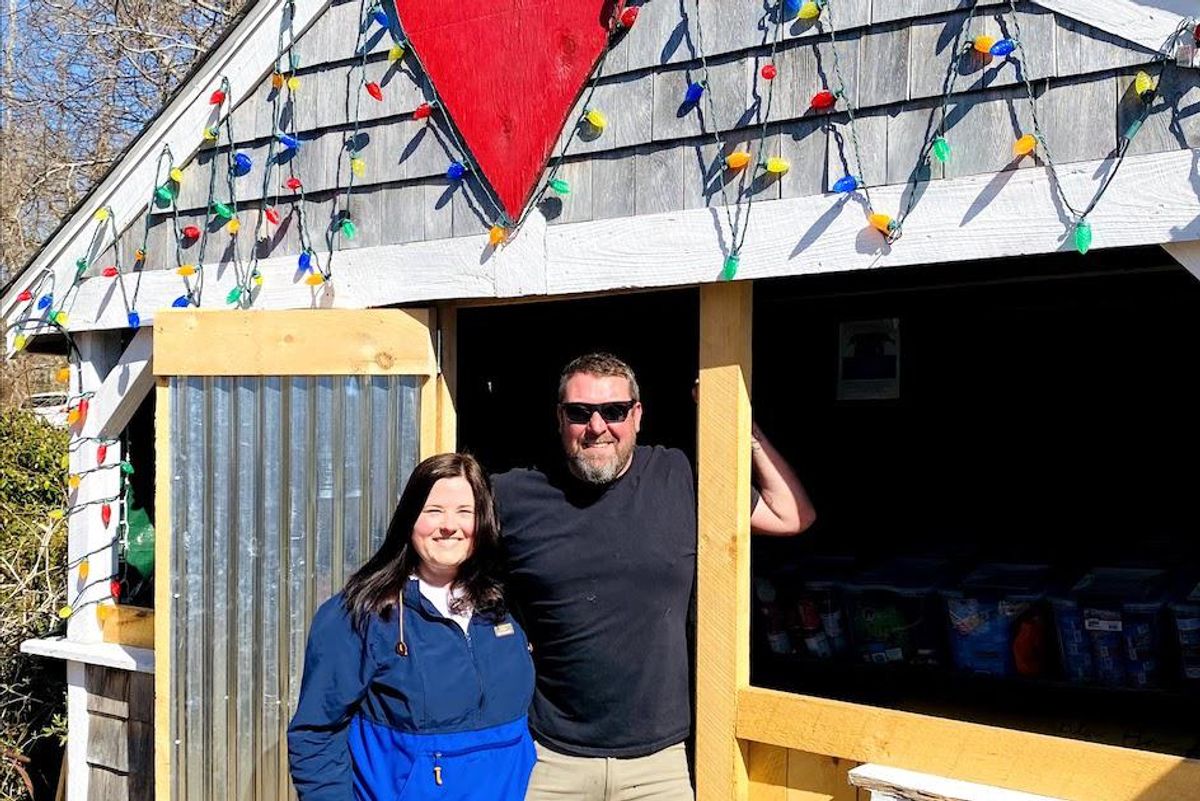 Photo courtesy of Kenneth and Jill Gonsalves
True
It can be expensive to have a pet. It's possible to spend between $250 to $700 a year on food for a dog and around $120-$500 on food for a cat. But of course, most of us don't think twice about the expense: having a pet is worth it because of the company animals provide.
But for some, this expense is hard to keep up, no matter how much you adore your fur baby. And that's why Kenneth and Jill Gonsalves decided to help.
Kenneth had seen a man scraping together change in a store to buy pet food, so he offered to buy the man some extra pet food. Still, later that night he couldn't stop thinking about the experience — he worried the man wasn't just struggling to pay for pet food, but food for himself, too.
So he went home and told his wife — and immediately, they both knew they needed to do something. So, in December 2020, they converted a farm stand into a take-what-you-need, leave-what-you-can Pet Food pantry.
"A lot of people would have watched that man count out change to buy pet food. Some may have helped him out like my husband did," Jill says. "A few may have thought about it afterward. But, only someone like Kenny would turn that experience into what we have today."
"If it weren't for his generous spirit and his penchant for a plan, the pantry would never have been born," she adds.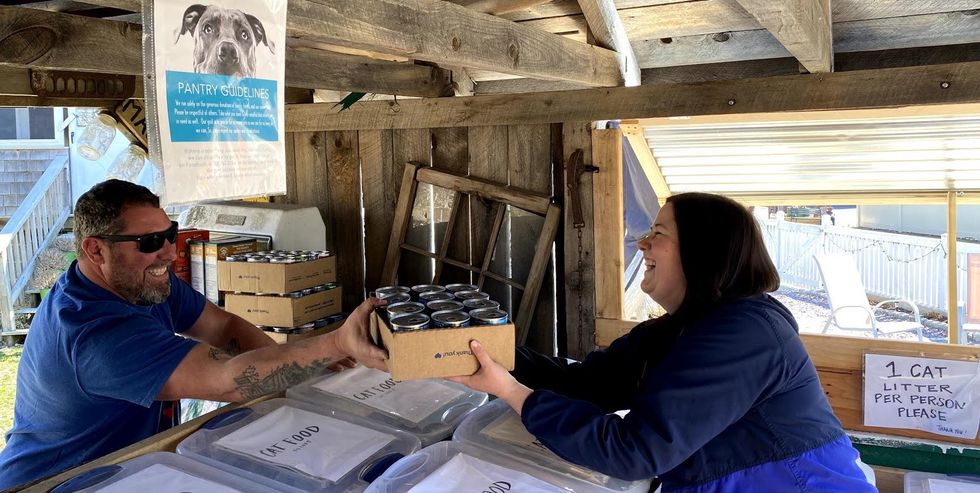 Photo courtesy of Kenneth and Jill Gonsalves
At first, the couple started the pet food pantry with a couple hundred dollars of pet food they bought themselves. And to make sure people knew about the pantry, they set up a Facebook page for the pantry, then went to other Facebook groups, such as a "Buy Nothing group," and shared what they were doing.
"When we started, we weren't even sure people would use us," Jill says. "At best, we were hoping to be able to provide enough to help people get through the holidays."
But, thanks to their page and word of mouth, news spread about what they were doing, and the donations of more pet food started flooding in, too. Before long, they were coming home to stacks of food — and within a couple of months, the pantry was full.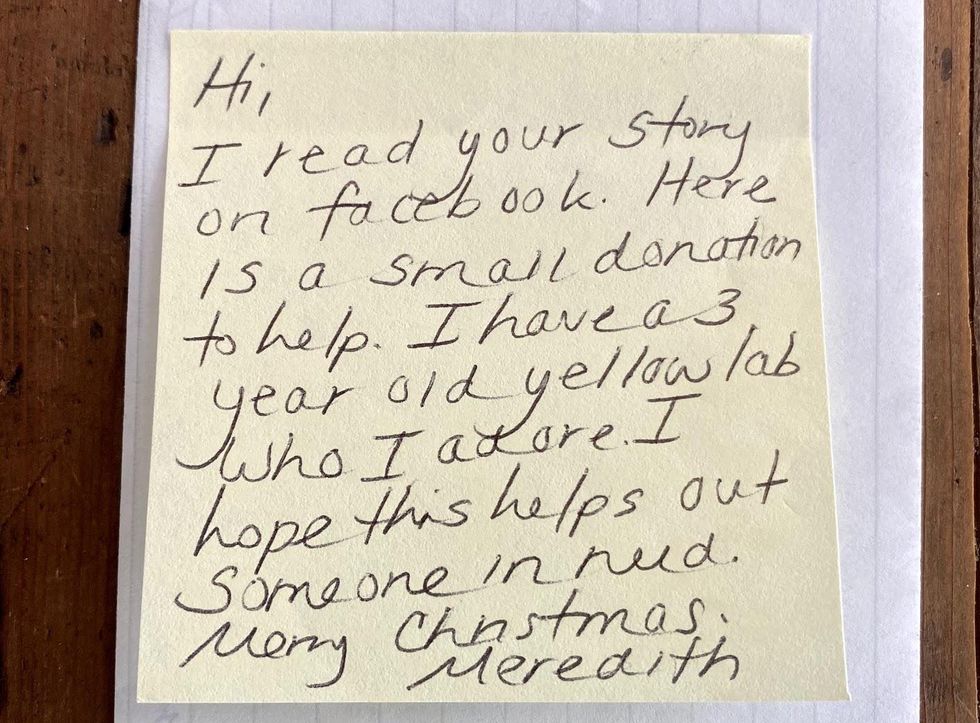 Photo courtesy of Kenneth and Jill Gonsalves
"The pounds of food we have gone through is well, well, well into the thousands," Jill says. "The orders from our Amazon Wish List alone include several hundred pounds of dry food, a couple of hundred cases of canned food, and thousands of treats and toys. But, that does not even take into account the hundreds of drop-offs, online orders, and monetary donations we have received."
They also got many 'Thank you notes' from the people they helped.
"I would like to thank you for helping us feed our fur babies," one note read. "My husband and I recently lost our jobs, and my husband [will] hopefully [find] a new one. We are just waiting for a call."
Another read: "I just need to say thank you from the bottom of my heart. I haven't worked in over a month with a two-year-old at home. Dad brings in about $300/week. From the pandemic to Christmas, it has been tough. But with the help of beautiful people like you, my fur baby can now eat a little bit longer, and my heart is happy."
Jill says that she thinks the fact that the pet pantry is a farm stand helps people feel better.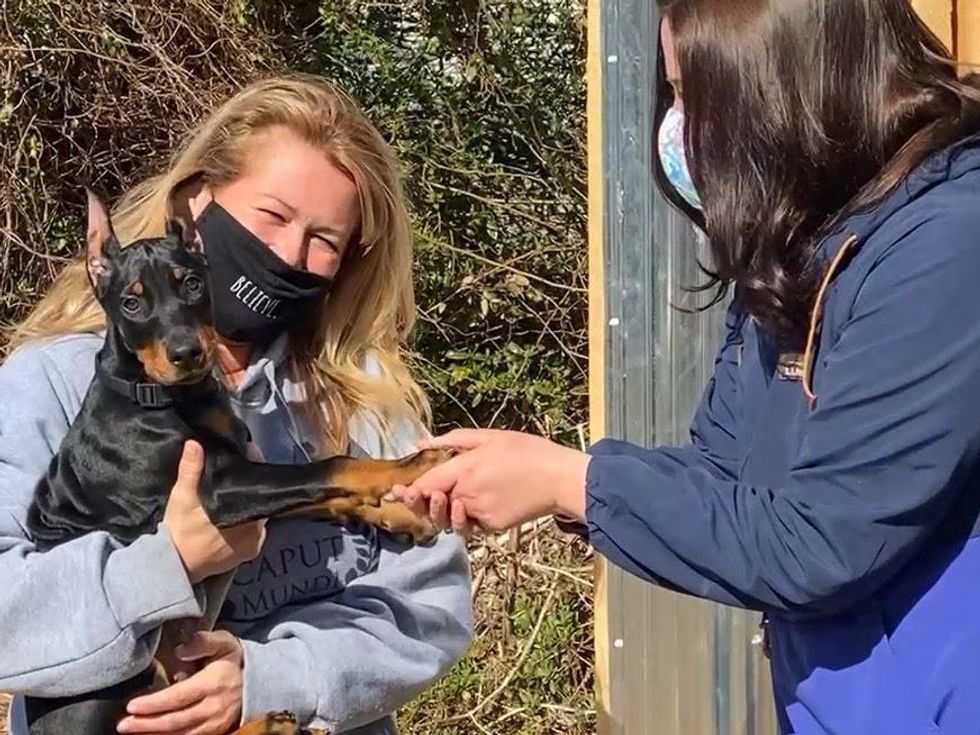 Photo courtesy of Kenneth and Jill Gonsalves
"When we first started this, someone who visited us mentioned how it made them feel good to be able to browse without feeling like they were being watched," she says. "So, it's been important to us to maintain that integrity."
Jill and Kenneth aren't sure how many people they've helped so far, but they know that their pet food pantry is doing what they hoped it would. "The pet owners who visit us, much like donations, come in ebbs and flows," Jill says. "We have some regulars who have been with us since the beginning. We also have some people that come a few times, and we never see again."
"Our hope is that they used us while they were in a tough spot, but they don't need us anymore. In a funny way, the greatest thing would be if no one needed us anymore."
Today, the Acushnet Pet Pantry is still going strong, but its stock is running low. If you want to help out, visit their
Facebook page
for updates and to find ways to donate.