Pets
A veterinarian is helping homeless people care for their pets
This 'Street Vet' provides free vet care for people experiencing homelessness with their pets.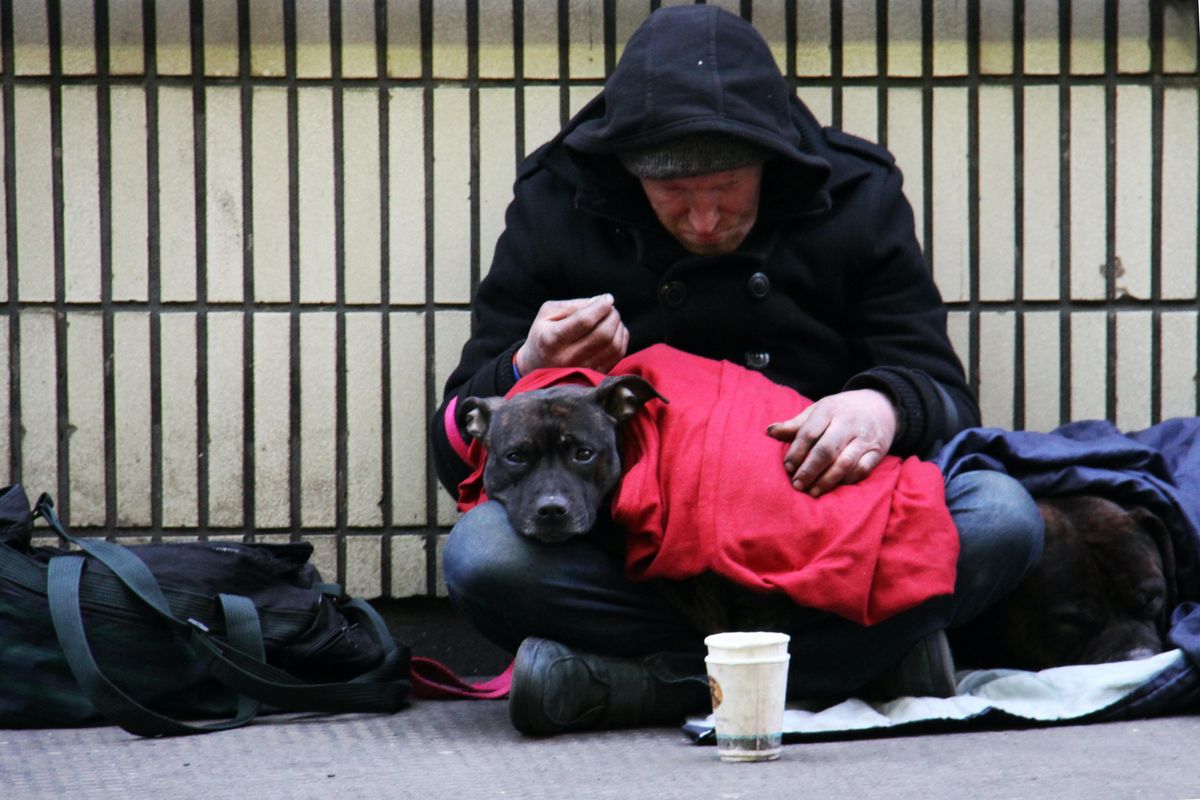 Having a pet is a lot of responsibility, but the benefits are many. Pets can help reduce stress levels and provide emotional support even if you don't realize they're doing it. It makes sense that many homeless people have pets that keep them company. Though pets can provide all sorts of psychological benefits, caring for them can be costly, even for the most financially stable pet owner.
Vet bills can range into the thousands, but routine care that many take for granted can catch these costly health issues before they reach the point of breaking the bank. When homeless people are seen hanging out with their pets, folks rarely stop to wonder if these pets are getting appropriate veterinary care. But Dr. Kwane Stewart took note. Stewart has been a veterinarian for 25 years, and currently works at Netflix as an animal consultant as well as sharing his skills with people experiencing homelessness to help with the health check-up their animals need.
---
In 2019, Stewart was the star of a reality show, Street Vet, where he took to the streets of California to provide vet care to animals of people without homes. He started a pop-up clinic where he would travel to different locations, after meeting a man and his dog on the street. This particular dog was suffering from a skin condition due to a flea infestation that caused a patch of the dog's hair to fall out and a rash. Stewart offered to treat the man's dog, and after a $3 pill, the dog was free of fleas and looking much healthier and happier when Stewart returned to check on it a few weeks later. The dog's owner tearfully thanked the doctor, and that was when Stewart decided to provide vet care his way with pop-up clinics.
Vaccinations for our pets prevent illnesses, diseases, and keep them healthy. When we met Jessica and \u201cMinnie,\u201d they were both scared of shots, but @DrKwane was able to help educate them on their importance. Minnie was a champ and we are grateful to have been able to assist! pic.twitter.com/gq4mKuUplB

— Project Street Vet (@Project Street Vet) 1642867246
Stewart has been doing pop-up clinics and going in search of animals whose owners don't have the capacity to come to him for more than a decade. He has had his fair share of challenging jobs, one of which was euthanizing a large number of animals during his first years out of vet school, which spurred his search for something more meaningful. He was the director of the No Animals Were Harmed program. And then Netflix came calling with an offer he couldn't refuse.
Find your passion and go \n#thestreetvet #nojudgementjusthelppic.twitter.com/xJqoBhoIyD

— Dr. Kwane Stewart (@Dr. Kwane Stewart) 1644709814
His passion for helping the animals of homeless people was what led him to launch his nonprofit, Project Street Vet. He runs the nonprofit while also owning his own practice Papaya Pet Care, which opened in March 2022, and continuing to consult with Netflix. Project Street Vet allows Stewart to continue his work on the streets for people experiencing homelessness for free.
The care that he provides to the pets he encounters on the street is invaluable. He interacts with the owners with dignity and respect, while providing them with a judgment-free zone as he cares for their pets. Over the 10 years he's been doing street vet clinics he has helped countless pets, and no doubt he'll continue to help countless more.