Sponsored
This is the most important van in NYC… and it's full of socks.
How can socks make such a huge difference? You'd be surprised.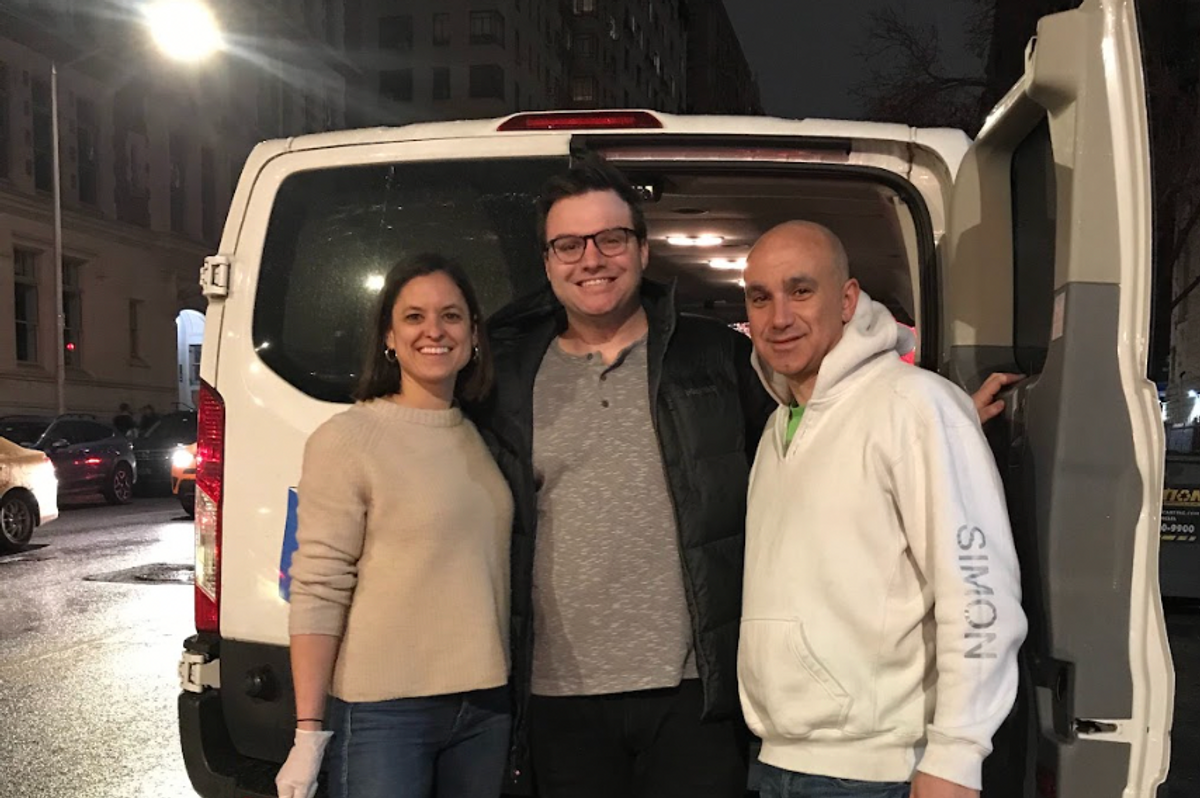 all photos provided by Coalition for The Homeless
True
Homelessness in New York City has reached its highest levels since the Great Depression of the 1930s. Over 50,000 people sleep each night in a shelter, while thousands of others rely on city streets, the subway system and other public locations as spaces to rest.
That's why this meal (and sock) delivery van is an effective resource for providing aid to those experiencing homelessness in New York City.
Every night of the year, from 7pm to 9:30, the Coalition for the Homeless drives a small fleet of vans to over 25 stops throughout upper and lower Manhattan and in the Bronx. At each stop, adults and families in need can receive a warm meal, a welcoming smile from volunteers, and a fresh, comfy new pair of Bombas socks. Socks may be even more important than you think.
Bombas was founded in 2013 after the discovery that socks were the #1 most requested clothing item at homeless shelters.
Access to fresh, clean socks is often limited for individuals experiencing homelessness—whether someone is living on the street and walking for much of the day, or is unstably housed without reliable access to laundry or storage. And for individuals experiencing or at risk of homelessness —expenses might need to be prioritized for more critical needs like food, medication, school supplies, or gas. Used socks can't be donated to shelters for hygienic reasons, making this important item even more difficult to supply to those who need it the most.
Bombas offers its consumers durable, long-lasting and comfortable socks, and for every pair of Bombas socks purchased, an additional pair of specially-designed socks is donated to organizations supporting those in need, like Coalition for the Homeless. What started out as a simple collaboration with a few organizations and nonprofits to help individuals without housing security has quickly become a bona fide giving movement. Bombas now has approximately 3,500 Giving Partners nationwide.
Though every individual's experience is unique, there can frequently be an inherent lack of trust of institutions that want to help—making a solution even more challenging to achieve. "I've had people reach out when I'm handing them a pair of socks and their hands are shaking and they're looking around, and they're wondering 'why is this person being nice to me?'" Robbi Montoya—director at Dorothy Day House, another Giving Partner—told Bombas.
Donations like socks are a small way to create connection. And they can quickly become something much bigger. Right now over 1,000 people receive clothing and warm food every night, rain or shine, from a Coalition for the Homeless van. That bit of consistent kindness during a time of struggle can help offer the feeling of true support. This type of encouragement is often crucial for organizations to help those take the next difficult steps towards stability.
This philosophy helped Bombas and its abundance of Giving Partners extend their reach beyond New York City. Over 75 million clothing items have been donated to those who need it the most across all 50 states. Over the years Bombas has accumulated all kinds of valuable statistics, information, and highlights from Giving Partners similar to the Coalition for the Homeless vans and Dorothy Day House, which can be found in the Bombas Impact Report.
In the Impact Report, you'll also find out how to get involved—whether it's purchasing a pair of Bombas socks to get another item donated, joining a volunteer group, or shifting the conversation around homelessness to prioritize compassion and humanity.
To find out more, visit BeeBetter.com.