More
Widow who lost her husband soon after marriage shares valuable lessons about grief
#1: "Moving on" is a fallacy.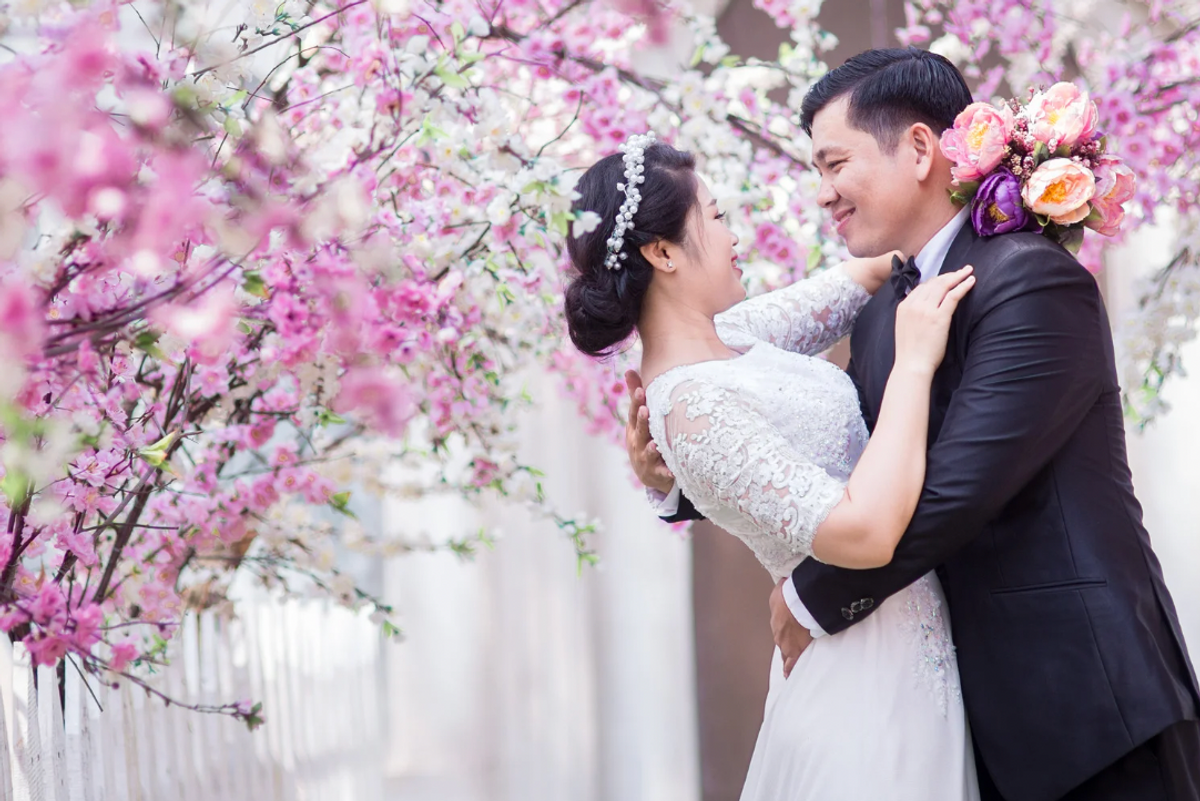 Canva
True
Prudential
This article originally appeared on 02.14.17

Amelia and Manny made clear plans when they got married.
They planned to travel around the world. They planned what they'd want their family and their futures to look like. It was all so normal and real.
And then something they couldn't have planned for happened: Manny unexpectedly passed away soon after they'd tied the knot.
---
When the doctor in the emergency room told Amelia that it was time to say goodbye, she was in disbelief. "How do you even do that?" she wondered.
Instead of being a young, happy newlywed, Amelia became a young, grieving widow.
It turned her life upside down. In the months that followed, she could barely wake up and get out of bed, let alone put on clothes and walk to work. Every day felt harder than the last while the world continued on around her.
"I wanted so painfully for everything to just stop," Amelia said in an interview for Prudential's Masterpiece of Love series. "I was so tired. I just wanted it to stop." But it didn't stop. Life kept going and so did she, at times reluctantly.
Amelia has come out on the other side of the most difficult journey she could have imagined, and it's taught her a lot about herself, the grieving process, and how often life doesn't go as planned.
In hopes of helping others, Amelia wrote down eight things she learned about living after loss:
1. "Moving on" is a fallacy. Amelia prefers to call it "moving forward."
"Moving on" implies letting your person go, and that's an unrealistic expectation, Amelia wrote.
"Instead, you simply swim through it until the water clears up a little more, until the profundity of the depth is less terrifying, and until it feels a little easier, because you've gotten good at swimming."
Skydiving helped Amelia to commemorate the six-month anniversary of Manny's passing. "I guess some part of me felt like I could get closer to Manny somehow by stepping into the sky," she said.
2. "Try to remain open to life."
Amelia took a chance and met someone again who turned out to be a wonderful man. Having your heart broken again after loss is a nasty slap in the face, she wrote, but you should not let it shut you down.
"Practice kindness and graciousness when others are kind to you," she said, "and compassion when they aren't. That's a good practice for any relationship,."
3. Hers is not a "success story."
The peaceful person Amelia is today has "clawed, gasped, screamed and survived." She fell in love again and had a child, but those are not successes she can claim. She says that getting to raise her baby has been a wonderful blessing, and new life gives loss slightly more perspective. Every day, as her baby learns, she is reminded that life continues.
4. This is a big one: "Release any hostility or jealousy."
"Friends will get married and have children, celebrate anniversaries and successes, all while you are alone in the dark," she wrote. "They will forget to be sensitive to your heartache, or think that you're 'over it' enough so you won't mind if they gush. They might think that it's easier for you to show up with a smile than it really is. Let that go, too."
People are going to say the wrong things. They will say unbelievably tone-deaf things. It's important to not take hurtful words to heart, as hard as that can be. She advises trying to imagine a time when it will be easier to be happy for others again without feeling heartache yourself. Doing this will be healing.
5. "It will take longer than you expect."
Amelia wrote, "Because it doesn't go away, or stop, and because you don't get over it, that old heartache keeps creeping up long after you thought it should have gotten easier. Be compassionate with yourself. Life is not a round trip voyage; why should your grieving process be? You will get better at navigating the new normal."
6. "Only you know what you're really going through."
Amelia points to how well-meaning people will come out of the woodwork, desperate to tell you about when their somebody died, for three reasons:
One, they want to be helpful. Two, society shuns them from talking about their lost loved one and they want you to be a person whom they can commiserate with. Three, see number one.
Some people will say helpful things. But every grief is different. Every relationship is different. Every person who has passed is different, and every grieving person is different. If you grieve in your own way, you're doing it right.
7. "The right partner will actively keep the memory alive with you."
"Be careful not to get so swept up in escaping your grief that you choose someone who wants you to get over it," she wrote. "Don't you dare let anyone take your grief from you."
The right partner will hold your hand on the anniversaries (if that's what you want), will wish that they could have met your person, and will admire how you still love that person today.
8. And finally: "You can do this."
"There may be times you're pretty sure I'm wrong on this point," she wrote. "That's ok, rest when it's too hard. Find something — anything — and hang on like hell. These peaks and valleys gradually get less steep. It takes a long time, but they do. And there is sunshine again out there somewhere."
As many of us know, life often doesn't go according to plan.
It's still hard for Amelia every single day. But she says it also makes her experience things on a deeper level. Whether it's raindrops on her skin or the feeling of breath going in and out of her lungs, everything is more vivid.
She says Manny's passing has a lot to do with that; he reminds her that every single day is a gift.
This article originally appeared on 02.14.17