Heroes
Adidas is making a shoe that never has to be thrown away.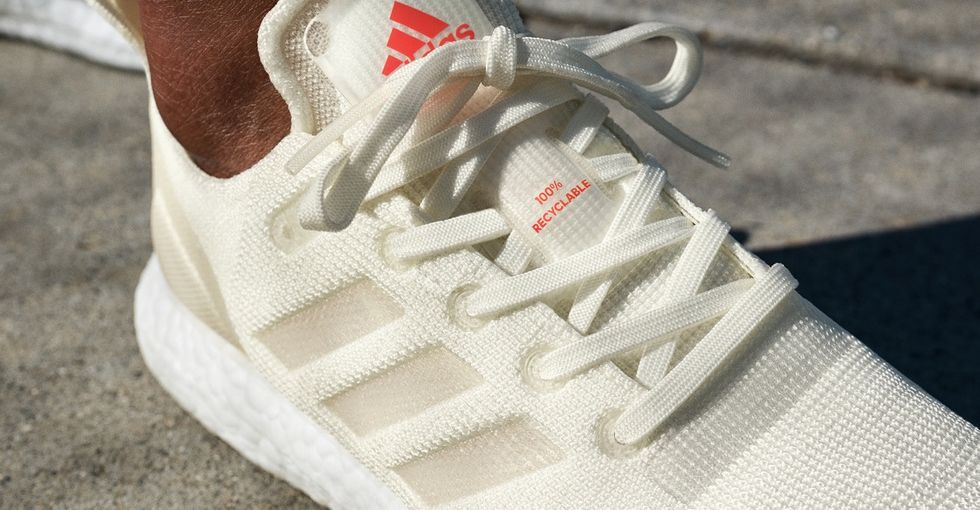 What do you do when the running shoes you wear every day have given up?
If you're like most of us, you first consider the cost of a new shoe — very important — and then toss your old shoes into the garbage. But maybe you also wonder, as I have done many times, whether shoes belong in the garbage or whether they should be recycled.
Who knows though? They're made of so many different materials. And if they can be recycled, all you can really do is hope that the plastic gets recycled correctly and doesn't end up in the ocean.
---
Unfortunately, as TreeHugger points out, recycling is "a mess." And despite best intentions, plastic, which is basically indestructible and often disposed of incorrectly, continues being a blight on the environment. That wouldn't be such a problem if it was all recycled, but, according to recent statistics, 91 percent of plastic is never even recycled. That means the shoes you love and had to part with are likely still out there, somewhere, polluting the environment.
That's why Adidas created a running shoe that you never, ever have to throw away.
Back in 2015, Adidas collaborated with Parley for the Oceans, a company that "upcycles" reclaimed ocean plastic into jerseys (donned by every major league soccer team), fashionable running shoes, and yoga clothes. In the few years following, Adidas produced more and more shoes in collaboration with Parley, so now in 2019, they're set to co-produce more than 11 million units.
But Adidas is taking it one step further: they're creating a shoe that the wearer never has to chuck into a trash can; a shoe that won't ever die and will do no damage to the environment if it's returned to Adidas.
Here's how this revolutionary new shoe works.
[rebelmouse-image 19506648 dam="1" original_size="700x499" caption="Photo via Adidas." expand=1]Photo via Adidas.
While previous recycled Adidas shoes were made with uppers created from reclaimed plastic yarns and filaments, the Futurecraft Loop is made of only one material: reusable thermoplastic polyurethane (TPU). Furthermore, the shoe doesn't require any adhesives to be put together. The TPU is turned into yarn, knit together, and then fused to a midsole — so it's all one piece.
When the wearer is done with the shoes, they can return it directly to Adidas, where the months (years?) of grime that running has put on them will be cleaned away. They're then be ground into pellets and melted down into components for an identical shoe.
This is what's called a "closed loop" production process —  absolutely everything gets reused — nothing goes into landfills and/or oceans.
Adidas' dream is to end waste once and for all. Wearing the same shoes over and over again is only the first step.
In order to keep the planet healthy, we all need to work together to eliminate plastic waste.
Do you have to buy an Adidas shoe to help the environment? Of course not. But you do have to put some checks on your plastic consumption. Looking for a way to get started? Here's how.