Community
A young spin on an old idea: Two teens tackled senior isolation with 460,000 handwritten letters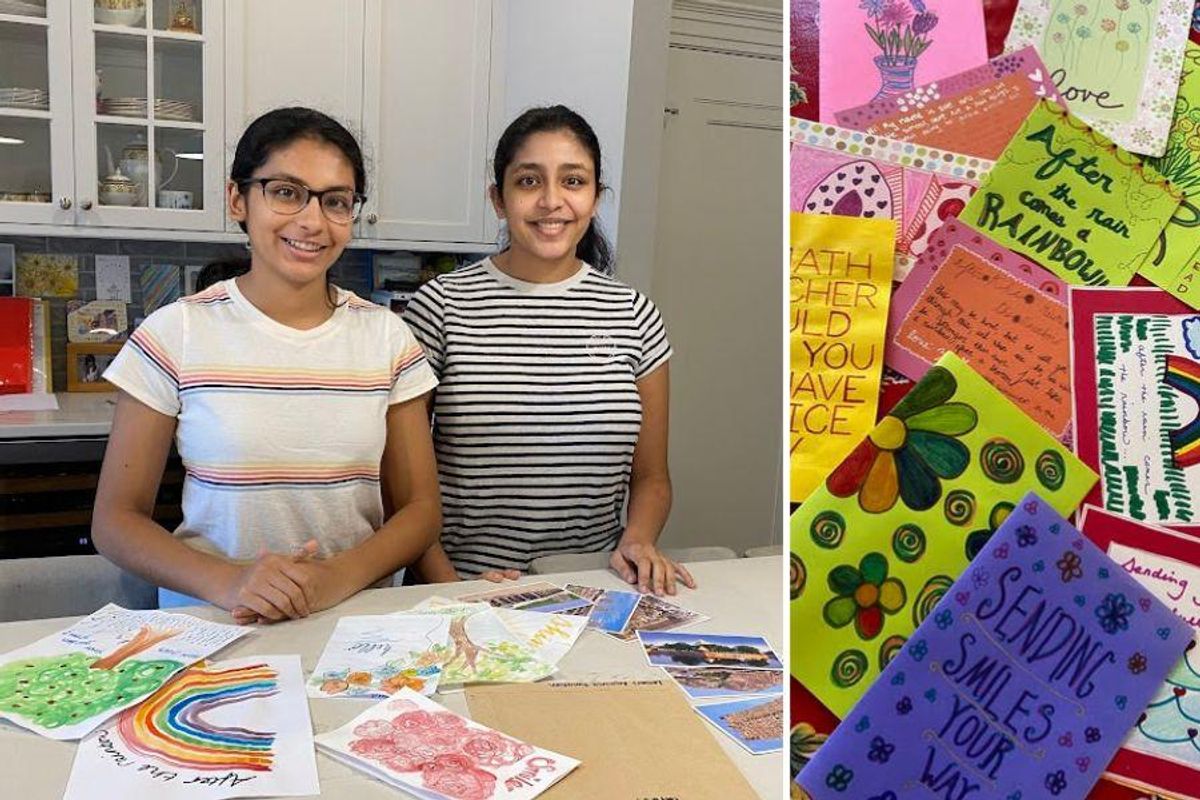 Photos: Letters Against Isolation
True
If you want a boost of faith in the youth of today, look no further than Shreya and Saffron Patel.
In 2020, the world came to a screeching halt in a sweeping act of human solidarity against COVID-19. When it became clear that seniors were among the highest risk from the disease, the rest of us did what we could to protect them.
Unfortunately, protecting our elders meant staying away from them. Older folks are already more prone to loneliness than other age groups, and sadly the pandemic exacerbated the feeling of isolation many seniors experience.
The Patel sisters, 16 and 18 at the time, recognized the issue with their own grandparents early in the pandemic, so they made a point of calling them frequently. But when their grandmother shared how "ecstatic" she was at receiving a handwritten letter from a friend one day, they got an idea.
"This small gesture of connection meant the world to her," says Shreya. "We realized that many other seniors may also be feeling disconnected, and that they may appreciate a letter."
Shreya and Saffron reached out to local assisted living facilities and care homes in the Boston area to ask if it would be okay if they sent residents letters. The responses were enthusiastically positive. Demand quickly outpaced their own ability to write letters, so they decided to organize and invite others to join them.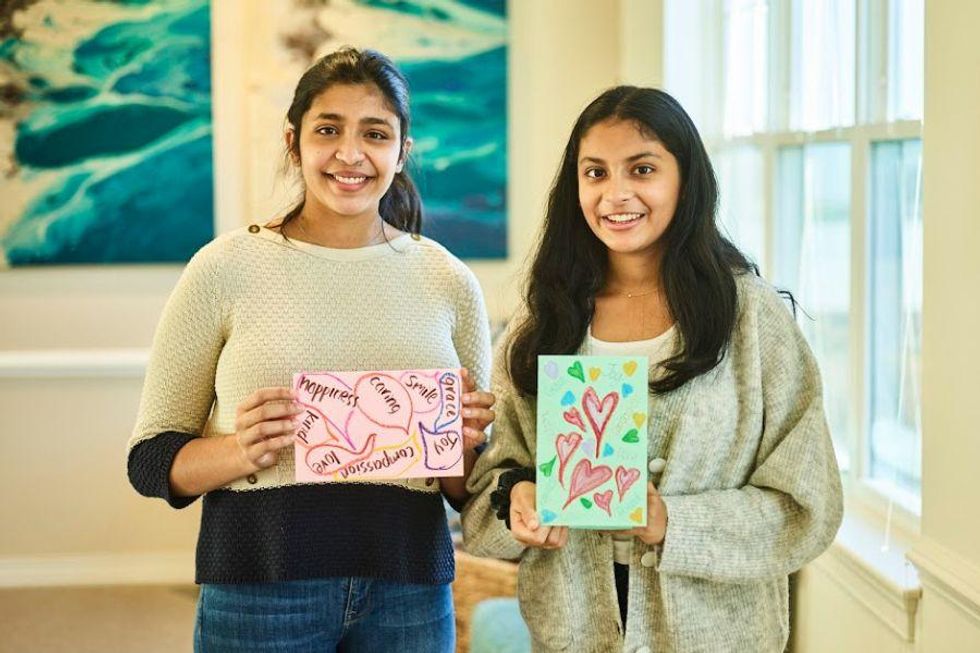 Shreya and Saffron Patel started writing handwritten letters to seniors early in the pandemic. Photo credit: Chris Churchill
They dubbed their collective letter-writing effort Letters Against Isolation (LAI), and the idea quickly took off. What started as two sisters writing letters has now grown into an award-winning 501(c)(3) non-profit organization with a simple but powerful mission:
We fight senior loneliness one letter at a time. Through handwritten messages of love, hope, and joy, our volunteer community brings seniors connection and improves their mental and physical health.
In just over two years, LAI's 28,000 volunteers have written more than 460,000 letters to seniors at assisted living homes and care facilities in seven countries—the US, Canada, Ireland, England, Australia, South Africa and Israel. Efforts have earned co-founder Shreya the prestigious Diana Award, an honor granted by the British government that recognizes young people who are working to improve the lives of others.
Anyone can sign up to write letters, and the Patels make use of Meta tools to help connect their network of volunteers. For instance, the Letters Against Isolation Facebook Group has connected over 2,000 members around the world who share ideas, experiences and photos of the handwritten letters they write. LAI has also partnered with companies, corporations, schools, churches and non-profit organizations to ensure lonely seniors get tangible reminders that people are thinking about them.
The Patels have organized the Anne Granville Stamp Fund, a donation program that helps provide postage stamps for LAI letter-writers, enabling more volunteers to participate. People are also encouraged to organize group events to create a large batch of letters at one time.
Posts shared in the LAI Facebook Group and their Instagram page show how much care and detail individuals put into their letters, creating colorful, cheerful cards and sharing joyful, hopeful messages that any person would be happy to receive.
The Patels tell Upworthy how impressed they've been with humanity coming together and showing kindness in difficult times, especially considering how scary everything felt early in the pandemic. "It would have been really easy for people to lean into that fear and only care for themselves. We have been struck by just how many people instead reached out and tried to do some good."
The feedback from those who work in care facilities speaks to the power of these letters.
"When I walk through the halls, I can spy letters proudly displayed around many of the residents' rooms," said Hannah, activities director at Gadsen Health and Rehab Center. "Sometimes I'll ask about the stories behind them, and it's easy to sense how deeply personal they are to some residents."
Christine, activities director at Shepherd's Care Foundation agrees. "It is such a pleasure to deliver your letters from all over North America (so far) to our residents. The honor of being on the receiving end of their surprise and delight when every day we get to say to each of them…'You have mail!' Their faces are priceless, and their hearts are so warmed by your kindness…on their behalf, my most deep and sincere gratitude."
Senior recipients have also expressed joy at getting the handwritten notes and their responses are so heartwarming.

"They really made my day," said Florence after receiving her letters. "I enjoy them, I keep them, and I read them every day. The letters took me back to when I was a teenager receiving love letters!"
"The letters and cards made me feel very important," said Hy, another senior. "It made me feel like someone was thinking of me."
While we've spent over two years battling a viral pandemic, Shreya and Saffron have helped thousands spread thoughtfulness and kindness to fight the pandemic of loneliness. What a beautiful way to connect people and for younger generations to let older folks know they are not forgotten.