More
A topless selfie cost a middle school teacher her job. She's fighting back citing gender discrimination.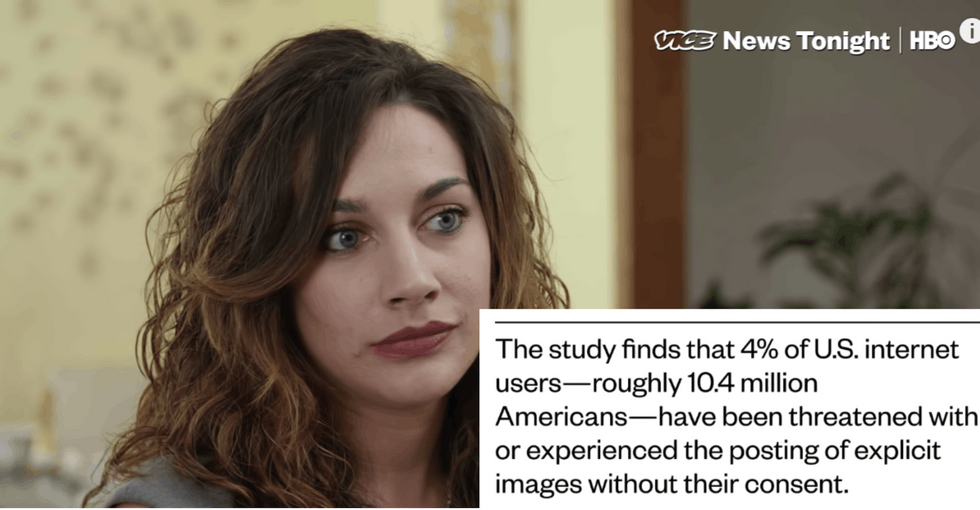 Lauren Miranda, a middle school math teacher, was fired after a shirtless photo she sent to her boyfriend back in 2016 ended up in her student's hands.
Miranda didn't choose to send the photos to her students — or anyone other than her boyfriend at the time. It's quite baffling that the school that employed her felt justified in ending her employment for their distribution.
But the case goes deeper than that. Miranda feels the consequence she endured has more to do with gender discrimination.
---
She believes if she were a man, her job wouldn't have been in jeopardy. That's why she's refusing to walk away without a fight.
In addition to a $3 million gender discrimination suit — think the unfair double standards women are subjected to related to attire and decency — she's going to do everything she can to bring attention to the way women are regularly victimized by people on the internet sharing their photos without consent.
"How do girls feel when this happens to them?" Miranda told VICE News. "Their photo gets shared without their permission or consent. And what do we say to them?: Crawl in a hole, quit going to school...?"
​​Cyber security and online privacy have been hot topics since the beginning of the internet. In the last few years, however, the discussion has gotten a lot more complicated, especially with regard to sharing personal photos.​​
A wide range of arguments have been made for who owns photos that are put into this public sphere. Everything from hackers to cell phone malfunctions and even a company's right to sell our personal information to 3rd parties keep us from reaching a conclusion. But few aspects of personal data have been as concerning and contested as personal photos containing nudity.
So once again, the public is calling into question the appropriate course of action for victims of non-consenting photo sharing.
Unfortunately, it's just the latest in a long line of photo-sharing incidents that has impacted people — disproportionately women — globally.
In fact, it's impacted developed nations so severely that revenge porn legislation is being put in place. And in some countries like South Korea, photos being shared without women's consent has led to the widespread scrutiny of the entire K pop industry.
And back at Bellport Middle School, many parents and community members are rallying behind Miranda, vocalizing their frustration with the situation. And strangers on social media are echoing their sentiments.
Last year, Lauren Miranda received high ratings in her performance evaluation. In Jan, she was fired for a topless… https://t.co/nR7RNARRXQ

— Anika Brandt (@Anika Brandt) 1554347927.0
Proud of Lauren Miranda! An outstanding teacher who has endured the judgment and humiliation of an out of touch sch… https://t.co/0wfenLhJ63

— Katie Brehm (@Katie Brehm) 1554342278.0
Women's rights activists suggest that we must point out the hypocrisy of this situation. Standards of purity and conduct are often enforced much more strongly with women than men.
Guess what we are doing? We are getting on train and going to Bellport Middle School....the school in Long Island t… https://t.co/ZFrWHdYBsJ

— Radical Matriachy (@Radical Matriachy) 1554387797.0
In today's world, it is unrealistic to assume that sexting and nude photos won't wind up in the virtual world somehow. It is no one else's right to tell us that we can't or shouldn't share images of our bodies with others. However, that doesn't mean we should be powerless to stop them from impacting our lives in a negative way if they are somehow shared without our consent.
Instead of focusing on whether or not images should be shared, because we know they will, we need to put forth more effort into deciding the consequences when someone's images are shared without permission.​​