Family
Working moms applaud scientist who shared the honest reality behind her CNN interview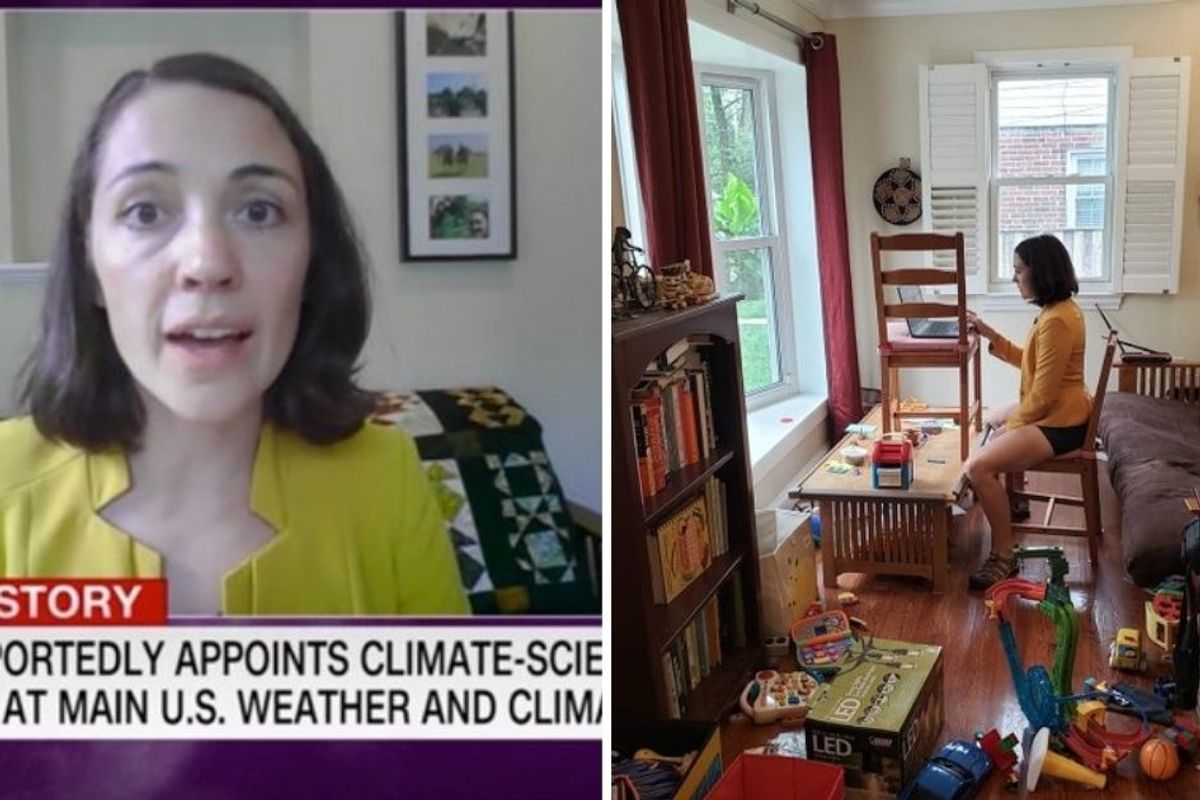 With many schools going virtual, many daycare facilities being closed or limited, and millions of parents working from home during the pandemic, the balance working moms have always struggled to achieve has become even more challenging in 2020. Though there are more women in the workforce than ever, women still take on the lion's share of household and childcare duties. Moms also tend to bear the mental load of keeping track of all the little details that keep family life running smoothly, from noticing when kids are outgrowing their clothing to keeping track of doctor and dentist appointments to organizing kids' extracurricular activities.
It's a lot. And it's a lot more now that we're also dealing with the daily existential dread of a global pandemic, social unrest, political upheaval, and increasingly intense natural disasters.
That's why scientist Gretchen Goldman's refreshingly honest photo showing where and how she conducted a CNN interview is resonating with so many.
---
Gretchen Goldman, PhD is the research director for the Center for Science and Democracy at the Union of Concerned Scientists, and she recently weighed in on a CNN segment about the Trump administration's appointment of a climate change denier to NOAA. In the interview, she's clearly speaking from home (as most experts are these days) but appears perfectly professional in her yellow collared top.
She shared a screenshot from the interview on Twitter, side-by-side with a photo of the room she was in, which is strewn with toys. Her laptop is perched on a chair on a table, and we can see what never shows in the interview—the bike shorts and sandals she's wearing.
"Just so I'm being honest," she wrote, including the hashtag #SciMomJourneys.
Many work-from-home moms saw themselves in Goldman's photos—their polished, professional life sitting right next to their child-oriented home life. The home photo shouldn't be viewed negatively—it's just life. When you're trying to do all the things and having to do them from home, this is what life looks like.
Commenters expressed how seeing this honesty brought home how hard moms are working right now.
Others weighed in with some practical advice:

But many just offered gratitude for making them feel better about their own unfiltered reality.
We do need to cut ourselves some slack. We need to acknowledge that what we're pulling off is pretty darn amazing. And perhaps more importantly, while praise and accolades are great, they're not what most working moms really need. We need to ask for and accept help, and we need people to hear us when we do.
And yes, of course, there are plenty of working dads who are in a similar boat right now. Everyone who is managing to make it through the dumpster fire of this year with their sanity in tact deserves kudos. But let's give working moms the shout out they deserve for the million balls they're juggling while also putting up with societal sexism and patriarchal expectations. It's a lot, truly.