Family
My family of 5 traveled the U.S. for nearly a year, and it cost us less than staying home
It's amazing what a little creativity and willingness to step outside the box can do.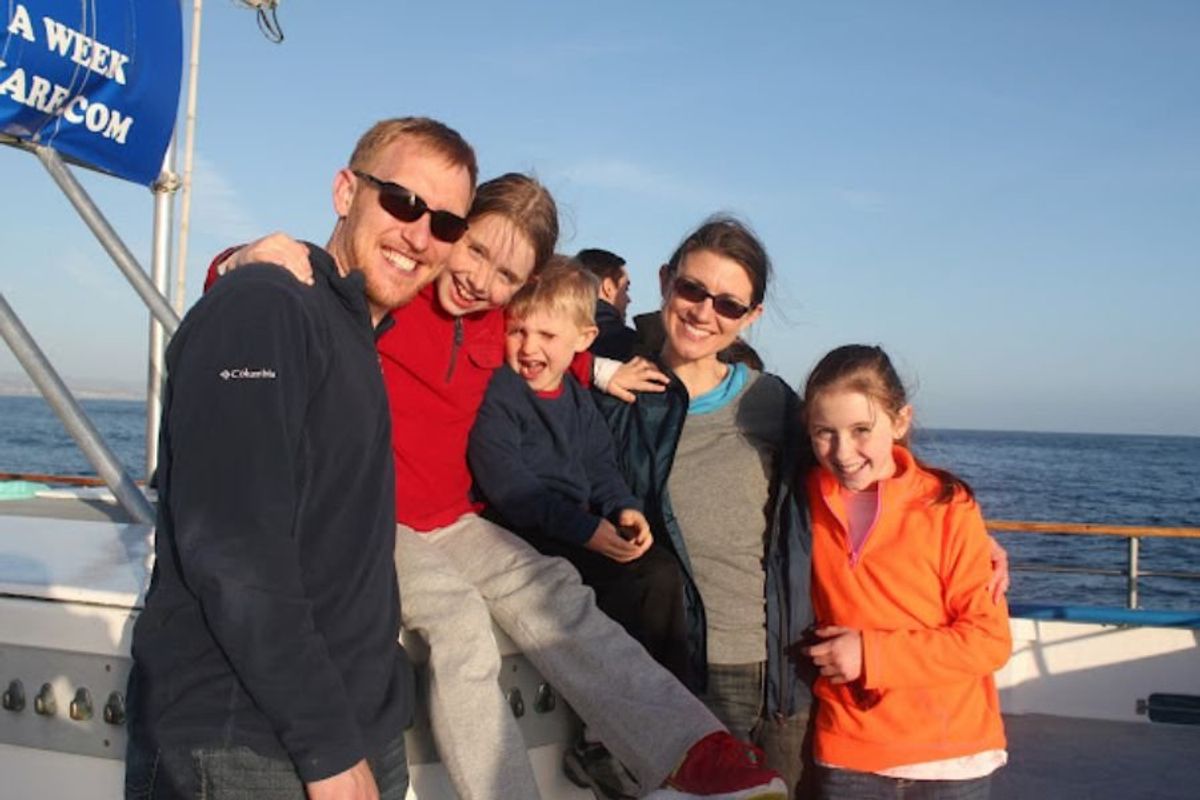 Photo courtesy of Annie Reneau
Whenever people share money-saving life hacks like living on a cruise ship or exploring the country via the #vanlife, I see comments like, "That might work for a single person or a couple, but what if you have kids?"
When our kids were 12, 8 and 4, we packed up all of our earthly belongings and spent a year living around the U.S. And no, we didn't live in a van or RV. (Nothing wrong with that life, it just wasn't for us.) We traveled from coast to coast, seeing and experiencing the vast array of gorgeous landscapes and fascinating sites America has to offer, and the best part is we did it for less than what we would have spent staying home.
Was it easy to plan and execute? Not exactly. But was it worth it? Absolutely, hands down, 100%.
Here's how we did it and what we learned.
---
How the 'nomadic life' idea came about
We were renting a beautiful house in the Chicago suburbs when the owner decided she wanted to sell it. We couldn't afford to buy it, so we had no choice but to move. My husband and I both worked from home and homeschooled our kids (pre-pandemic—that scenario is much more common now), so we were really free to live anywhere.
A friend of mine had been telling me about an extremely affordable house they'd rented in the Outer Banks in the fall while waiting for their permanent home to get finished. I had no idea tourist hot spots were so cheap off-peak, but once I started looking into it, I was gobsmacked.
Seriously, in major tourist areas like Cape Cod and Myrtle Beach, houses rent for upwards of 90% less than their peak summer prices from fall through spring. Owners don't want their homes to sit empty and are willing to rent them for dirt cheap.
As I started researching more, I found that the nightly cost of most vacation rentals is a lot cheaper when you rent for an entire month (though not as cheap as those East Coast off-season rentals). And since vacation rentals generally include utilities, they are even cheaper when comparing them to regular housing costs.
So I posed the question: What if we moved out of our house and just…didn't move into another house? What if, instead of paying rent or a mortgage, we put our stuff into storage, packed what we wanted to have with us in our car and rented vacation rentals a month or so at a time? We could work and school from anywhere. But could we really make that work?
I started sketching out scenarios and crunching numbers.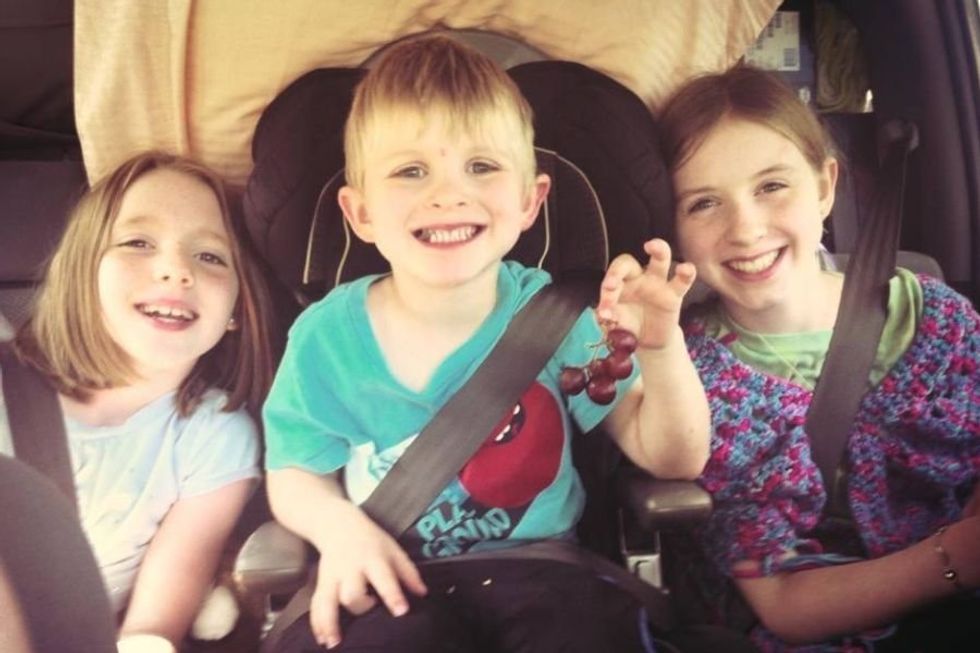 Our kids got used to monthly long car rides. They were not always this happy about it.
Photo by Annie Reneau
How we worked it out financially
We were paying $1,800/month for rent for our house in the burbs, plus $200 to $300 dollars in utilities. That was the top of what we could afford, so we needed to keep monthly housing costs below that.
A storage unit for all of our furniture and belongings was just under $200/month. We figured that was a little less than what we paid monthly in utilities, so we'd just consider the storage unit cost as our utilities equivalent. That meant we needed to keep our vacation rental rent at $1,800/mo or below to keep our same cost of living.
What about gasoline costs, though? Driving around the country means a lot of gas money. And what about hotels and food?
Since we wouldn't be living in one spot, we'd put a pause on the kids' lessons and activities we normally would pay for (violin lessons, gymnastics, etc.). I figured what we saved in kids' activities would certainly cover gas costs, especially if we were only making a long drive around once a month. (We also figured that what the kids learned from a year of travel would be just as valuable as whatever they'd be missing in regular activities, so weren't worried about the disruption.)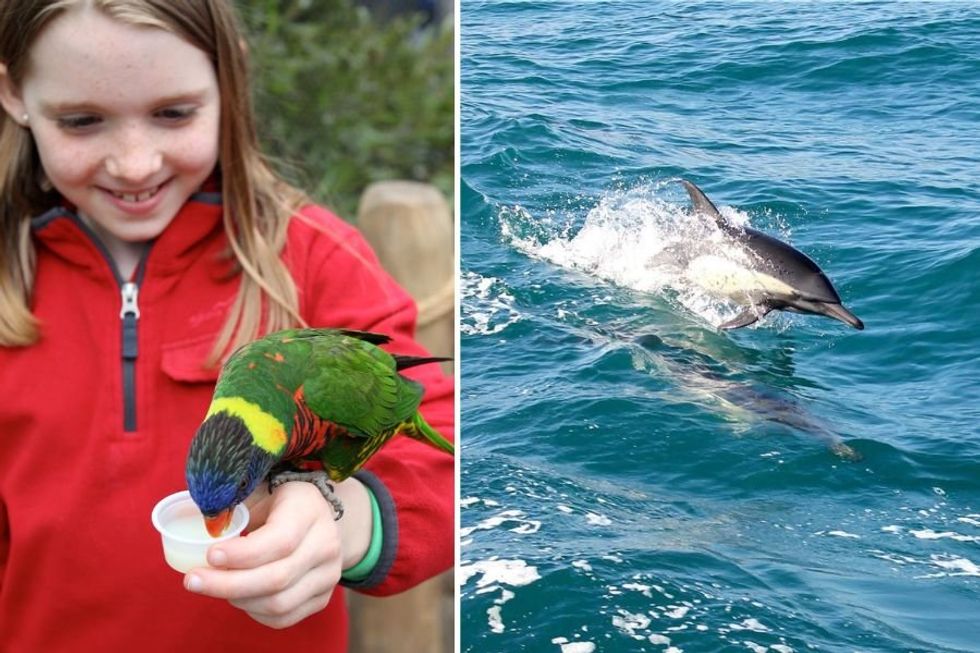 Our future zoologist got plenty of animal encounters both in zoos and in the wild during our travels.
Photos by Annie Reneau
For overnight stops along the way, we'd try to plan routes that had people we knew and could stay a night with. Otherwise, we'd use Priceline for hotels. (If I were to do it again, I would use the points/miles travel hacking hobby I started last year for free hotel stays, but Priceline got us some good deals.)
We'd be living in fully-equipped homes, so we'd just cook like we normally do. We had a museum pass as homeschoolers that got us into all kinds of places around the country for free, and we're really good at finding free or cheap things to do anyway. So as long as we kept the monthly rent at or below $1,800 on average for the year, we'd basically come out even money-wise.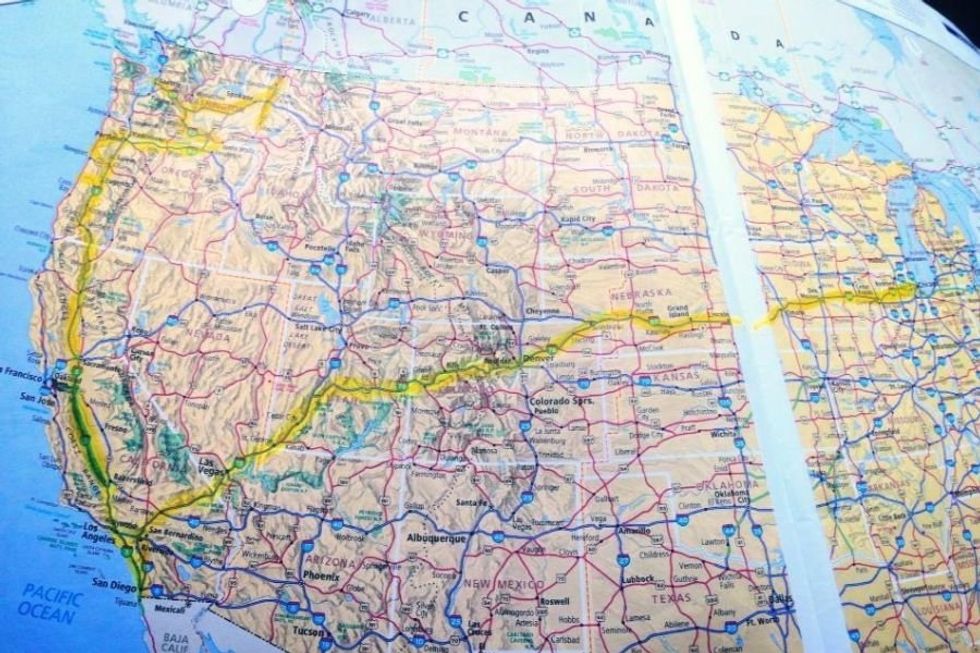 We kept an old-school road atlas in the car and highlighted our route as we drove.
Photo by Annie Reneau
How we planned where to go and what each place cost
We had a few "anchors" to guide our route as we planned. We had to leave when our lease was up at the end of April. We wanted to visit friends and family in California, we had a week-long family camp in Washington State in July, my husband had to be back in Chicago in August for a work thing, and we wanted to spend a chunk of the off-season on the East Coast. We worked backward from there.
We looked at rentals through Airbnb and VRBO and quickly found that everywhere is expensive in the summer. However, May is off-peak in Southern California (despite the gorgeous weather), and June is off-peak on the Oregon Coast (because of late school schedules and hit-or-miss weather), so we decided to start in California and make our way up the coast.
For May, we got a 2-bedroom condo right across the street from a beach in Dana Point, California, for $2,400.
For June, we rented a 3-bedroom house a block from the beach in Pacific Beach, Oregon, for $1,800.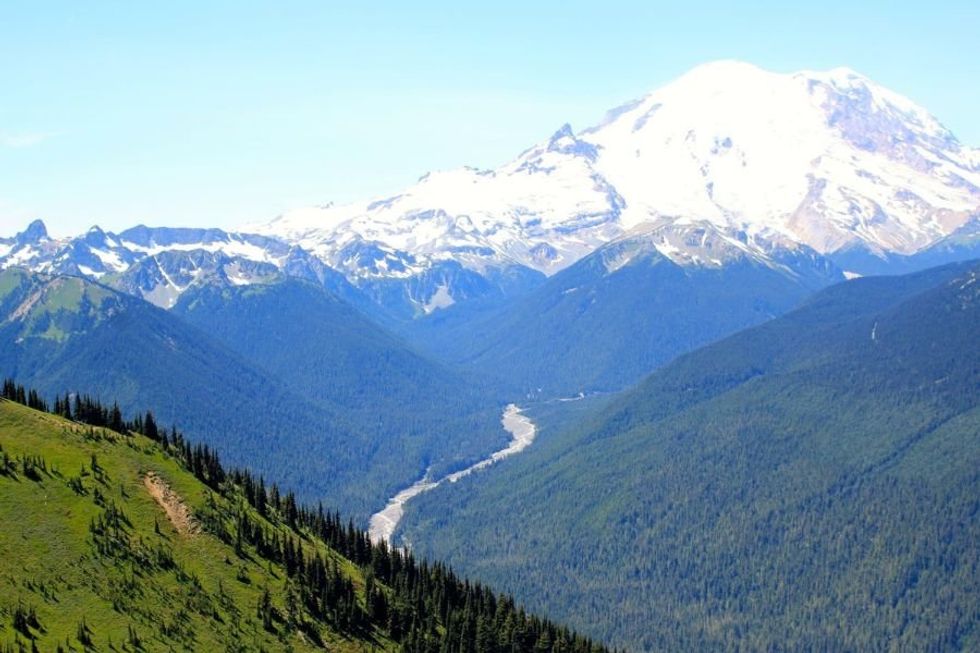 View of Mt. Rainier from Crystal Mountain
Photo by Annie Reneau
By far, the most expensive place we stayed the whole trip was a not-terribly-impressive 2-bedroom condo in Seattle for three weeks in July (after our family camp) for $2,700. (Pretty much everywhere in the nation is ridiculously pricey in July. No getting around it.) So we were over our monthly budget to start off with, but that was okay because we knew we'd make it up the rest of the year.
In August, we stayed with my husband's parents in Chicago, so we had one essentially rent-free month.
September took us to a large 4-bedroom home in a quaint little Lake Michigan beach town—South Haven, Michigan—which had the softest sand I've ever felt. Our rent there was $1,300.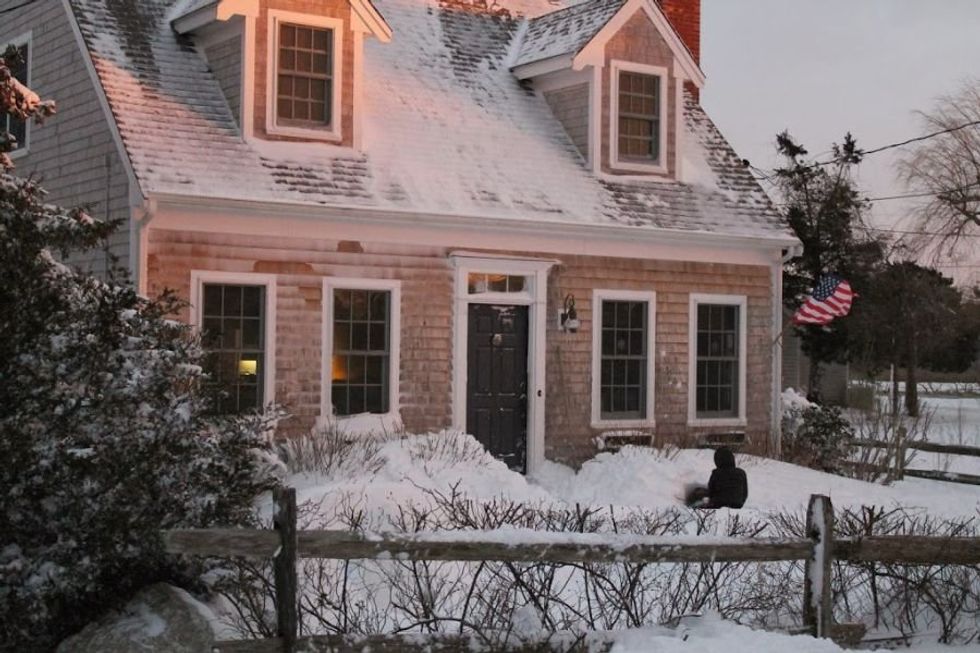 Our son playing in the snow outside our temporary Cape Cod home.
Photo by Annie Reneau
October through January we stayed in Barnstable, Massachusetts—a beautiful Cape Cod town—in what was our best deal of the whole trip—a stunningly idyllic 2,000 sq ft, 4-bedroom, 2-bath home for $1,500 a month. (Again, utilities included.) This house rented for $3,500 a week during the summer. Seriously, the off-season on the East Coast is bonkers.
February took us to Orlando, Florida, where we stayed in a 3-bedroom condo minutes from the big theme parks for $1,200 for the month.
We used some actual vacation time and money we'd stashed away selling off items before putting our stuff into storage and lived it up at Disney World and Universal Orlando during this month. Because our housing was covered and we had our own car and we could bring our own food, all we had to pay for were the park tickets. And because we weren't on a time crunch we could take advantage of far more days at the parks. (Park tickets get cheaper each day you add on, and become ridiculously cheap per person per day once you get past four or five days.) February is a perfect time to go to the parks if you wants pleasant temps and no crowds.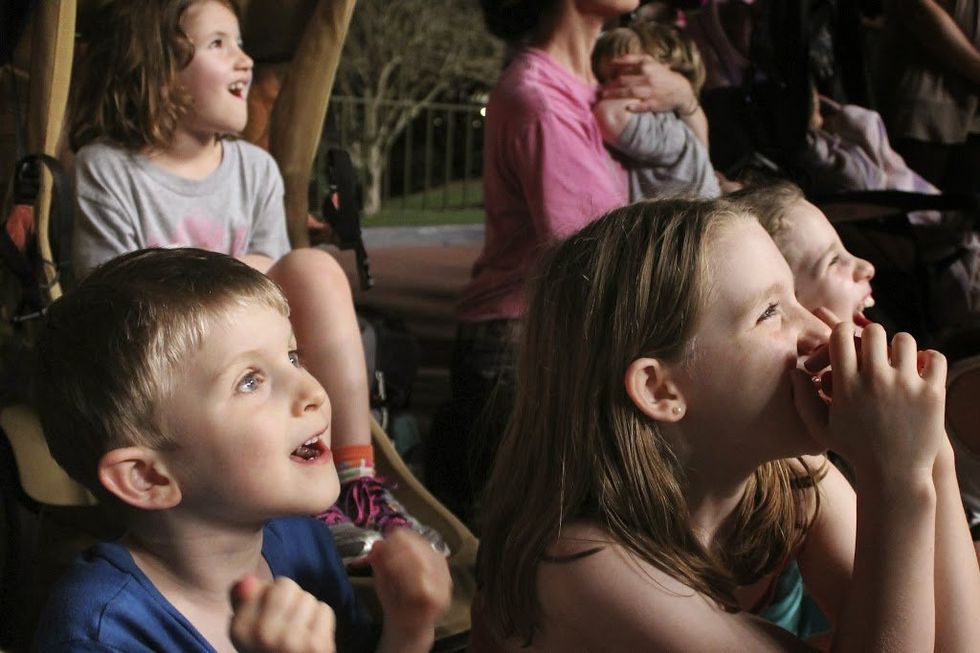 Kids watching Disney World fireworks. Disney magic is real.
Photo by Annie Reneau
By March we were tired. We had decided before Florida to take a break from traveling and spend time my husband's sister's family who were visiting Chicago from overseas in March. That turned out to be a wise decision, as a family emergency arose the week we got back that necessitated us staying in Chicago for a few months. So we officially ended our nomadic travels two months shy of a year.
So how did we fare financially? Adding up all the rent we paid and dividing it by 10 months came to $1,540/month, well under budget. Even if we don't count the month we stayed at my husband's parents for free, we still came in under budget at just over $1,700/month.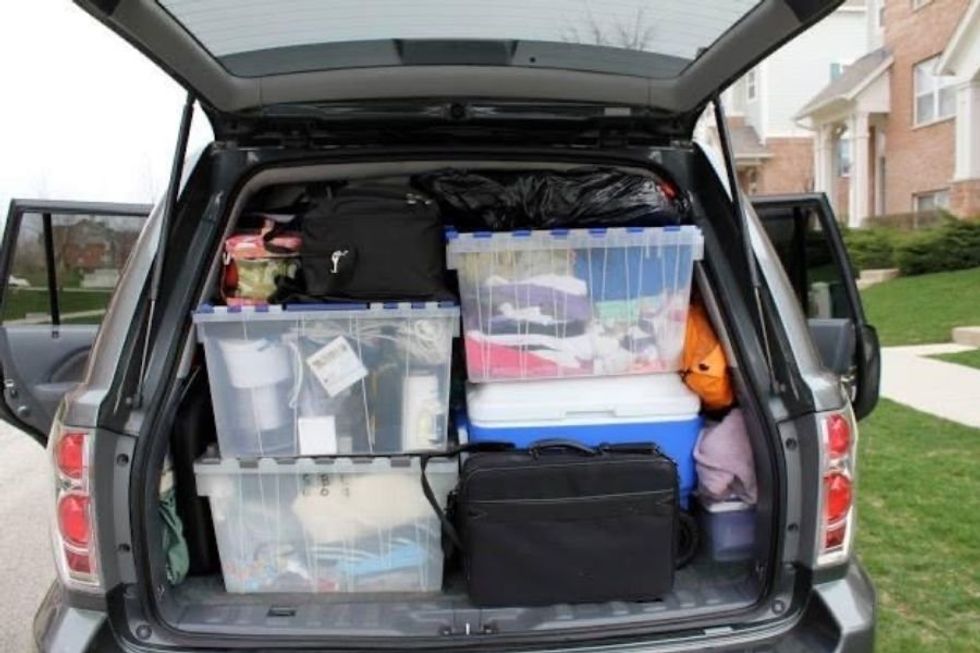 Our Honda Pilot packed with everything we took with us around the country.
Photo by Annie Reneau
What kinda sucked about our nomadic life
I'd say 95% of our nomadic experience was positive, and it actually went far more smoothly than I thought it might. But there were some downsides, of course.
For one, having to pack and unpack the car every month got a bit old. We each had our own bin of clothing and personal belongings, and we had a school bin and a kitchen bin. It worked well, but it was still a lot to manage.
The kids missed having their friends around, of course, and so did we. We managed to meet people almost everywhere we went, but it's not the same as being with your own community of people. We missed having a home and a sense of steadiness. It was fabulous for a while, but not something we wanted to experience forever.
And as the person who did all the research and planning for our Big, Slow Trip Around the Country, there were times I wanted to pull my hair out trying to get it all timed out just right. I'm still not quite sure how I did it, to be honest, but it all worked out beautifully. I do know it took a lot of time and effort.
Totally worth it, though.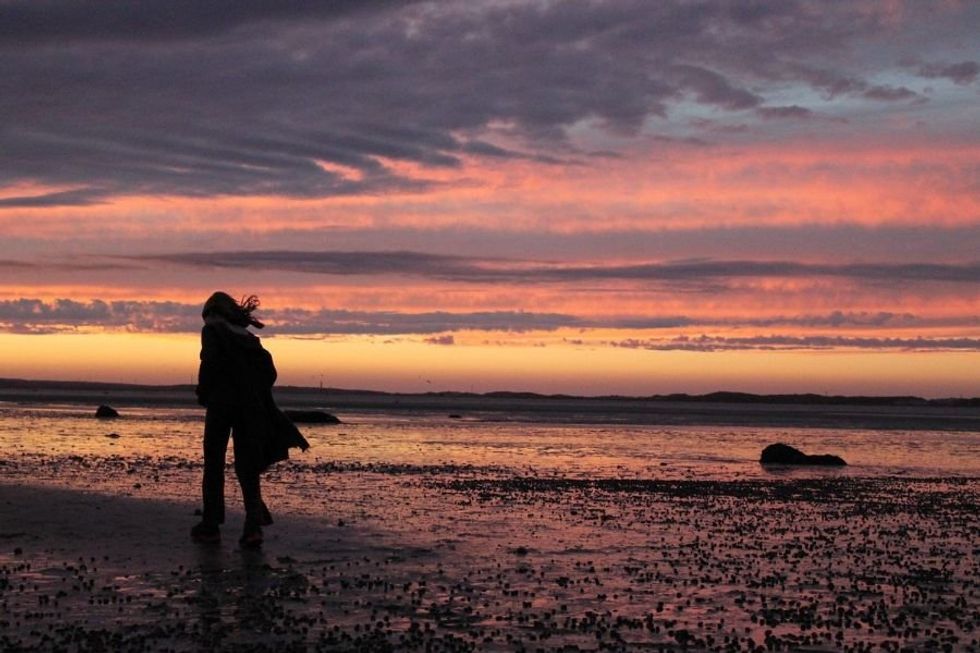 Sunset beachcombing at low tide on Cape Cod
Photo by Annie Reneau
What was awesome about the nomadic life
First of all, the forced paring down of our belongings before putting stuff in storage was wonderful. We all have too much stuff, and having to decide what was worth paying to store was a useful exercise in and of itself.
As far as nomad life itself goes, the affordability of living/traveling in this way blew my mind. I would never have guessed we could slow travel for the same or less than the cost of staying home.
The kids had experiences we never would have been able to give them if we had tried to go all of these places just on vacations. We not only saw dozens of sunsets at the beach, but we saw firsthand the way the tides change throughout the month. We got to hike through incredible scenery at our own leisure, not trying to cram in as much as we could into a short vacation. We lived in small towns and big cities, enjoyed palm trees and pine trees and learned about all manner of wildlife.
And the learning! We studied colonial America and visited all the historical sites of the Revolutionary War during our stay in Massachusetts—a fascinating treat for my husband and I who were both born and raised on the West Coast. We stood on the North Bridge where "the shot heard round the world" was fired, which is the same bridge Henry David Thoreau and Louisa May Alcott would take boat rides under, which is within eyeshot of Ralph Waldo Emerson's family home, which Nathaniel Hawthorne also live in for a while. History hits differently when you can see where it actually happened.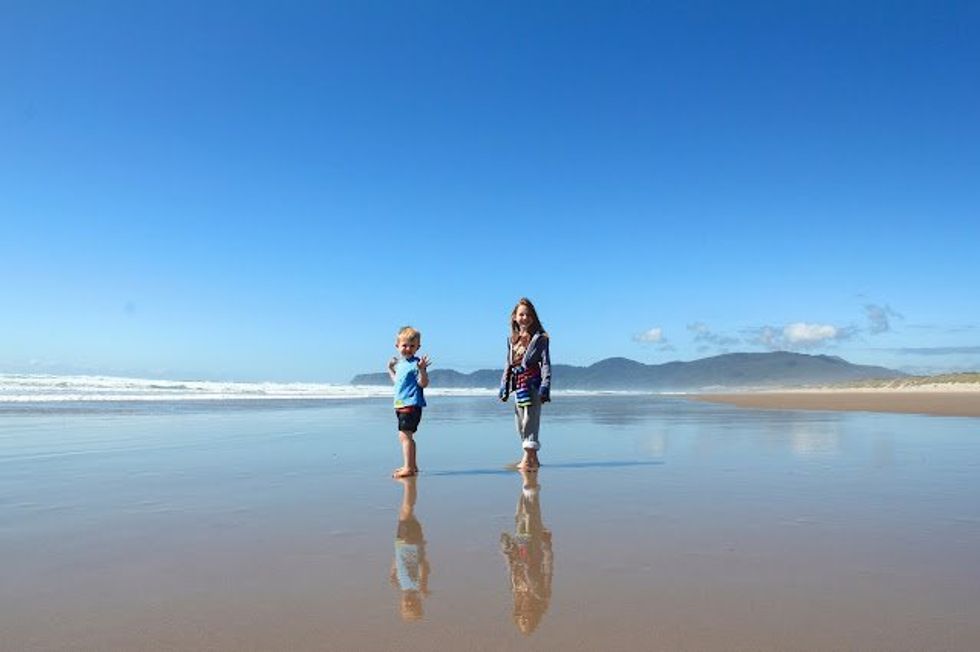 Oregon Coast beaches are like glass.
Photo by Annie Reneau
We formed lifelong memories together as a family and met interesting people everywhere we went. While watching dolphins play in the surf at Dana Point, I connected with a mother who had lost her son in a surfing accident. On Cape Cod, I met a fellow homeschool mom whose husband worked as the caretaker for a very famous family's private island, and we got to go spend a day there. We also got to stay the night with friends around the country while we made our way from one place to another, and friends and family came to visit us in almost every place we stayed as well, so we didn't get too lonely.
It was also a surprisingly simple life, despite the complexities of planning it. We had what we could fit in our car and that was it. We didn't have to worry about yard work or home maintenance or decorating or anything like that. We got to live in homes that had everything ready for us, so other than just basic laundry and cleaning up after ourselves, there wasn't anything else to think about. We could just enjoy where we were while we were there.
But perhaps most importantly, we proved to ourselves and our kids that it's okay to step outside of the norm, that life doesn't have to look a certain way, and that with a little creativity, you can live a unique and extraordinary life if you want to, even if it's just for a while.