Culture
Woman opens a nail salon exclusively for men to change perceptions of masculinity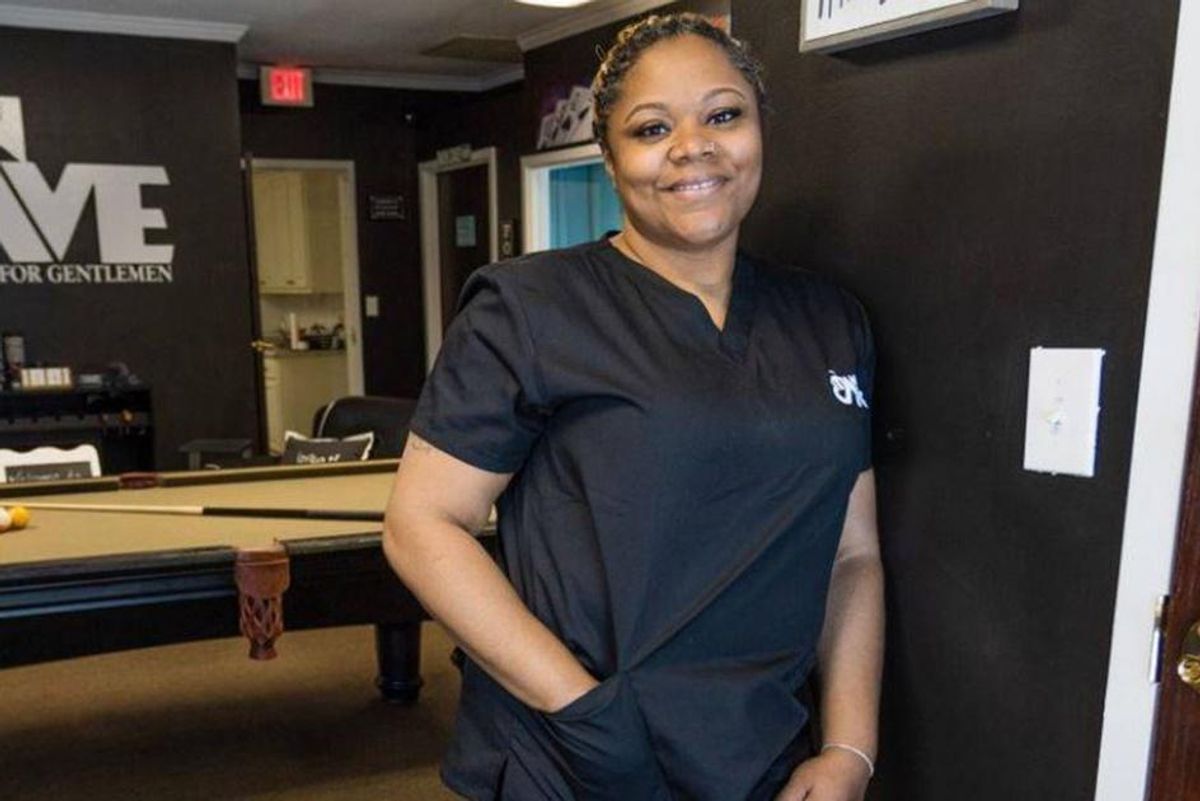 via The Man Cave
Men everywhere are missing out on the benefits of manicures and pedicures because they're seen as something only women do. Mani-pedis are great for blood circulation, healthy nails, treating contagious skin problems, and taking care of diabetic foot issues.

They're also wonderful for one's psychological well-being because they're a fantastic way to destress.
That's why Shana Soberanis, owner of StyleMeUp! Salon Suites, decided to open The Man Cave, a nail shop that caters solely to men 13 and over. According to Soberanis, her new nail salon in Spartanburg, South Carolina, is the only one on a 50-mile radius that caters to men.
---
"I saw a need for nail care for men. They're an underserved population when it comes to nail care. For some reason, men sometimes believe that it's kind of emasculating and I wanted to dispel that myth. I wanted them to know that it's okay, it's a part of hygiene and wellness care," Soberanis said.
"Men are often overlooked when it comes to nail care. Some believe that this kind of self-care is a sign of weakness," she wrote on the Man Cave's website.

She came up with the idea after doing her fiancé's feet. "He enjoyed getting pedicures and massages and he suggested that I go to nail school. I enrolled and realized that I really liked doing feet," Soberanis said.
So she created a salon that resembles a barbershop or cigar lounge, complete with a pool table. "Women have their 'me-time' this is for the men. This is what we need," Shad Byrd, a Man Cave client, told WSPA.
Men who stop by The Man Cave can get manly-sounding packages such as the He-Mani-Care, the "Hail the King" Pedi-Care, and the "Bro-Swag" Pedi-Care package. Some men probably aren't comfortable buying a package for themselves, so she encourages the women in their lives to buy one to show them how great a mani-pedi can make them feel.
The Man Cave is a place where men can go to relax and talk about what's happening in their lives, much like a barbershop. The business also has a strict code of confidentiality, so men can discuss real issues as well as health problems they may have on their hands or feet.

"It's always busy, they get you in and out. Not saying that they should get to know their customers but at least talk to them and ask them how their day is going because it could be the stop that changes someone's life," Byrd said.
Taking care of one's mental or physical health should never be something that's solely for men or women. Kudos to Soberanis for not only realizing that men need a place where they can relax and have their hands and feet cared for but for putting her heart into it and bringing the business into reality.