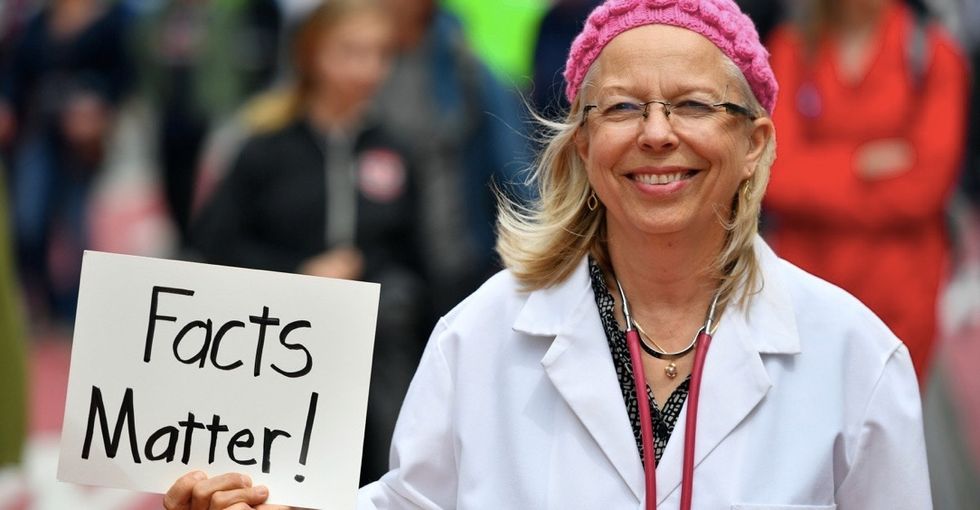 While women in STEM careers are traditionally underrepresented, it doesn't mean they're not there, kicking ass and capturing data all around the world.
Enter Science-a-thon, a one-day celebration of women in science to raise money for the Earth Science Women's Network, a nonprofit helping women in the field.
On July 13, 2017 (and a few folks on the 14th), female scientists took to Twitter and Instagram using the hashtag #DayOfScience to share photos and stories of their day, from routine observations to groundbreaking research.
---
The result is a rare look at what it's like to be a professional woman in science. It goes a little something like this.
1. It's never too early to get up and get to work. Science waits for no woman.
I am an invertebrate community ecologist finishing my masters and preparing for my next adventure! #scienceathon… https://t.co/GkULvfpfAL

— Cari Ritzenthaler (@Cari Ritzenthaler)1500037017.0
2. Some start the day with coffee. Others jump-start their mornings with natural uranium. To each her own.
So what's nuclear engineering all about? This little rock! The yellow is natural Uranium from a mine in Canada… https://t.co/rLc8bLw2J5

— Katie Mummah (@Katie Mummah)1499953032.0
3. Whether you're hard at work in the lab...
In the lab with @CookieMattson digesting moss samples in preparation for lead isotope analysis #DayofScience and… https://t.co/hFlY8CnO0t

— Alyssa Shiel (@Alyssa Shiel)1499989309.0
4. ...feeling the wind in your hair in the field...
Highlight of my job is analyzing data while remembering how the rain, sun, and sea felt when we collected it… https://t.co/9aEemyd6MY

— Angela Rowe (@Angela Rowe)1500004635.0
5. ...or knocking out reports at your desk...
It's not all lab coats and safety glasses 👓🔬 sometimes it's completing animal ethics 🐭 #DayOfScience #UONresearch https://t.co/mddaBfiLt4

— Natalie Trigg (@Natalie Trigg)1499912936.0
6. ...there's always something new to do and discover!
And confirming how awesome your discovery is is half the fun.
2:45pm taking pics of forams caught near OR to ID before cleaning Unfamiliar w/sp. top row unk bottom falconensis?… https://t.co/yVrWxrzRqE

— Dr. Jenn Fehrenbacher 🐚🔬 (@Dr. Jenn Fehrenbacher 🐚🔬)1499982725.0
7. But that doesn't mean women in science are always off by themselves. After all, science is a team sport.
I swear I learn as much over coffee chats as I do from readings - chats help put things in context #DayOfScience https://t.co/bv2JfVEXTc

— Kylie Abbott (@Kylie Abbott)1499922227.0
8. When it comes to saving the world, you can never have too much help.
Hour 8 of 12: Project meeting with 9 great scientists! https://t.co/x80kO3x5MS

— Rebecca Selzer (@Rebecca Selzer)1499969342.0
9. Women in science also spend time teaching and presenting their findings.
I'm wrapping things up at the office, but presenting science at conferences is a very important part of my work.… https://t.co/My73SUrPkO

— Kristen Brown (@Kristen Brown)1499977716.0
10. Their lectures and mentorships mean we'll have #DayOfScience (and groundbreaking research) for years to come.
9) A big part of my job is mentoring. My undergrads do dental microwear research at LUC & travel to other labs.… https://t.co/EDEWl1B6DI

— K.L. Krueger (@K.L. Krueger)1499972966.0
11. Being this badass doesn't happen overnight. It takes years of training, education, and hard work.
Fresh thesis draft in hand & am off to meet my advisor. Always value her help in making me a better scientist & com… https://t.co/H8fMsDVpVX

— Jeannie Wilkening (@Jeannie Wilkening)1499940569.0
12. Especially when you're up against people who don't understand how valuable your work really is.
Cough cough, science is real, cough cough.
Today I'm on Capitol Hill advocating for science in clean air and climate policy #DayOfScience #scienceathon… https://t.co/GRY6BsKnVt

— Gretchen Goldman, PhD (@Gretchen Goldman, PhD)1499957178.0
13. No matter what challenges stand in their way, women in science will continue to research, study, analyze, and record.
After all, it's what they do. And they're really freaking good at it.
Ending my day with data processing. #scienceathon #dayofscience https://t.co/yaNeUfa5ju

— Adrianna Trusiak (@Adrianna Trusiak)1500008627.0
14. At the end of the day, even these science superheroes get a break from saving the world.
Hr 11. Freedom from desk, hello sunny SLC ☀ Wish I could've reported a day of fieldwork, but #science isn't always… https://t.co/vvO27QNDuu

— Cianna Wyshnytzky 🦆 🐡 (@Cianna Wyshnytzky 🦆 🐡)1499983814.0
15. After all the work they do, they certainly deserve it.
Love coming home to these guys after a #DayOfScience. #scimom #scienceathon https://t.co/sXsK5j4gj3

— Caitlin MacKenzie PhD (@Caitlin MacKenzie PhD)1499981467.0
Miss out on Day of Science? No worries, there are still plenty of ways to get involved.
Visit a science museum. Tell your legislator that science and research are important to you. Learn more about the research happening at your local college or university. Donate to the Earth Science Women's Network, or other organizations that support women and girls in science, technology, engineering, and math. Remind the children in your life that women in science do legendary stuff every single day. And check out the hashtag #DayOfScience to see it for yourself.