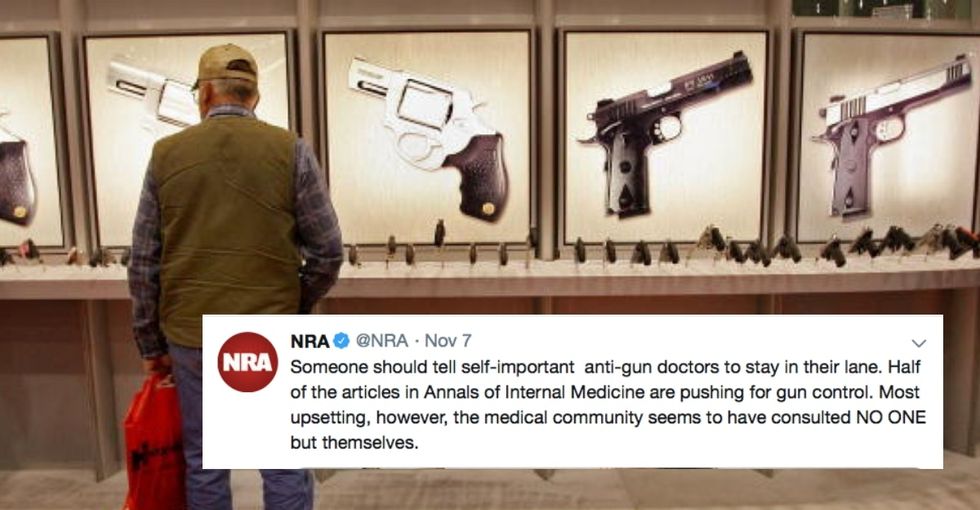 The NRA apparently thinks doctors who treat gunshot wounds shouldn't have opinions about guns.
Looking at the NRA's Twitter feed after a mass shooting is a fascinating exercise. One might at least expect some "thoughts and prayers" after a gunman walks into a bar and kills 12 people with a gun, but there's no mention of the Thousand Oaks shooting incident at all. Nada. Zilch.
There is, however, a mind-blowing bungle of a tweet from the day before the shooting addressing doctors who advocate for gun control legislation.
---
"Someone should tell self-important anti-gun doctors to stay in their lane," the tweet reads. "Half of the articles in Annals of Internal Medicine are pushing for gun control. Most upsetting, however, the medical community seems to have consulted NO ONE but themselves."  
Someone should tell self-important anti-gun doctors to stay in their lane. Half of the articles in Annals of Inter… https://t.co/4ciQ0UUZqf

— NRA (@NRA)1541619839.0
Trauma doctors who treat gunshot victims were not having it.
When your job is saving lives, and you see the carnage a bullet can do to a body on a regular basis, you may have some thoughts on guns. And when your job is to research how to save lives, and that research shows that gun regulations lead to fewer gun deaths, you may have some opinions.
And not just any old opinions—highly informed, backed-up-by-facts opinions. And sorry, NRA, but those of us who still believe in science and common sense will take the opinion of experts in the risks of guns and the damage gunfire can do over the opinion of an organization whose sole purpose is to promote guns.
Just a sampling of the clap back from doctors the NRA received:
@NRA Here is my lane @NRA. As an academic physician my life is dedicated to the discovery of new cures to save peop… https://t.co/JokTFB29tK

— Cory Hussain MD (@Cory Hussain MD)1541768661.0
@NRA How dare you. As a physician, I treat gun shot wounds. Specifically, I am a pediatric urologist. I reconstruct… https://t.co/0rYx5S6XLH

— Kristina Suson (@Kristina Suson)1541762182.0
@NRA I see no one from the @nra next to me in the trauma bay as I have cared for victims of gun violence for the pa… https://t.co/XwJEaRLMbN

— marianne haughey (@marianne haughey)1541758593.0
@NRA You're never the ones elbows-deep in someone's body trying to keep them from dying of their gunshot wounds. Yo… https://t.co/MKCQqWxOrQ

— Nora Cheung (@Nora Cheung)1541768004.0
@NRA When gunshot victims start showing up at the @NRA for treatment instead of hospitals, then the @NRA can claim #ThisIsOurLane

— Dr Bruce Herbert (@Dr Bruce Herbert)1541765079.0
As a Trauma Surgeon and survivor of #GunViolence I cannot believe the audacity of the @NRA to make such a divisive… https://t.co/vEXm8qIDTc

— Joseph Sakran (@Joseph Sakran)1541631549.0
@NRA Unless you are working beside me in my Pediatric ER while I code a child dying from a gun shot wound while his… https://t.co/vtcswTXsaK

— PediMom, Dr. Free N. Hess (@PediMom, Dr. Free N. Hess)1541693950.0
The Annals of Internal Medicine tweeted, "We wish we could," and then dropped load of research.
Just once I'd love to see a professional organization tell the NRA to shove it where the sun don't shine and leave it at that, but I know that would backfire.
The AIM, however, did respond in a calm and reasonable manner, with a link to pages and pages of research on how guns relate to health—in other words, "their lane."
The @NRA tells doctors to "stay in their lane" re #GunViolence. We wish we could. Instead, we pledge to talk to our… https://t.co/DhrBIqbHnH

— Annals of Int Med (@Annals of Int Med)1541686650.0
And if you're wondering what got the NRA's panties in such a twist to begin with, this thread summarizes the lead up to it:
Please read the @ACPinternists paper on firearms & health that led to the @NRA's demands that we stay in our lane.… https://t.co/M0CzFAireO

— Bob Doherty (@Bob Doherty)1541771245.0
And here's some more research, just for the fun of it:
@NRA @PubMedCommons "Open carry ban decreases fatalities and healthcare utilization even in a state with baseline s… https://t.co/1Oqj4XuLUX

— Mary L. Brandt MD (@Mary L. Brandt MD)1541702905.0
The NRA is out of its lane—and way out of its league.
Telling the people whose sole job is to figure out how to save lives that working to prevent the 33,000 deaths by firearm in America every year—not to mention the tens of thousands more who are wounded by gun violence—is not "their lane" is one of the more asinine things the NRA has tried to do. If they wanted to make themselves look even more foolish than they already do to a significant portion of the U.S., they've succeeded.
If you come for the doctors—the ones who study public health and who see first hand the devastating effects of gun violence—expect to get taken down in the most epic fashion.
That burn's gotta hurt, NRA. Sending our thought and prayers.